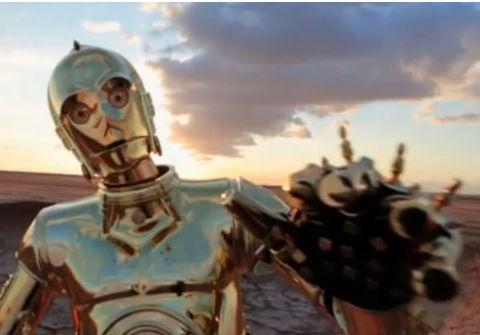 It's almost the freakin' weekend, baby, so say "work shmork" and revel in our choices for the best adorable, happy-making videos of the week:
Shake Yer Money Maker: Pharrell's "Happy" + Star Wars = Dancing Droids
Adorability factor (1 to 10): 7. We don't know what's cuter: a storm trooper, C-3PO and R2-D2 rockin' out to "Happy," or the adorable nerds who took the time to make this video. Either way, it's damn charming.
Happy-making factor: 8. Beyond the joyous dancing, the video gets bonus points for cheekiness. (You know who doesn't  want to join a dance fest? Party pooper Darth Vader, that's who.)
Robot Strippers! (Need We Say More?!)
Adorability factor: 7. Move over, C-3PO and R2-D2! Here, our third and fourth (!) dancing robots bust out sexy moves while working the poles. And against all reason, it's pretty cute.
Happy-making factor: 9. We dare you not to smile and delight at this. Hey, cheap thrills are still thrills.
Happy Happy Joy Joy: Brother Loses a Bet, Has to Dance His Ass Off in Public
Adorability factor: 8. Fact: shameless, joyous dancing is still adorable, even when done by humans and not robots.
Happy-making factor: 8. The dancing itself is a blast, plus there's the nostalgic factor of remembering your own crazy bets with siblings that were really just a weird expression of love.
Watch: Little Girl Channels Billie Holiday, Puts Your 7-Year-Old Self to Shame
Adorabilty factor: 8. Seven-year-olds are adorable to begin with. Add in an old-soul appreciation for Billie Holiday, and the cuteness level skyrockets.
Happy-making factor: 8. If watching this sweet little girl do a jazz great proud makes you cry some happy tears, we promise not to judge you. (OK, maybe we will a little.)
Listen Up, Millennials! Kevin Bacon Speaks Out About '80s Awareness
Adorability factor: 7. Kevin Bacon is pretty cute, let's be real.
Happy-making factor: 8. As children of the '80s, it's hard not to marvel at this mix of happy memories (parachute pants! Blockbuster video!) and "God we're getting old" snark directed at today's whippersnappers.
Image: YouTube screenshot