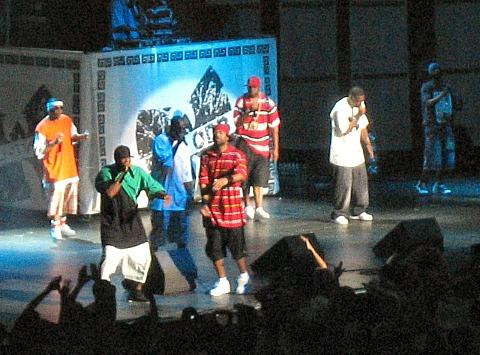 Our favorite Clan turns 20 this year and rumor has it they are releasing a new album to celebrate! After last summer's headlining gig at Coachella—and their subsequent world festival tour—Wu-Tang Clan dropped their First single from the new album, A Better Tomorrow. "Family Reunion" rocked our socks and we've been waiting for more ever since. Well, our prayers were answered, the Wu-Tang Twitter feed graced us last night with this tweet announcing the release of the second single, "Keep Watch."
THE MOMENT YOU ALL HAVE BEEN WAITING FOR!!!! OUR OFFICIAL SINGLE "KEEP WATCH" IS NOW ON http://t.co/iPP5YY6ZJS !!... http://t.co/rmGBSXZEM8

— Wu Tang Clan (@WuTangClan) March 19, 2014
In an interview earlier this year, Method Man spoke about "label obligations" and explained (sort of) the new album's delay: "I think that I'm at my writing peak—there is no age-limit on spitting."
We assume there's no official release date for A Better Tomorrow because they "wanna see it done right." There is a report that the album is finished and the release is emminent, but that one of the Clan members, Raekwon, has held up the process over some past creative differences. Even though we totally respect Method Man's candid comments and we are actually pretty into Wu-Tang's new iteration of their classic sound, we can't deny that the album is receiving mixed reviews. While most reviewers are feeling some serious 90's nostalgia, Under the Gun Review found the new song to be underwhelming.
But we leave it to you to make the call. At the very least, allow the sounds of GZA, Method Man, Cappadonna and Inspectah Deck—over some phat DJ Mathematics beats—to bring you back to your 90's Wu idolatry.