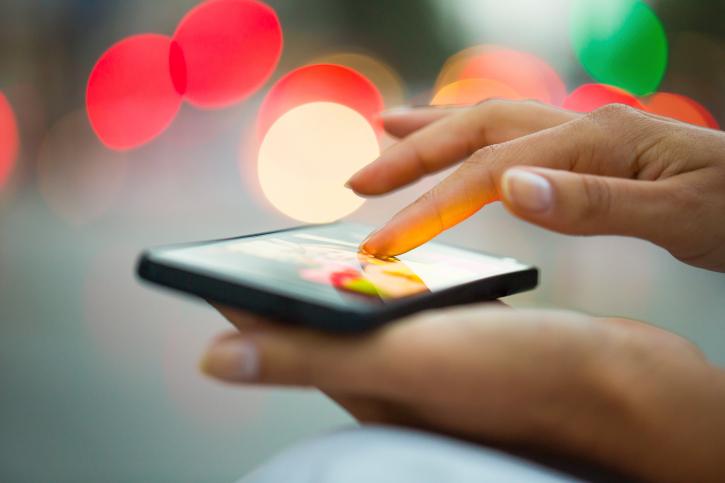 As any online dating junkie knows, Tinder is insanely addictive. The generation that was once OCD about feeding their Tamagotichs is equally obsessed with this dating app and its gamelike "swipe to like" interface (It's a match! Now off for some lusting and maybe future loving!). Even when not looking for some action, it's hard not to kill time by browsing and swiping while waiting for the subway.
Well, thanks a slew of new Tinder-inspired shopping apps, we can now ogle shoes and bags instead of possible hookups. The "swipe to like" technology debuted in luxury etailer Moda Operandi's app during New York Fashion Week last February—users could "like" or dismiss runway looks mere hours after they showed. And now the interface can be found in various iterations.
This trend makes total sense. The technology is a perfect fit for shopping because it neatly mimics the act of browsing in a store. You sift through the racks, searching for things that appeal to you. Like something? Take a closer look, check out the price, the brand, the fabric. Not interested? Just keep sifting though until you find something you want to try on.
Apps to Watch
The shopping apps all use the Tinder interface, but also have unique benefits of their own.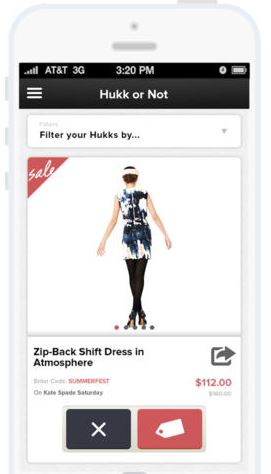 1. Kwoller, which launched a few weeks ago at TechCruch Distrupt, acts as a price tracker and alerts users when items they've liked go on sale. It also gets to know a user's personal style and preferences over time.
2. Hukkster (with the adorable tag line: "Paying full price? Hukk that.") is similar to Kwoller in that it's a sale tracker, but it goes a little deeper, allowing users to create a wishlist with each item's desired size and color, so users get exactly what they want.
3. UK-based app Mallzee adds social shopping into the mix. Users ask their social network about a possible purchase, and friends can either say "yay" or "nay" (we definitely won't be playing Mallzee with our moms). You can also ask Mallzee's team of internal stylists for help on whether to not to purchase an item.
4. For shoppers (and sellers) who want the instant gratification that makes Tinder so popular, Bzar is the app. It uses location services to help shoppers find sellers near them—think Tinder meets eBay. So if you desperately need a new couch, but don't want to drive all the way to Ikea, Bzar could be your digital savior. Buyers and sellers text directly through the app and all payments are done though Paypal, so no personal information is exchanged before a purchase is agreed upon.
5. And finally, for the shoe-lovers of the world, Stylect could be your new obsession. The app has a database of 50,000 shoes. As with Tinder, it never hurts to browse. 
Image: ThinkStock