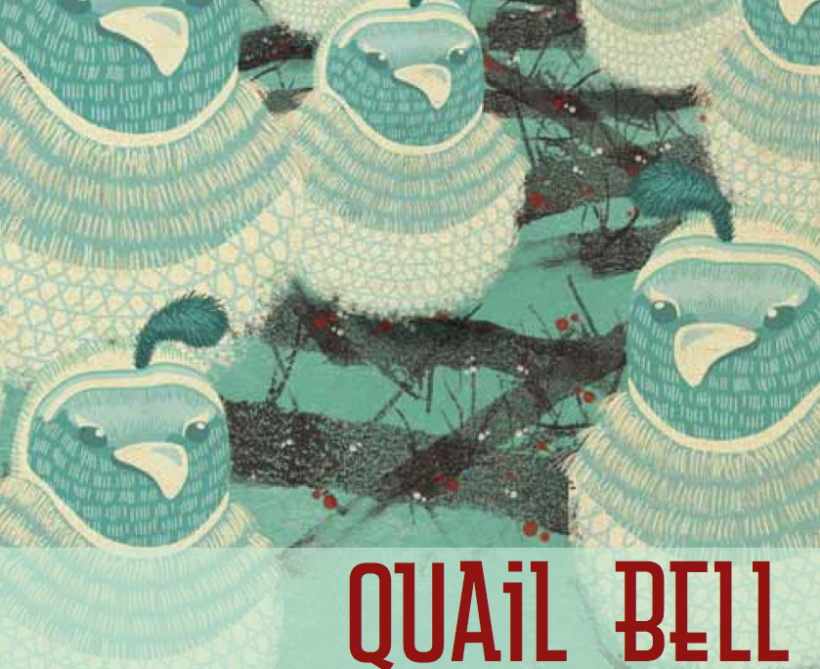 What started as an eerie children's story has since blossomed into a full-fledged online magazine that brings a whole new meaning to the word variety.
Quail Bell magazine, conceived and founded by Christine Stoddard and art director Kristen Rebelo, officially launched a year ago; these days the "otherworldly" publication seeks to explore the tantalizing tissue that connects the real and the unreal, the uncanny spaces of dream, desire and desolation that are more fascinating than anything readily visible by the naked eye. Quail Bell—run entirely by women—publishes writers, artists and poets hailing from all over the globe, tackling everything from society, sexism and Sailor Moon to race and gender relations, memoir, poetry, book reviews and a sharp dash of feminist agenda.
While the site boasts new fodder each and every day, Quail Bell's anthologies are perhaps the creamiest of their crops. (And yes! They also come in glorious print—so hold it in your hand and display it on your coffee table like the cultural G you are!)
The latest anthology, Quail Bell —The Social Issue, is hot off the presses, boasting pieces from the Quail Bell crew (including Stoddard herself, alongside Jessica Reidy, Sarah Sullivan, Mo Karnage, and Zack Budryk) as well as Fay Funk, Sheryl Louise Rivett, Grace Hancock and Claire Ledoyen. Oh, and did we mention that every essay and poem is coupled up with an uber-talented artist who creates accompanying artwork to serve as the perfect foil? Well now we did.
In short, it's a delectable wonderland—a feast for the eyes, mind and imagination.
The Best of the Social Issue
The Social Issue is arguably less ethereal than Quail Bell's previous anthologies—it is dedicated to scrutinizing modern society after all—but the wit, rawness and lurid language are all Quail. Stoddard tackles latent racism in her hometown of Washington, D.C.— "A young man who thought segregation wrong and the 'N' word offensive still feared black neighborhoods," while Budryk reclaims the word "fat" (in regards to his wife no less!), eviscerating the subtext of "you're not fat" and the "cutoff point for body positivity."
Sullivan scrawls a dreamily disturbing dream about fathers, forced marriage and rape from a serpent-king. "On my wedding night he slithered into the bedchamber/his fangs stained with wine. He tore my dress/with scaly hands, ran his dreaded fingers/down the nerves of my hips/and made me his."
Funk warns us about the creeping fascism of moral superiority and how we might avoid "the tragic history of abortion" that has plagued the Emerald Isle, while Reidy gives us a history lesson on the Romani Holocaust, which saw one million men, women and children murdered. 
But wait! There's more! You'll also learn about the dubious social justice of chicken farming in Richmond, Virginia; the ever-evolving (and still ignorant) coverage of the transgender community; a spooky love-letter to Sylvia Plath; a celebration of Pussy Riot (The Only Band That Matters); a classist analysis of Orange is the New Black; and the revelation that Rapunzel probably never had an orgasm.  
If that doesn't whet your appetite for lust, learning and the beauty of a lilting phrase, you're likely dead inside.
What are you waiting for? Get your copy here!