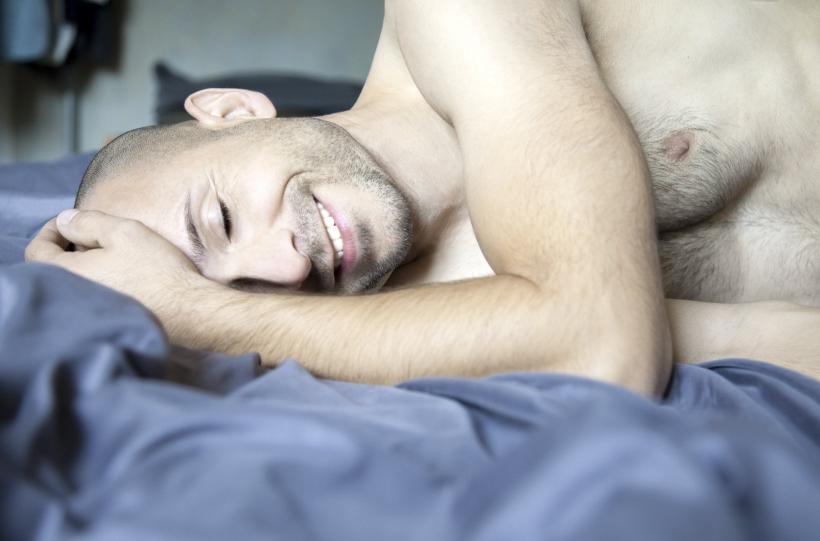 If aliens came to Earth and read Cosmopolitan exclusively, they'd assume females who don't own a vibrator are systematically ostracized by society. Men, on the other hand, are damned creeps if they even consider using a Fleshlight. It's true: There's a bizarre double standard when it comes to sex toys. For once, it's working in our favor—but there's little to cheer for when our beloved boys opt out of orgasmic awesomeness due to societal restraint. Various Internet forums debate this topic and admit the double standard at play. Though male sex toys are sold, the stigma remains.
Of course, it's already pretty damn easy for men to ejaculate, which raises the question: Do they really need a plastic playmate to kick things up a notch? Women on the other hand struggle like mad—some "I've-never-orgasmed" numbers are as high as 50%—so it seems natural we'd like some auxiliary help. That said, perhaps it's time to level the playing field a bit.
Can a Crazy-Looking New Male Sex Toy Break Some Barriers? 
Maybe. Meet the Autoblow 2: "The blowjob robot everyone is talking about." Thanks to a successful Indiegogo campaign, this device is ready to place its first orders. Though it looks a bit daunting at first, the video demonstrates that it is, in fact, quite user friendly. Dudes stick a sleeve (which are washable and reusable, thank you) into the Autoblow 2, insert their manhood, select one of three speeds and let the magic happen. 

Oh, and by "magic" we mean vibrating beads that travel up and down. It looks like it should feel awesome, but, then again, your humble narrator in this case does not have a penis. So what do you think? Will every man this side of the Mississippi be stocking up their sock drawer with a new playmate?  
 

Maybe.

As I mentioned before, I have no working notion of what it truly feels like to own a penis. The Autoblow 2 looks daunting to me, however—it has to be plugged in to an electrical outlet and it kind of looks like a Magic Bullet. And despite all working logic, I'd be hesitant to stick my hand in there, let alone the most sensitive part of my body. That's the one tangible issue I see. 

If it feels as amazing as the promo video proclaims, Autoblow 2 could be epic. One critique of the Fleshlight was its name: it does sound a tad creepy, like Hannibal Lector crafted a flashlight from flesh. As for Autoblow 2, the name sounds like something that George and Jane Jetson would use to spice up their sex life.
Only time will tell if society will celebrate this naughty novelty.

Image: Likey? Courtesy of, ThinkStock