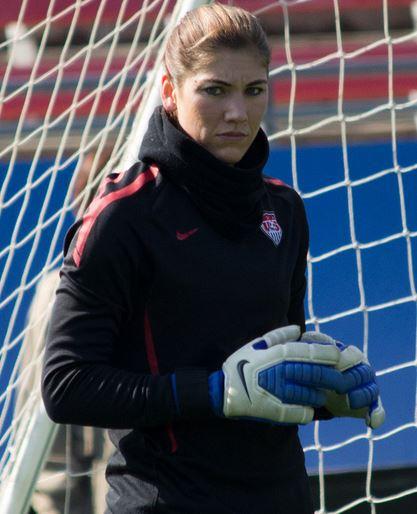 In an incident seemingly filmed for the TV show Cops, U.S. soccer superstar (to the degree those exist in this soccer-ambivalent nation) Hope Solo was arrested on Saturday on domestic assault charges. The "Best Female Goalkeeper in the World" pled not guilty yesterday on two misdemeanor counts of fourth-degree domestic violence assault. 
And the reports of the incident are not pretty.
According to Seattle police, 32 year-old Solo showed up wasted to a party at her sister's house and proceeded to get into an altercation with her 17-year-old nephew. According to some reports, she told the boy he was "too fat and crazy" to make it as a pro athlete. When he attempted to get away from her by walking into another room and calling his mother, she followed and called him a "pussy" (aunt of the year award, anyone?). Her nephew responded with some choice words of his own and demanded she get out of his house. And that's when shit really started to go down.
Hope allegedly then went on the attack, punching her nephew repeatedly. When her sister attempted to break up the fight, Solo began punching her, too. In an effort to get the soccer star from beating the crap out of his mother, the nephew broke a broom handle over Solo's head. But even that didn't stop the former Olympian, so the nephew took even more drastic measures, saying: "I then went into a back room and got an old (BB) gun that does not work, pointed it at her and she kept coming at me. She didn't leave but walked around me, cornering me like a shark." Jesus!
Solo finally left when the cops were called but soon thereafter jumped the fence and reentered the house to attack her sister again. 
By the time the police showed up, both Solo's nephew and sister had swollen, purple faces and the nephew's shirt was ripped from the underarm to the bottom. Based on accounts of the assault from witnesses, police officers determined that Solo had been the "primary aggressor and had instigated the assault."
Yet, according to her lawyer, Todd Maybrown: "Hope is not guilty of any crime. In fact, our investigation reveals that Hope was assaulted and injured during this unfortunate incident."
An Underreported Domestic Violence Epidemic
Just days before the alleged assault, Solo had set a record when she helped the U.S. women's national team beat France—it was her 71st match without giving up a goal. Solo also represented America in the 2007 and 2011 World Cups and was a two-time gold-medal Olympian—and let's not forget her appearance on ABC's Dancing with the Stars.
Though of course we want to be supportive of kickass female athletes, there's nothing about Solo's actions this weekend worth applauding. Domestic violence is a startling issue in this country, with millions of attacks reported every year. And yes, while 85% of domestic violence victims are women, should any violence be tolerable in our society? 
Inter-family violence is one of the most chronically underreported crimes in the United States—especially among men. And it's no surprise why. Not only is there immense pressure on men to be "strong, real men," but violence against men at the hands of women has been so trivialized as to be a joke—even regularly delighting audiences on SNL. When men are openly mocked for being the victims of violence in our mass media, is it any wonder so few come forward to report abuse? 
Obviously, we should be taking a stand against domestic violence of any kind on moral grounds. But there are economic reasons for fighting the epidemic, too: Intimate partner violence alone costs the U.S. $5.8 billion a year. Additionally, domestic violence is part of a vicious cycle that only breeds more violence. Studies have found that a boy who grows up in a violent household is at least two times more likely to be violent against his own partners and children later in life than if he had nonviolent parents. And with 10 million children witnessing some form of domestic violence annually, that's a whole lotta violence getting perpetuated in the next generation, which is actually the exact opposite of funny.
Let's hope (no pun intended!) SNL doesn't turn this weekend's incident into another punchline.
Image: Wikimedia Commons