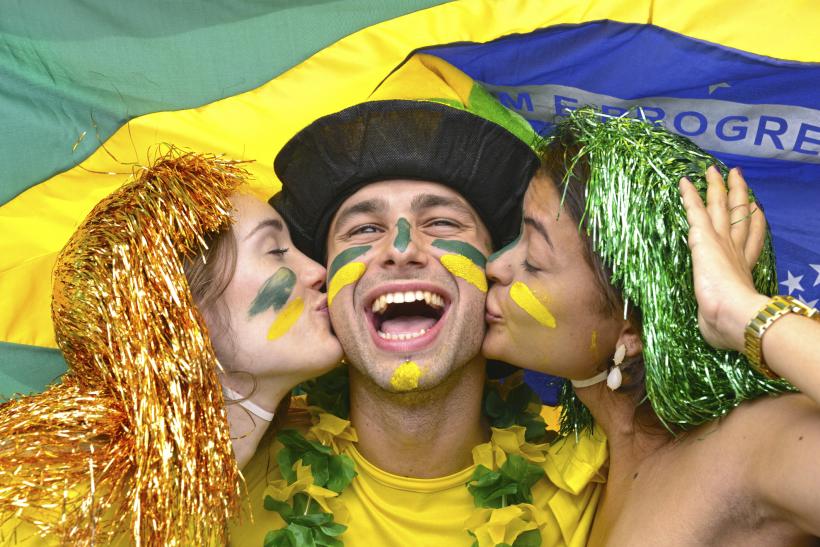 Here's a fun World Cup game: if your team loses, bang to forget. When your team wins, get some nookie to celebrate. Roll on an official World Cup condom and everyone wins. All the time. 

While I patiently wait for my clever patent to this amazing game, check this out: hookup apps Tinder and Grindr (Grindr is, for all your squares out there, for gay men) usage has skyrocketed in Brazil since the beginning of the games. Oh, really!
Data suggests that the average Tinder user enjoys the naughty app approximately 77 minutes every day. However, folks in Brazil have been utilizing Tinder a whopping 50% more since the soccer matches started. Grindr's rise isn't as high, but still impressive: users are spending 26% more time each session. 

Before you rip into your savings account for a Brazil trip, consider this however: the vast majority of sessions are not for the sole purpose of getting laid. Seriously! When polled, users revealed that quick hookups were last on the list of reasons they use Tinder. In fact, less than 20% of Tinder users open the app for quick hookups. Most popular motivation? Surprisingly, most users said they were "playing a game" and "just curious" (which could easily coincide). Both of these options each enticed over 30% of users to participate. Data would suggest that, despite the heavy Tinder usage, people are likely just curious to see what types of people are in Brazil for the games. 

Grindr tells a slightly different story. Though many users get on it solely to find a bangable buddy (32.2% just want a casual hookup), a high volume of humanity use the app to make friends and kill time. About 35.4% of users who have yet to find a hookup on Grindr admit they then use the app for entertainment. Those who have found a sex partner through the app still use the app for friends though: approximately 19.5% open the app hoping to build a new friendship. 

Once again, gay men get all the sex and us breeders are boring. At least everyone is having fun?  

Image: Hey, wanna get coffee? Like, really—just coffee. Courtesy of, ThinkStock