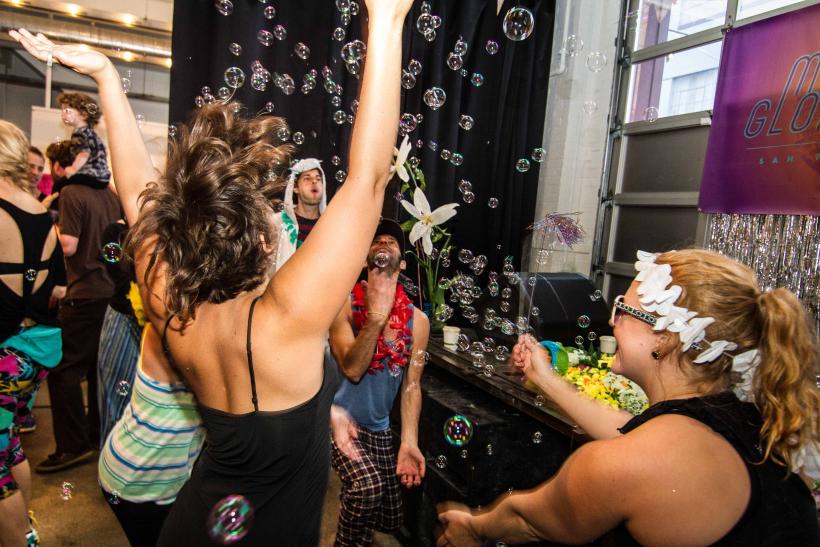 ​Love the release of the dance floor, but hate the grimy feel of a nightclub full of wasted bros? Us too. That's why we're super-stoked about a new event that's launched a global trend. Its name? Morning Gloryville.
This shindig, which began in London in May 2013, invites revelers to get down in the morning hours—the music starts at 6:30 a.m. and lasts until 10:30 a.m. It's since expanded to cities such as Barcelona, Paris, Amsterdam, Tokyo, Zurich, New York City, Brighton and Dublin. And now, it's debuted in San Francisco, where we'll be tearing up the dance floor like it's 1999 (the next party is July 16; snag your tickets here).
Here's how the Morning Gloryville team describes the event:
...an immersive morning dance experience for those who dare to challenge morning culture and start their day in style. We're on a soul-shaking mission to turn clubbing upside down and transform mornings into something truly remarkable.
Seeing as how the Ravishly staff is split between early birds and coffee guzzlers, we think it's pretty awesome that both ends of the spectrum can get their groove on— whether it be to satiate their morning boredom or change those dreaded a.m. hours into their favorite part of the day.

If jumping straight onto the dance floor sounds a bit overwhelming, fret not. Morning Gloryville also offers yoga stretches, free professional massages and breakfast goodies like smoothies, snacks and cold-pressed juice (and yes . . . your crack-like coffee addiction can also be quelled here).
The event is run by women on a mission to boost both mental and physical health through fun. The goal? "Uplift each of our attendees and influence the rest of their day (and hopefully longer) in a positive direction."

San Francisco's event is run by McKenzie Brill and Rachel Torro. When it comes to motivation, Brill (Head Producer and "Glory Agent") says:
Whether this be in the middle of the forest or at a concert venue, I am happiest when I tap into the intelligence of my body—when I can feel the rhythms of it. When my body communicates with the music and my breath, I achieve a euphoric bliss unlike any other. It's a full circle body, mind, spiritual happiness. This happy place is what I strive to offer humans as far and wide as possible.
We'll be seeing you on the dance floor—coffee in hand.
Images: Dillon Petrillo