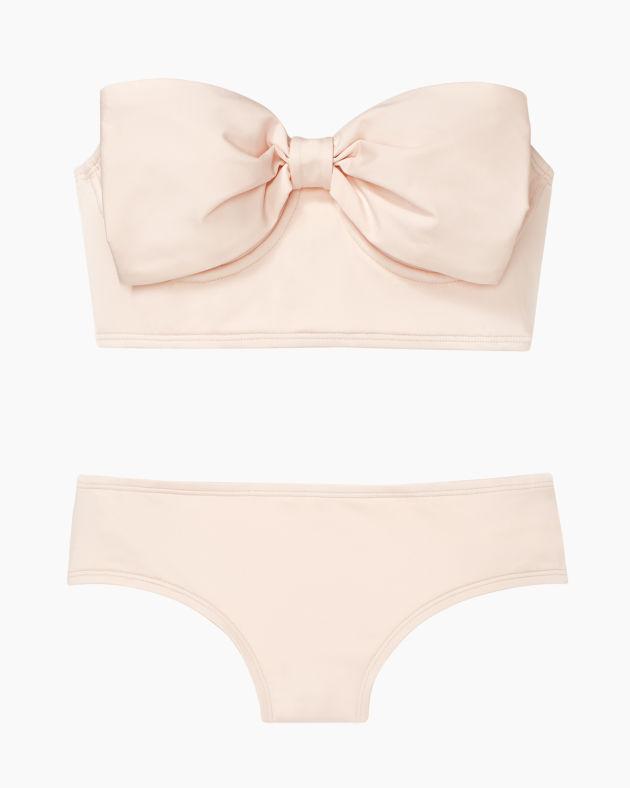 Before this morning, we went about our daily business just assuming that Kate Spade made swimwear. That B makes just about everything—adorable iPhone cases, fuzzy scarves, bridesmaid dresses, clutch purses shaped like keyboards—so of course her mega-brand makes swimwear, right?
Wrong! All this time we've been blindly living in in a world without Kate Spade swimwear and we didn't even know it! Thankfully, the people who make all the decisions about all things Kate Spade decided to finally bestow a Kate Spade swimwear collection onto the world. It launches this November (just in time for that wintery Caribbean vacay you've been hankering to take), and we're pretty sure it's going to be awesome!
Judging by the sole press image the company released (a totally cute blush, retro two-piece), the 70-piece collection will have a 60s glam feel—think high-waisted bottoms, bow-topped bandeaus and demure one-pieces (Brigitte Bardot does Hamptons?). Knowing Kate Spade and its love affair with prints, we're confident the collection will be heavy on stripes, polka dots and bright, bold colors.
While it's hard to imagine that two pieces were once tres scandalous in these modern days of #freethenipple, barely-there dresses, Disney stars gone wild and reality shows titled, "Naked and Terrified," the belly button was once too risque for American women.
The story goes that in 1946, French designer Louis Reard first unveiled his shocking swimsuit creation at the Piscine Molitor, a chic swimming pool in Paris. Why did he name these three tiny triangles a "bikini" you ask? Believe it or not Reard had heard about an atomic bomb testing off the Bikini Atoll in the Pacific Ocean earlier that week and I suppose his scantily clad model—showgirl Micheline Bernardini—deserved that kind of bombshell moniker. While European women flocked to the shores bearing their sunburned bums and tummies throughout the 1950s, we the prudes of the United States of America didn't follow suit until the 60s when free love began to reign supreme. (30-inches of fabric became the least of society's problems.)
Is it summer 2015 yet?  It seems unfair that Kate Spade would tease us with its adorable swimwear and not even let us wear it this summer? Perhaps the thought of a new suit will convince us to take that mid-January getaway after all.