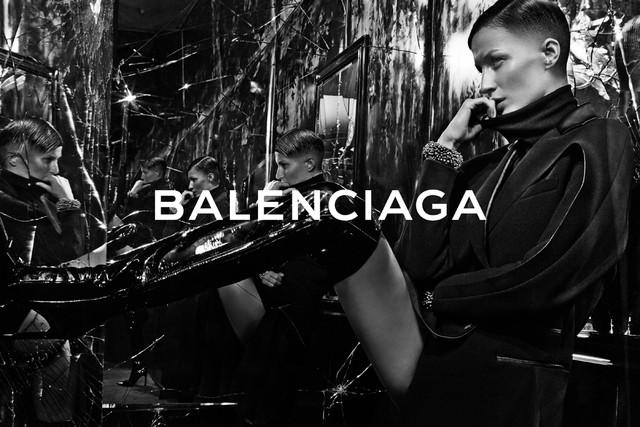 Last summer, it was the pixie cut—J.Law, Miley, Anne Hathaway—all rocked the gamine, boyish haircut. This summer, according to On The Runway (New York TImes' dedicated fashion blog) it's all about the buzz cut.
If you followed the craziness that was last weekend's Comic-Con, you undoubtedly saw the new trailer for the much-anticipated Mad Max prequel, Mad Max: Fury Road. In it, Charlize Theron proves once again that you could literally shave her head and she'd still looks amazing. Theron is shorn, covered in soot and fighting cyborgs, and still looks damn hot.
Also at Comic-con, actress Olivia Cook of "Bates Motel" showed off an equally buzzed yet decidedly less dirty style, and she was generally adorable (although it doesn't hurt to look like a Disney princess).
These two instances, combined with Balenciaga's much-gabbed-about fall 2014 campaign, in which Brazilian-beach-waved Giselle Bundchen rocked a serious buzz cut, made this hair trend a serious contender for the next big thing.
But are even the most daring of women ready for a full buzz? While some women have rocked the Skrillix half shave, up until this point, the buzz has had a mixed reputation. Grace Jones' shave was one of the first and screamed self-acceptance and confidence. Sinead O'Connor, on the other hand, looked incredible, but kind of went a little crazy (there was that whole SNL/Pope/fire thing), giving the hair cut a bad rap.
The cut could go either way. Demi Moore in G.I. Jane? Super goodmove, both for her career and her scalp. Britney Spears a la 2007? I think we can all agree that's a time we'd like to forget. But Amber Rose and Jessie J rock the buzz as their permanent style, and on them, it totally works. 
We're hoping that fashion's most daring will push this trend into the mainstream—we're looking at you Cara, Rihanna and Miley. Or perhaps we'll see it pop-up on some models on the September runways. Kendall, are you down?