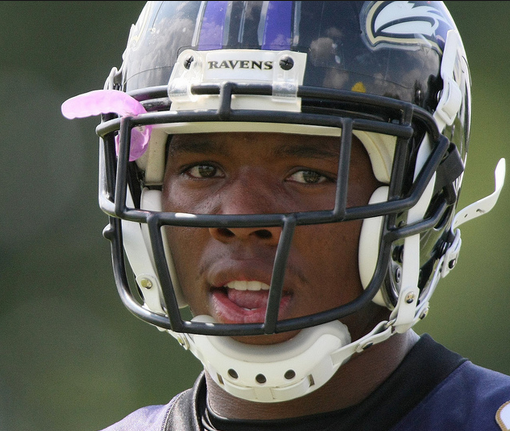 flickr.com
Prominent Baltimore Ravens' running back Ray Rice received a two-game suspension last week in response to a domestic violence incident—he knocked his then-fiance-now-wife unconscious. In response to the ruling laid down last Thursday, ESPN sportscaster Stephen A. Smith implied that women should take responsibility for provoking men into violence, among other offensive nonsense. Let's take a brief stroll down memory lane shall we?  
Where It All Began
Once upon a time (more specifically in February) Ray Rice—one of the best running backs in the NFL and a high-profile Raven—got into an altercation with his then-fiance Janay Palmer at a casino in Atlantic City. Although Rice's attorney described the incident as a "minor physical altercation," TMZ soon released some disturbing video footage that indicated that "minor" might not be the operative word here: it showed Rice dragging Palmer's limp body from an elevator by her shoulders. Police later reported that they had (never-leaked) footage showing that Rice—a beefy, in-NFL-shape man—had knocked Palmer out cold.
In March, Rice had his charges upped from simple assault charges to aggravated assault charges. Simple assault charges against Palmer, who in all fairness had apparently attacked Rice physically as well, were dropped. In May, Rice rejected a plea deal on his aggravated assault charges and instead, pleaded not guilty and applied for a first time offender program, requiring Rice stay out of trouble and attend counseling—a plan that would clear him of charges in six months. His plea was accepted and therefore he'll avoid trial completely.
Fast Forward to Present Day
The NFL dropped its own sentence on Ray Rice . . . and it's rather pathetic. Last Thursday NFL commissioner Roger Goodell identified that Rice's conduct was "unquestionably inconsistent with league policies" and in response announced that the NFL had decided to suspend Rice for the first two games of the 2014 season and fine him for an additional paycheck.
Cue the maelstrom. Not only does this suspension absolutely pale in comparison with multiple other players' punishments for being busted with marijuana (like Daryl Washington of the Arizona Cardinals who was suspended for the entire 2014 season for testing positive for weed) but some reactions to the sentence from commenters have been. . . pretty messed up. 
Primarily, there was ESPN sportscaster Stephen A. Smith and his offensive comments on Friday that women need to be careful about what they say/do so as not to provoke violence from the men in their lives. 
In Ray Rice's case, he probably deserves more than a 2-game suspension which we both acknowledged. But at the same time, we also have to make sure that we learn as much as we can about elements of provocation. Not that there's real provocation, but the elements of provocation, you got to make sure that you address them, because we've got to do is do what we can to try to prevent the situation from happening in any way.
Victim blame, much?
Worse? Smith, in an apparent effort to clarify his statements, and mostly in response to being called out by fellow ESNP host Michelle Beadle, kinda just. . . totally doubled down on them in a series of tweets on Friday. Highlight:
But be clear, I wasn't BLAMING women for anything. I was simply saying to take all things into consideration for preventative. . . purposes. Period.
More Outrage
Many have jumped into this SRSLY-WITH-THIS-NFL mess including Keith Olberman who went on a rant about how NFL and sports culture normalizes violence against women. His strongest point came when he held up a jersey the NFL is selling on its website—a pink V-neck, clearly aimed at women, with Ray Rice's number and name on back. The takeaway, according to Olberman? "The message to the women who the league claims constitute 50 percent of its fan base: The NFL wants your money. It will do nothing else for you."
What's the Latest?
NFL vice president Adolpho Birch's comments on ESPN's Mike and Mike radio show: "We believe the discipline we issued is appropriate. It is multiple games and hundreds of thousands of dollars. I think it's fair to say that doesn't reflect that you condone the behavior."
He went on:
I think it is absolutely clear to all involved that the NFL does not condone domestic violence in any way and will not tolerate it in our league. I don't know how you can reach a conclusion other than that, although I certainly respect the opinion.
But as ESPN's Chris McKendry said on SportsCenter today, all this doesn't exactly "send a message of zero-tolerance" concerning domestic violence.
Um, no. Especially when the kind of assault charges Rice faced can come with a five-year prison sentence.
As a result, tens of thousands of people—nearly 50,000 already—have signed an online petition calling for the NFL to implement specific guidance and harsher punishments for players involved in incidents of violence against women. 
As the petition claims: "The shamefully insufficient two-game suspension of Ray Rice for his documented assault of Janay Palmer sends a terrible message about how the NFL views violence against women." 
Yeah, you could say that.