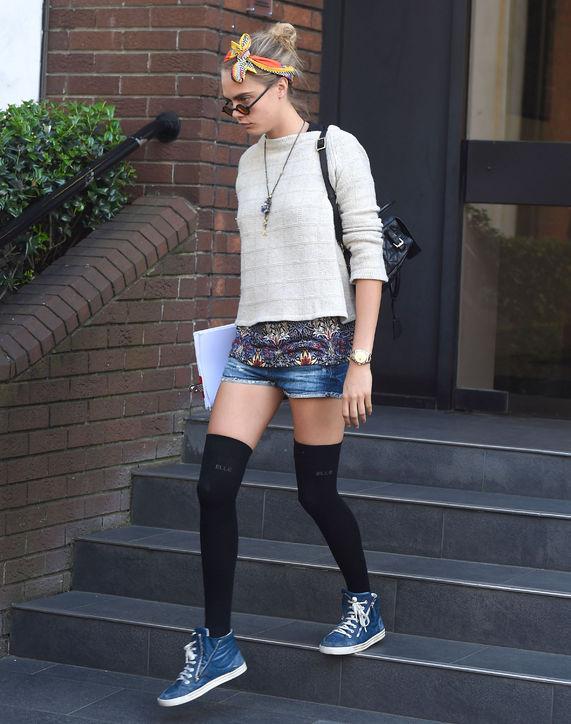 Credit: Pinterest
Don't get me wrong, I love a '90s fashion moment. Give me a wide-band Calvin Klein sports bra, a tired-around-the-waist flannel or a jelly shoe any day. I'm into it.
But there's a terrible '90s trend (yet again) that's been creeping its way back into the fashion scene, and it simply has got to stop. It's the knee-high stocking—or even worse, its classless little sister: the thigh-high stocking.
This look was originally spotted on Cher Horowitz in the '90s, and became a total fashion "do" for a brief season. But then, thankfully, it fizzled out—along with poof-topped pens and the term "buggin." Alas, while those other trends remain six feet under, the thigh-high look has risen from the dead. Lately, it's been spotted on street style stars and celebs like Taylor Swift, Katy Perry and Cara Delevingne.
Ladies, unless you are under the age of 13, please don't test-drive this trend. It's bad on multiple levels:
It's never weather appropriate.
Think about it: If it's hot out, it's too hot for knee-highs. If it's cold out, you'll want to wear stockings. The only reason you should you ever want those three to four inches of bare thigh showing is if the rest of your outfit consists of a lacy bra, panties and a garter belt. Oh, and you're about to have sex. 
It's not flattering.
Sure, if you're Cara Delevigne, this trend makes your legs look long and skinny, but on civilian women, thigh-highs and knee-highs are just not flattering. They cut the silhouettes of the leg off at its thickest part. No bueno.
Cue Lolita Complex. 
Let's be clear. This trend is NSFW. My biggest issue with it is that it evokes a weird Catholic school girl/Lolita feeling. The stockings are meant to cover the leg and be conservative, while drawing attention to a highly sexual area of a women's body. It's evocative of old dudes leering at Britney Spears circa "Hit Me Baby One More Time." Creepy.
Again, we say: Keep it in the bedroom, ladies.