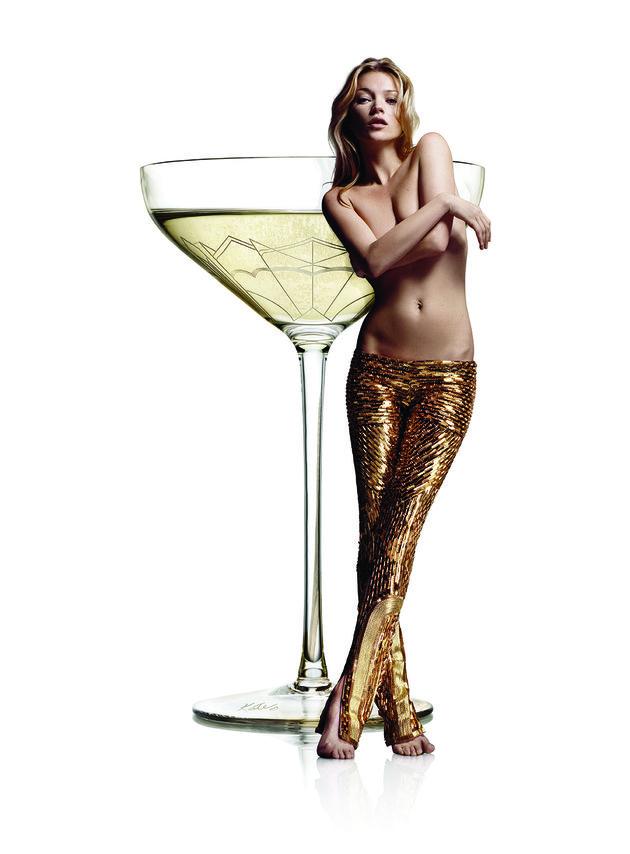 Courtesy of 34 Restaurant
I don't know about you, but every time I drink cocktails out of a champagne coupe, I feel a little bit daintier, a little bit old-school and a little bit royal. Probably because, as the legend goes, the first champagne coupes were molded out of Marie Antoinette's perfect breasts.
Well, the classic coupe is getting a 2014 supermodel update thanks to the one and only Kate Moss. Moss is teaming with London's shi shi 34 restaurant (the site of her 40th birthday luncheon) to celebrate its 25th birthday and her 40th birthday (I hope my breasts are still mold-worthy when I'm 40 years young!) and they decided recreating the classic champagne coupe out of Moss's breasts would be the perfect celebratory collaboration.
Moss worked with British artist Jane McAdam Freud—known for her striking human sculptures—to create a mold of her left breast. The glass also features artistic etching and Moss's signature on the base.
The glasses are as close as most civilians will ever get to Moss's iconic bosom (unless you're Kim K), so I predict fashion fans and London tourists will be lining up at 34, and its sister restaurants The Ivy, Daphne's, Scott's and The Club at The Ivy to cop a feel and get a champagne buzz.
Thank goodness Moss's breast is barely a B-cup or patrons would be feeling one hell of a hangover.  Cheers!