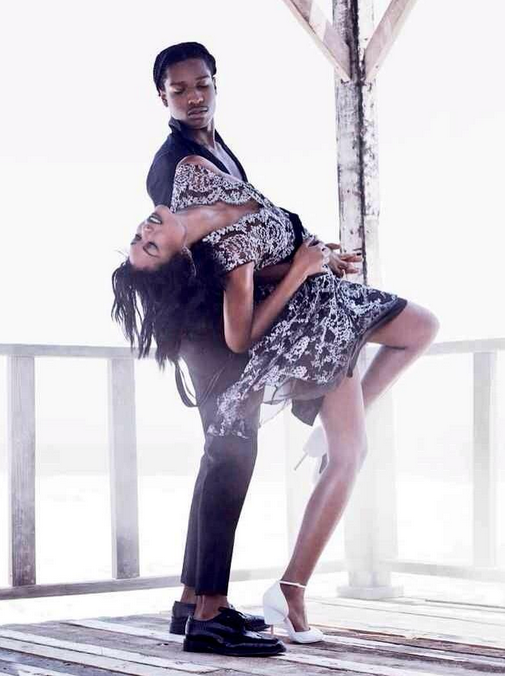 Credit: Vogue
Watch your throne, Beyoncé and Jay-Z. Move over Kimye. There's a new power couple in the fashion/celebrity/hip-hop zeitgeist—A$AP Rocky and supermodel Chanel Iman.
Let's face it. You're pretty much destined for fashion greatness when your parents name you Chanel Iman; true to fate the supermodel has been dominating the runways since she was 17. A$AP Rocky—the American rapper who first burst onto the scene with Live. Love. ASAP—also has friends in the fashion industry; he collaborated with Dior designer Raf Simons on a sneaker collection early last year and is a fixture in the front rows of Paris Fashion Week.
Still, a spread in Vogue's coveted September issue is the biggest of deals, and it's the first time the duo has been in an official editorial together. Evoking a sort of 1920 dance hall feel (with a touch of West Side Story), the couple is captured mid-dip, mid-lean and thisclose to smooching. In short? it's super hot. Iman wears some pretty incredible ethereal-cum-flamenco-gympsy dresses and killer T-strap dancin' heels, while Rocky keeps it classic in separates (those patent leather oxfords, tho).
Not only is the spread a breakthrough for Iman and Rocky as a couple, it also supports a move toward a more diverse Vogue­—the magazine's September issue is the first to feature a model of color on the cover in 25 years. (It features Puerto Rican-born Joan Smalls, who incidentally, is the #1 model in the world right now according to models.com).
Really Vogue? 25 years? Not even during Tyra's early 90s world domination? As we say in fashion, "le sigh."