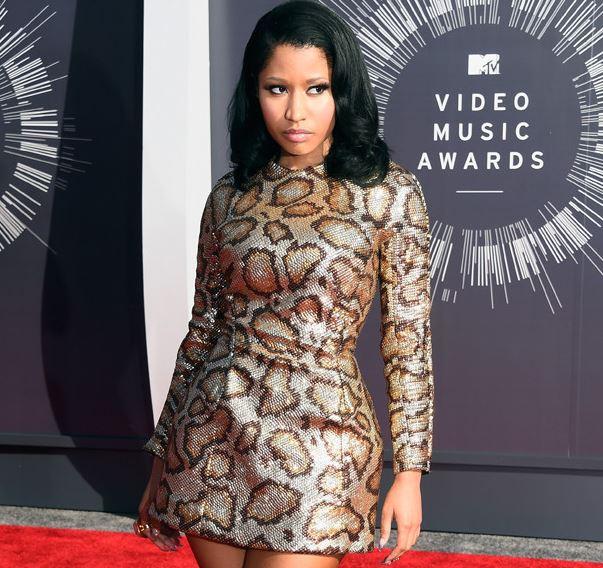 MTV's Video Music Awards is a reliable fashion circus. Boobs, butts and hip bones (thanks J.Lo) were out in full force last night—but there were also some surprise conservative looks (for instance, Nicki Minaj, pictured above, wore sleeves for quite possibly the first time). Read on for our takes on the best, worst and "WTF?"-iest fashion moments.
The Good
Miley Cyrus: We never really thought we'd say this, but Miley looked great last night. For Miley, a leather bandeau and high-waisted harem pants is paired-down and restrained, and it's a good look for her. She looked, dare we say it, like an adult.
Gwen Stefani: Never forget that Gwen Stefani is a queen. She wowed last night in her own label, L.A.M.B. On anyone else, a hot pink and black bustier/pants duo would look like a ticket to crazy town, but on Stefani, it looked fresh and cool.
Jennifer Lopez: When it comes to fashion (and music, film and hell, anything), we're not huge J.Lo fans, but girl knows how to rock a hip bone cut out. Last night, she did what she does best. Kardashian girls, take note.
The Bad
The Kardashians: There are so many things to say about the Kardashians' clothing choices last night. Let's start with Kendall, who just wants to be taken seriously by the fashion industry. Kendall, we take you seriously, you were invited to the Met Ball, you've walked for Marc and Karl, and you're in a Givenchy campaign. There is no need to dress like Ellen Barkin. Kim, your dress looks a Jonathan Adler/Target collaboration. Kylie, stop shopping in Kim's closet. You look 35.
Chloe Grace Moretz: Speaking of people not dressing their age—Chloe Grace Moretz, you are 17. This Louis Vuitton outfit would be appropriate on Diane Keaton if she were for some reason attending the VMAs. Weird.
Iggy Azalea: Iggy Azalea knew she was going to the VMAs, right? The Emmys are tonight, Iggy. Also, that dress was incorrectly tailored.  
The WTF
Taylor Swift: We love Taylor Swift (and apparently she's super sweet to her fans!) and we love designer Mary Katranzou, but this leotard onesie thing is all kinds of wrong. Taylor, we like you because you're prim. You should have just worn your performance outfit all night. It was perfect for dancing!
Katy Perry and Riff Raff: While we love the throwback to Britney and Justin's infamous 2001 denim gift to the world, we can't figure out if this is meant to be a joke or not. Perry's style has been so inconsistent over the years, it's hard to know if she's serious about this terrible, tacky look.
Amber Rose: Amber Rose, we love you, but this look didn't work on Rose McGowan in 1998 and it's not working on you in 2014. Sorry. 
Images: Pinterest