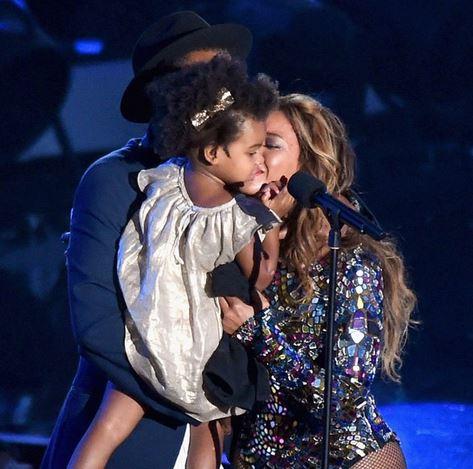 As we've established in part one and part two of a special series devoted to my deep and abiding obsession for Beyonce—recently re-confirmed by her VMAs performance—she is pretty much the end-all, be-all, jam. In this final part of the saga, we look at how she's also a fierce mama-goddess, embodying what some believe are the ideals of modern motherhood.
In a world in which women continuously struggle to "have it all," Beyonce seems to be leading a high-powered career while remaining a devoted mom—prompting mothers the world over to feel adoration tinged with acute jealousy.
Nowhere was this more perfectly captured than at the VMAs, where baby Blue watched her mother own the stage, then got scooped up in her dad's arms to participate in the world's most glamorous family photo-op. The image—boasting Bey at her most chic, gazing adoringly at her daughter after performing her high-powered diva job—manifested what every harried career woman/mom seeks. This is a woman who—to the outside world at least—has seemingly attained both professional success and parental bliss . . . and who looks amazing while tackling all of it.
More intruiging still, our cultural obsession with Beyonce has extended to a cultural obsession with Blue, who herself has been idolized as the diva of babies. The media has worked itself into a tizzy over Blue's life of luxury filled with baby Cadillacs and super-fly outfits. When Beyonce posted a photo of herself with Blue Ivy holding a phone earlier this year, people freaked. Blue is the selfie queen! Blue is an adorable walker! Can you imagine if Blue knew how to filter photos?! That same photo prompted a heated discussion about the status of Blue's hair.
Of course, celebrity babies are often put on a pint-sized pedestal. Witness Us Magazine's regular "Celebrity Kids" feature, or the fervent attention paid to Brangelina's ever-expanding brood and Kimye's North West—who, incidentally, has taken on Blue in a hotly contested "battle of the babies." (You can't make this stuff up.)
Considering that people usually want to tear down the rich and famous, why have we exalted not only Beyonce's perceived mothering prowess, but Blue herself? Perhaps it's because Beyonce, with her phenomonel talent and killer style and glitz-and-glam lifestyle, has always seemed entirely out of reach, a star in the most distant sense of the term. As a mother, that distance is bridged. When Bey posts a candid Instagram pic with Blue, or
writes a song
about her unconditional love for her daughter, or follows up a show-stopping performance with a raw moment of familial joy, she no longer seems like a goddess. She seems like a woman.
And that, more than anything, is what really makes her the best.