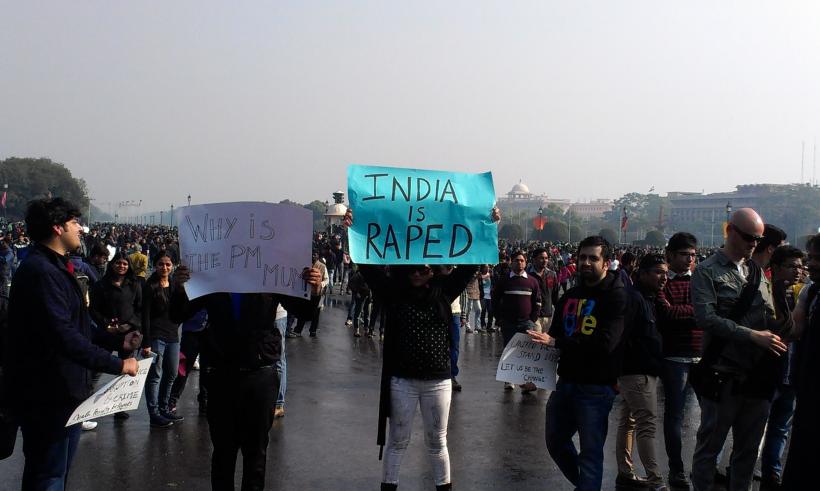 Rape protest in Delhi, India (Credit: Wikimedia Commons)
Well, it's happened again—another politician in India has espoused a grand and shameful opinion about rape. According to Deepak Handar, Member of the Legislative Assembly from the Trinamool Congress, "As long as the earth exists, there will be rape." 
These words are the latest in a bizarre blame game currently dominating Indian political circles. The mission of said game? Implicate everyone for rape but the actual perpetrators of sexual violence. Here are just some of the other harrowing comments that have been made:
Tapas Pal, also of of the Trinamool Congress party, sent a public threat to workers of a rival party stating that if his party workers were harmed, he would "set loose my boys on their women to rape them."
Last week, Ramsevak Paikra,

Bharatiya Janata Party (BJP)

home minister of the central Chhattisgarh state, said "such incidents [rapes] do not happen deliberately. These kind of incidents happen accidentally."
India's respected Finance Minister Arun Jaitley described the 2012 Delhi gang rape as a "small incident of rape" that cost the country billions of dollars in tourism.
In a parliamentary debate on rising crimes against women and children, Murali Mohan Maganti from the Telugu Desam party advised his "sisters, daughters and girls to dress dignified."
Echoing those sentiments, Banwari Lal Singhal, BJP legislator from Rajasthan, said that wearing skirts in schools causes sexual harassment.

He even wrote a letter to the chief secretary demanding that girls wear either pants and shirts or salwar suits as uniforms, rather than skirts. 

Citing ancient Hindu mythology, Kailash Vijayvargiya, a cabinet minister with the BJP, stated, "One has to abide by certain moral limits. If you cross this limit you will be punished, just like Sita was abducted by Ravana."
And oh, there's more:
The most disturbing part of all this? These comments reflect the deep-rooted patriarchal and misogynist attitudes of those who wield the power to set laws and policies directly affecting women. Amid such discriminatory comments, it was a relief to hear Prime Minister Modi address this issue in a remarkably sensible manner during his Independence Day Speech from the Red Fort in New Delhi.
"Brothers and sisters, when we hear about the incidents of rape, we hang our heads in shame," he said. 
Finally, a politician providing the correct response to the tragedy of rape. If only other Indian politicians would rightly hang their heads, too.