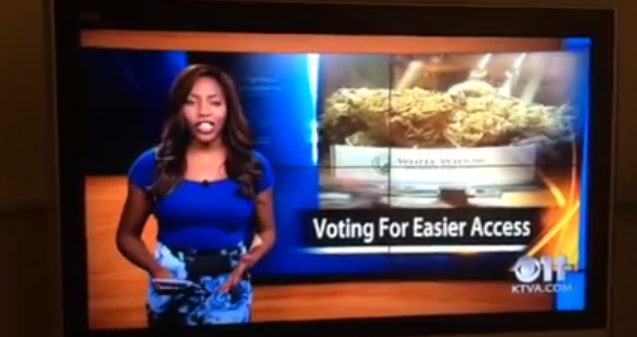 Credit: Alaska Dispatch News Youtube
There's quitting—and then there's dropping the f-bomb on live TV to illustrate your passion for federal marijuana legalization. Former Alaskan KTVA reporter, Charlo Greene, recently did both. 
No, Really
The clip is below, but we'll also give you the backstory. The Alaska Cannabis Club is the only legal marijuana dispensary in the vast state. Greene was doing a report on it for the TV station. Okay, so far, pretty run-of-the-mill. Then, Greene started dropping words that weren't scripted (at least, we assume): 
"Now everything you've heard is why I, the actual owner of the Alaska Cannabis Club, will be dedicating all of my energy toward fighting for freedom and fairness, which begins with legalizing marijuana here in Alaska." 
Wait for it . . . 
"And as for this job, well, not that I have a choice, but fuck it, I quit."
The network struggled to apologize and do damage control while Greene presumably dropped the mic and sauntered off, bong in hand. 
The Best Marketing Strategy Ever?
As it turns out, Greene had a bigger goal. Not only did she want to leave her job as a news reporter to pursue her career in marijuana dispensary work, but she is also working toward federal legalization. Today, she started an Indiegogo campaign to raise money for her campaign to fund the dispensary and promote federal legalization. The goal of $5,000 was already 43% met as of 10:15 this morning. 

Though the monetary goal is modest, the stunt itself is gathering tons of attention. Thus, Greene is bringing substantial awareness to her cause—and business to her dispensary. On her fundraising page, Greene notes that she's witnessed "dirty campaign tricks and lies" that anti-weedists have been utilizing to stamp out the possibility of recreational marijuana usage. 

Studies have shown that an increasing number of Americans support the legalization of recreational pot usage. The New York Times even ran a series back in July calling for marijuana legalization. Greene's blatant "I don't give a fuck" attitude may be exactly what the movement needs to kickstart more support and action. How many people have fantasized about doing what she just did? Damn girl! For now, the face of marijuana legalization is a bold babe with brains and beauty.