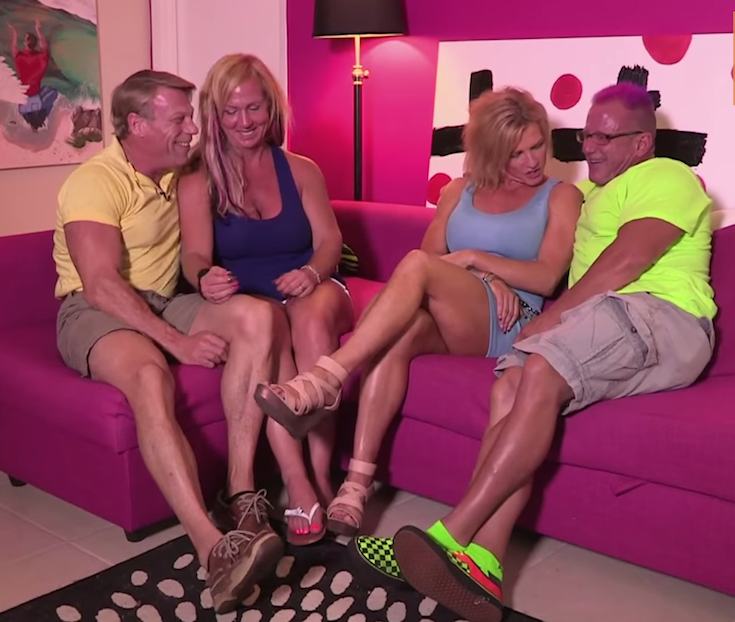 Swinging in process. Credit: YouTube
Maybe I just didn't attend church enough as a kid, but when I hear "Christian" I certainly don't think of fitness junkies with a passion for partner swapping. But it's time to broaden that perspective because, well, these types very much exist. 

Meet Christy and Dean Parave, the founders of Fitness Swingers. The Paraves, hailing from sunny Florida, are a married couple who founded this niche social network to teach Christianity to folks who enjoy working out and swinging (no, not this kind). They started their site seven years ago and have enjoyed the beauty of bangin' widely ever since. 

Interestingly enough, the duo doesn't use Biblical verses to justify their practices (not that they need to). Instead, they explain that whatever a married couple mutually agrees upon is "okay." Judgment Day, Christy explains, can have the last say—but they feel confident in their actions. A couple they swing with was quick to add that the Bible contains a lot of "gray areas." Dean explains that they first got into swinging, then decided to spread Christianity as a part of their partner-swapping. Though it seems they don't cater exclusively to Christian couples, on their fitness and swinging ways, Christy says, "I feel like right now, this is God's plan." 
Dean adds:
"Swinging to me started as a lifestyle, and then, it was like, you know what? We can do a lot of good with this. Instead of like, you know, let's just have fun with this. I'm getting to people that probably will never even visit a church."
This isn't the first time we've seen a religious group tout the virtues of sexy times. Pastor Dan Nichols is using the idea that God wants followers to enjoy sex as a selling point for his congregation at the Restored Church. And for another interesting marketing bent, Pastor Heath Mooneyham prides his church on being "manly," welcoming "misfits" and encouraging gun usage (as in, shooting targets and hunting). Though Christy and Dean are far from gathering their own super-following, it's certainly an interesting niche market. And who knows—it could earn a significant number of devotees after recent publicity on the likes of Jezebel.

As we continue to watch such interpretations pop up, it seems the future of nonsecularism could well be eclectic and sexy. Check out the video below, in case you don't believe me.