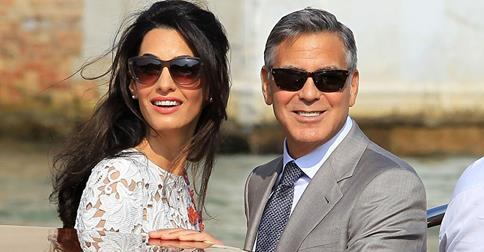 Image: Facebook
She married the dashing George Clooney in a canal-front hotel in Venice, Italy, clad in an Oscar de la Renta gown, flanked by a swathe of glittering, adoring guests including Matt Damon, Bill Murray and Cindy Crawford—then honeymooned at her new mansion in the English countryside before jetting off to Greece to advocate for the reclamation of the country's Parthenon marbles.
No doubt about it: 2014 has been very good to Amal Alamuddin. And now, it's been capped off with her nabbing the coveted—or at least high-profile—honor of being Barbara Walters' "Most Fascinating Person of the Year."
There are many reasons this glamorous human rights lawyer has caught out collective attention, and the media has been all to happy to wax poetic about her smarts, style and grace. But the most fascinating thing about Alamuddin is undoubtedly the human rights causes she supports. These issues demand attention for more reasons than a certain Mrs. Clooney backing them—but if that's what it takes to get them on the radar, so be it.
Here are three causes Alamuddin supports; we're going to go ahead and say that her involvement with them makes her a hell of a lot more fascinating than marrying a certain Hollywood hunk.
Sexual Violence Against Children in Conflict Zones
This May, as the media amped up its coverage of Alamuddin's impending nuptials, the bride-to-be met with foreign secretary William Hague to discuss necessary actions to protect children in conflict zones from rape and sexual violence. Said Alamuddin:
"Under international law, the widespread or systematic rape of children in conflict zones can amount to a crime against humanity. Those who carry out these horrific acts must be held accountable. UNICEF knows from its experience on the ground that sexual violence against children often goes unreported as children fear stigma and retribution or because robust processes do not exist to collect evidence. We need to ensure there are systems in place that will enable child survivors to come forward and access the justice they deserve."
Why is this cause so important, you ask? According to the UN agency for children, UNICEF, more than 150 million girls and 73 million boys experience sexual violence every year, with children in conflict zones among the most vulnerable.
Alamuddin isn't the only "stunner" involved in advocating against global sexual violence in conflict zones. Angelina Jolie spoke out about this issue at the End Sexual Violence in Conflict Summit in London this June (an event Alamuddin's meeting with Hague was held in anticipation of). But you may have missed hearing about Jolie's participation, too—it was, of course, completely overshadowed by coverage of her subsequent wedding to another heartthrob, one Brad Pitt.
Human Rights Violations in Bahrain
As adviser to the king and royal courts of Bahrain (in connection with the Bahrain Independent Commission of Inquiry—BICI), Alamuddin has played a role in working to shape up the Middle Eastern country's less-than-sterling human rights record. According to Human Rights Watch, the country's abuses include jailing critics of the government and operating a judicial system headed by ruling family members that fails to hold senior officials responsible for human rights violations—including torture-related deaths in detention facilities. BICI is tasked with investigating such abuses, and with making recommendations so Bahrain adopts appropriate standards of human rights conduct.
Special Tribunal for Lebanon
Alamuddin worked in the office of the prosecutor at the UN Special Tribunal for Lebanon, which has conducted trials for those accused of carrying out a 2005 attack that killed 22 people—including the former prime minister of Lebanon. In 2011, when the first indictment was handed out, President Barack Obama said it could mean the end to an "era of impunity" and that it was "a significant and emotional time for the Lebanese people" in receiving justice for the attack.
So there you have it: three causes you now know more about because a regular woman got hitched to a famous man. It's all well and good to eat dessert first, but broccoli makes you grow big and strong. If you know what I'm saying.