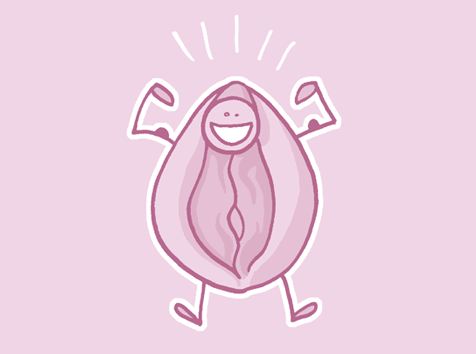 Courtesy of girls-matters.blogspot.com/
A happy vagina almost always makes for a better day. And, fortunately, if you're in the market for a happier vjay, there are a number of apps to support you in that. I sorted through all of the sexual health apps (and believe me—there were lots of them) so women could find the top four you need to have on your smartphone right now. All of these are free with the exception of one (which is totally worth its cost), and most offer reasonably priced in-app purchases to enhance your experience.
The short low-down on these downloads? There's an app to give you better orgasms (and who doesn't want better orgasms?), another one to teach you how to make yourself a little more sexually fulfilled (no partner needed), and two to track those not-so-fun aspects of being a woman.
Kegel Camp - $1.99 for iOS
Kegels may sound like the new cronut, but Kegels are exercises all women (and men) should be doing to help improve our orgasms. They involve the flexing and relaxing of the PC muscle (which is the same muscle you use to stop the flow of urine). Kegels are great because you can do them anywhere, anytime without anyone knowing! Bonus? You never even break a sweat! The Kegel Camp App was designed by Dr. Emily Morse of the Sex With Emily Podcast (which offers great sex tips, if you aren't already tuning in) and in the app, Emily will coach you through 20 levels of exercises. She also offers daily reminders to Kegel; Emily's like a personal trainer for your vagina! The app also tracks your progress—but you probably won't need that because your awesome orgasms will remind you that all of your hard work is paying off.
Happy Playtime - Currently in Beta
Did you know that 46.6% of women masturbate less than 30 times per year? That's no fun. And the designer of the Happy Playtime App, Tina Gong, does not want you be to be part of that statistic. According to the developer's website, the Happy Playtime app is a "sex education game whose aim is to eliminate the stigma around female masturbation." In the game, a cartoon vulva (she's cute and pink and you will love her) teaches you how to masturbate properly. Each level unlocks different sex education lessons. Unfortunately, this app is not available for your phone just yet, but you can play the game on their website—just don't forget to close your bedroom door first!
iPeriod- Free on iOs and $1.99 on Android
This is the best period tracker—period! There are tons of period trackers for smartphones, but this one got the thumbs up from Harvard, Forbes and Glamour. iPeriod is padded (sorry, can't help myself) with features including: tracking your heavy and light flow days, what day you are on in your current cycle, when you are going to get your next period and how many days you have left in your current cycle. It also tells you when you are ovulating, lets you make notes and track your moods, as well as clue you in on other aspects of your cycle and fertility. Don't let yourself get stuck in a bathroom without a tampon or pad again (we've all been there)—download this app!
MyPill- Free for iOS and Android
If you are on a birth control pill regimen, you already know when your period is coming so you don't a period tracker app per se, but you do need this app. MyPill reminds you to take your pill—with or without an Internet connection, which can be helpful if you are travelling. Don't forget, one missed pill can alter your cycle or even worse, make the pill less effective. MyPill will also help you organize all things pill-related, such as remind you to get your yearly check up, call your doctor or refill your prescription. It also lets you take notes and track symptoms. Perhaps one of the best features is its calendar that fills you in on when your period is coming—up to 6 months in advance. This allows you to schedule vacations and important events you might not want to invite Aunt Flo to around your cycle. And if you use other forms of birth control like the ring or patch, you're not left out; there are features of this app designed for you too. Rejoice!