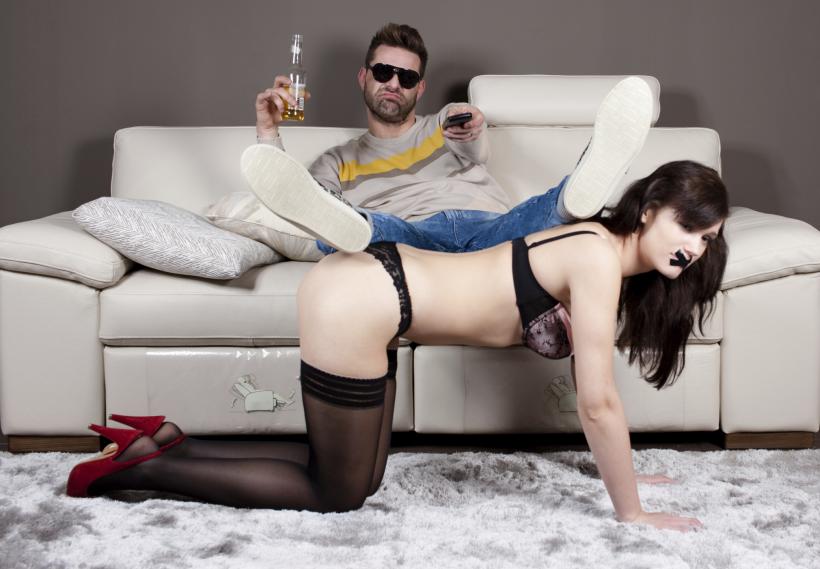 In a decision that feels like a neo-Brave New World, the UK has gone ahead and forbidden 10 sex acts from being depicted in pornography. And surprise surprise, the fornication-fascists' wildly arbitrary ruling—headed up by the British Board of Film Censors (BBFC)—is sexist as hell.
As of now, the Audiovisual Media Services Regulations 2014 requires that video-on-demand (online porn) adhere to the very same guidelines laid out for DVD sex shop-type porn; dust settles on the glory days of glory holes and free-for-all sexing.
Why oh why have the following carnal delights been banned?
Spanking
Caning
Aggressive whipping
Penetration by any object "associated with violence"
Physical or verbal abuse (regardless of whether it's consensual)
Urolagnia (known as "water sports")
Female ejaculation
Strangulation
Facesitting
Fisting
Because apparently, there's this sinister little system called the R18 certificate, which classifies works that fall within British Obscenity laws (which were first introduced in 1857 in the hopes of banning any and all content that "tends to deprave and corrupt.") These smut laws have evolved over time—they were revamped in 1959 and 1964—but this recent ban illustrates all-too-clearly just how puritanical, antediluvian and repressed the UK Man remains. While uncertified recordings are not illegal—you can videotape your Sunday spray-fest to your heart's delight—the supplying of said smut (meaning selling, renting, loaning or gifting) is. 
So much for that stocking stuffer.
Not surprisingly, feminists, filmmakers and depraved anarchist lovers of sex sans shame or governmental control have risen up against the new restrictions. Erotic filmmaker Erika Lust (who we had the pleasure of interviewing just last week) is one voice ringing out loud and clear that while any "banned" sex acts fosters shame and self-loathing, these particular bans are especially troubling as many of them are designed for female pleasure. Men can come over every face, breast, dick and plump rump that celluloid can churn out . . . but female ejaculation?! The horror! The filth! Honest to god, if you told me this was the plot of a new Margaret Atwood novel I would believe you. Lust beautifully rants to The Independent:
"When a lot of these 'R18 rules' are targeted at censoring female pleasure—female ejaculation is one of the banned activities—doesn't that perpetuate the poor gender education our children are already receiving? We should be teaching them about the importance of female pleasure, not censoring it. 

With this legislation, the UK is in danger of finding itself back in an age where porn is simply the boring, unrealistic, male fantasy of bimbos eagerly pleasing men as if it is their duty, where women are submissive and lack ownership of their sexuality. Women in the industry will now fear the loss of their livelihoods as well as their sexual independence.

In the industry, the thought is that many of these 'rules' make no sense. How could female ejaculation possibly be any more 'dangerous' than male ejaculation? This is utterly demeaning."
OK. Shaming female ejaculation—which I think we can all agree is just about the most awesome thing ever that can happen to a vagina—is a head-shaking shame, but at least it's a biological anomaly? Or some-such bullshit. I don't know, just playing devil's advocate here. But banning facesitting (which is like standard issue vanilla sex protocol) due to its potentially "life-threatening nature" is just straight-up surreal. Seriously. OK. Facesitting could be life-threatening if one's vagina were able to create a flesh vacuum on their partner's face rendering them unable to breathe . . . but in that case, they're probably a sex-beast X-Men and we've got bigger problems on our hands. Not to mention, we have to assume that at least one cameraman, lighting assistant or production minion would be likely to intervene before any act turned deadly. And while facesitting can be a BDSM-smothering situation where consensual pseudo-suffocation is possible, this is but one tiny sliver of the way this sex-act manifests itself. Banning a hugely popular, come-and-get-your-clit love power-move that women the world perform on the regular is a dangerous infringement on female sexuality.
More incisiveness from Lust:
"It's 2014, and we need to acknowledge that sexuality is key to human nature, whether that be the so-called "normal sex" as we imagine it, or kinkier desires. The fact is that porn does need to change, and on a big scale. But this legislation is not a step in the right direction. It has been put in place because of a supposed need to safeguard children, but prohibiting something doesn't make it unattainable, it only makes it more desirable."
Teenagers will watch pornography probably before they've even had their first sexual encounter. Rather than denying them access to porn completely, which simply doesn't work when it is so endlessly available online, or limiting what they can see, therefore limiting what they perceive as "normal," we should be educating them better. Is it correct to teach our children that certain sexual acts are wrong and others not?"
Creating a completely arbitrary hierarchy of sexual normalcy and in effect, making it criminal to portray said acts, is nothing short of fascist body-policing. Raising children—who as we all know become adults—that certain sexual acts are wrong, are ban-able, creates a society steeped in shame. And what about all the men and women who have been happily facesitting/spanking/fisting/ejaculating in joyous soul-rainbows for, I don't know, since we stood upright, who find out their favorite pastimes are now elicit, literally criminal to produce other than in their own bedrooms. They might find their "taboo" lovemaking to be hot . . . but they just as easily could find such criminal classifications horribly constraining, confusing and degrading. They're filled with newfound and utterly unfounded remorse for raising red welts on their lover's pert behind.
In lieu of the most climactic closer you've ever experienced, we'll leave you with a tease and a promise. I've done my damnedest to highlight the egregious sexist elements of this offensive legislation but this is just the tip (see what I did there?) of the issue.
Read our esteemed writer Jetta's take on concerns surrounding consent and BDSM in the bedroom.