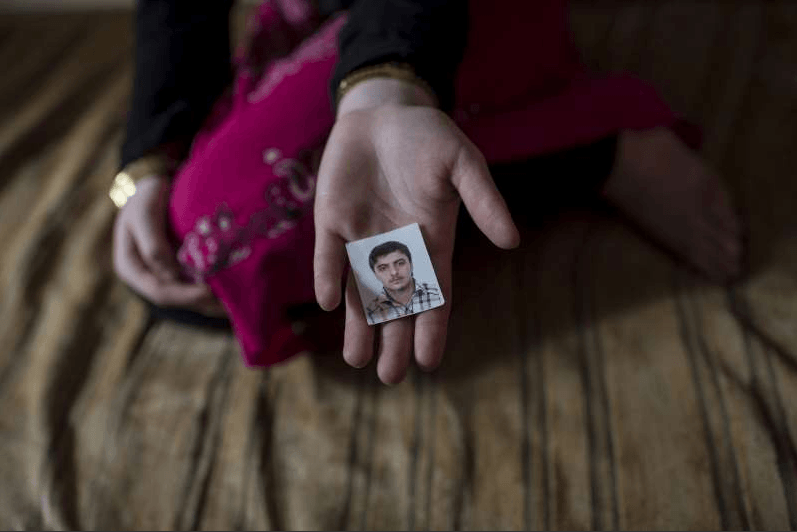 A 14-year-old Syrian refugee in Lebanon holds a photograph of her fiancé. The marriage was arranged by her parents, but the child was unhappy. Credit: Facebook
I was fourteen when my parents found death in the conflict, the horrible wars in our country.
With the help of a neighbor, I fled my country for Mauritania
where I found my paternal uncle thanks to UNHCR and ALPD.
At seventeen, my ordeal began.
It was decided that I would marry a man, to whom I said no.
Pressured by my uncle, I accepted to marry this man who was not my age.
Imagine! Oh, imagine!
Married life at my young age and with my inexperience,
Every day in charge of cooking, cleaning the house, looking after my children and my husband,
Beaten up, humiliated, and threatened with death if I ever dared to raise my voice.
Imagine! Oh, imagine!
Don't I have the right to speak out?
Don't I have the right to protection?
Don't I have the right to an education?
If only you could imagine.
Imagine! Imagine! Imagine!
This heartrending poem was penned by a refugee child from the Central African Republic now living in Mauritania.
Sadly, her plight is far from uncommon. In fact, 15 million of our world's children are married—against their will as, by definition, a child is unable to provide consent—every year.
Marriage before the age of 18 is a fundamental violation of human rights—yet it remains shockingly prevalent the world over. Per the United Nation's Children's Fund, globally:
- About 1 in 4 women were married before age 18.
- Among women aged 20 to 24, approximately 1 in 3 were child brides.
- 1 in 6 adolescent girls (aged 15 to 19) are currently married or in union.
Given the pervasiveness of this harrowing practice, the Office of the United Nations High Commissioner for Refugees (UNHCR)—also known as the UN Refugee Agency—has specifically targeted it for this year's ongoing 16 Days of Activism against Gender-Based Violence. The UNHCR theme is: "Protecting Rights and Preserving Childhoods: Working Together to Address Child Marriage."
To dig deeper into this global atrocity, I reached out to Francis Markus of UNHCR for more details on the destructiveness of this practice and what was being done to draw attention to and battle what seems to be an insurmountable morass—a trifecta of economic duress, sociocultural normalization and systemic violence.
The Crux Of The Issue
"Child marriage, however you look at it, is a form of sexual and gender-based violence. In fact, in many situations, it is tantamount to rape." And it's "found in all corners of the world" with "tremendous consequences for the girls involved—and of course often for their children."
A Deprivation Of Childhood
"We are talking about young people who are forced into union with men who may be decades older than themselves, who often treat them with great cruelty. The fact that these girls are usually forced into these relationships, often amid situations of dire family poverty, deprives them of any chances, any choices, any childhood. They may have all sorts of hopes and interests and desires for education and a career, but they end up with babies and housework."
Markus further explains that in addition to robbing them of their childhood, it also forces them to participate in perpetuating the very system they abhor and are taken advantage by.
"For their young bodies, the physical and health consequences of pregnancy at 15 or even younger can be disastrous. From the perspective of their psychological development, they are being forced to live an adult, mothering role, when what they need is mothering themselves and what they want is still to play as children themselves. Of course this has consequences for the development of the children they're bringing up as well."
And all too often, the crippling nature of this practice is grossly misrepresented in the media. 
"More thought is needed about what it actually represents. There have been many reports about its prevalence among Syrian refugees, for example, with parents claiming it's a way of protecting their daughters. But this is a grotesque distortion of the whole meaning of protection in a rights-based context. The positive side of that is that while the whole displacement experience for millions of people is unbelievably traumatic, it is such a radical shakeup in people's lives that can also provide opportunities for changes of attitudes and social values on issues like this.

And this is where we have to make maximum efforts to incorporate this into our protection work in the communities. Of course we have to go about this not by  attacking people's traditional values, but for example by making them see all that is to be gained by enabling girls to have an education and by doing whatever we can to help provide opportunities for that to happen."
There are other damaging misconceptions as well.
"Another issue that sometimes gets misrepresented is the extent to which refugees want to marry their daughters off. Though child marriage can be a long-standing practice that is carried into displacement, it is at times also a desperate coping mechanism of families who feel they have no other choice. What is needed, therefore, is more economic opportunities and access to services, including education, to present these families with alternatives to resorting to such practices."
What's Being Done To Combat It
Having read that the "UNHCR offices across the world will be holding a wide range of activities to mark the 16 Days of Activism," I asked Markus what was being done to draw attention to and battle this heinous epidemic.
One tactic was for the UNHCR in Geneva to collect "stories and drawings from refugee children around the world, giving them the chance to express their fears and experiences of early marriage." One girl in Uganda "drew a picture about a 60 year-old man who came to a 15 year-old girl's family home with a briefcase of money, a goat, and a car full of items such as salt, pepper and oil. She sits in the corner crying, while her parents welcome the man. She cannot do anything; her parents have decided to marry her to this man."
Such efforts, to collect and illuminate the experiences of those whose lives have been torn apart by child marriage, represent one of the main ways to tackle the issue: by raising awareness "about the risks and negative effects this has on children. This is an effort to change the way this is viewed by those who promote and facilitate it."
There is hope that efforts battling this issue are working—much of the solution lies in prevention.
"We have been undertaking many awareness-raising campaigns throughout the 16 Days, to educate people about girls' rights and the risks associated with child marriage. This has included debates in refugee communities, events in schools, parades, plays, dances, film screenings, and radio and television segments. One important goal of the campaign is to work with men and boys—they are usually the ones who make decisions in the family, including when a girl will marry.

For example, in Uganda, a mass sensitization competition was held to promote male engagement in the elimination of sexual gender-based violence with the theme 'Real men don't defile and marry young girls. Are you a real man?' Groups of men participated through music, dance, drama, stories, poems and posters demonstrating the dangers of child marriage and promoting girls' education. Everyone from the settlement gathered for the competition."
Only time will tell if the UN Refugee Agency's critical efforts will have the potency and persuasion to effect systemic change among these communities, but during these 16 Days of Activism—and indeed, every day—we're thankful for every effort that combats this violence perpetuated against the world's most innocent and vulnerable populations.