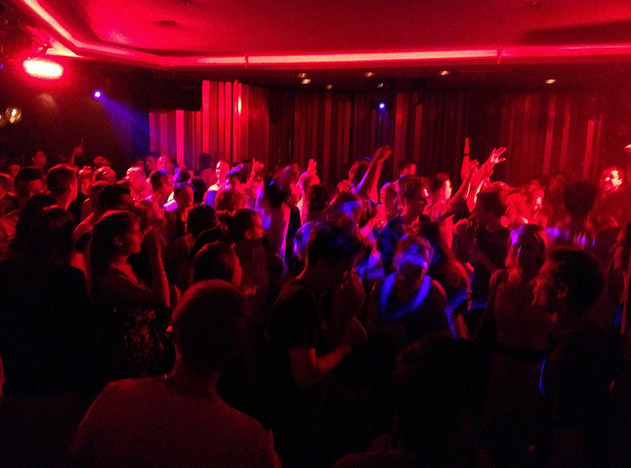 Thinkstock
We finger Molly on our gums at the Maplewood train station because I haven't seen her in at least three years, and I feel fat.
Bella is the type of girl who means well but can't help having a fat prejudice. She told me in the back of a cab once that she hated fat people—that she couldn't help it—and then she started to sob. 
Bella turned 23 yesterday. Tonight we celebrate. In exactly four months from yesterday, I will turn 23. I will no longer be the just-out-of-college age; it will no longer be okay to have no clue what I'm doing with my life. My heart begins to beat a little too quick for comfort; it's possible the Molly was cut with speed. Or meth. Or both. My tights are cutting me in half at the waist so I wait for new passengers to take their seats on NJ Transit before I pull my dress up and roll them to my hips. Just like a sausage in its casing. 
She invited me a week ago when I texted her that we were moving from California to New Jersey via my Prius. The club where she was having her party, she said, would be on Spring Street next to the New York City Fire Museum behind an unmarked black door. To get in, we had to give them the secret password: Bella. 
I don't know it yet, but when we get to the club, we won't be able to find it, just as she warned us. I'll see it for a moment as a sign that we should turn around and run for the nearest subway station, but then a gaggle of long-legged blondes will tumble out of a hole in the wall and we'll have to slip in before the door closes. 
I will start to question my "comfortable" ankle boots. When I catch a glimpse of my thick, muscular arm in a dimly lit mirror, I will want to cry. I recognize I don't belong here. I will wonder why I would do this to myself.
Then I will see Bella and she will see me. She'll yell my name from across the room and introduce me as her best friend from high school and then, for just a moment, all will be right in the world.