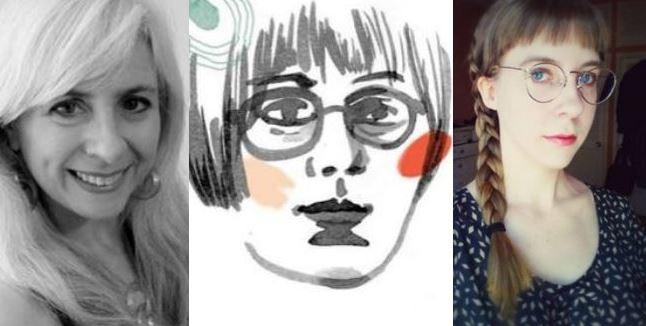 Jaleen Grove, Shannon May, and Celine Loup
Illustration industry sexism can't silence the female perspective.
Sadly, gender disparity is part and parcel of almost every industry on our little blue planet.
According to the Bureau of Labor Statistics, of the 534 occupations listed, women make more than men in exactly seven positions; to be clear, that represents 3% of the female workforce. And I think we can all, whether the most avaricious or anti-capitalistic, agree that few symbols represent inherent worth more starkly than money earned.
The more coveted, interesting, beautiful, rare, important—pick your effusive adjective—the more people are willing to pay for it. So what does it mean that women across the globe are paid significantly less than men? Doesn't this suggest our thoughts, projects, words, and actions are less valued?
Not so surprisingly, women working as illustrators face the same uphill battle as every one of their female brethren; they're overlooked, underestimated, and often grossly underpaid in comparison to their male colleagues and contemporaries. (Which is to say nothing of the sanctioned misogyny they contend with, but we'll get to that in a minute.) 
A 2010 survey by 3x3 magazine discovered that of 527 illustrators living in the U.S., the U.K., Canada, Europe, and Asia/The Pacific, every single female illustrator—on average—made less than her male counterpart. In the United States:
 
In other distressing news, women have won less than a third of the Caldecott Medals, a highly-coveted and career-altering award given out to the "most distinguished American picture book for children" every year since 1938.
"Winning the Caldecott or even garnering an Honor benefits an illustrator's career in multiple and lasting ways. Not only do these awards immediately and tremendously boost trade sales of the winning title, they virtually guarantee that every school and public library will acquire a copy—often multiple ones—and they also raise the profile of an illustrator's earlier and subsequent work. In addition, Caldecott titles tend to remain in print almost indefinitely—particularly meaningful in an age when most children's books go out of print in a year or two. Winning illustrators can also expect to receive dozens or even hundreds of speaking invitations—and substantial speaking fees." —Carol Baicker, McKee, Route 19 Writers
Needless to say, the landscape for female illustrators has never been too dreamy. And then, the Newsweek fiasco happened.
As a brief recap, Nina Burleigh wrote a scathing cover story on the "savagely misogynistic" culture of Silicon Valley. While the article itself was lauded as an excellent and long overdue exposé, the accompanying illustration—a faceless woman in red heels with an arrow lifting her skirt up—was generally lambasted as being laughably sexist and offensive, ironically illustrating everything that's wrong with gender dynamics everywhere. It was also created by illustrious male illustrator, Edel Rodriguez, complicating the dialogue even further.
In the wake of this controversy, illustrators were asked by Steve Bodner (another big-cheese illustrator) to weigh in on Facebook. And that's when things truly got ugly. Really ugly. 
What began as an attempt at a civilized discourse between illustrators quickly devolved into a 500-comment morass of sexist screaming, of he-said, she-said; a shut-the-hell up shit-storm. One of the most charming gems came from Tom Dougherty, who called the women openly criticizing Edel's work a "small number of humorless mutts."
As the women involved with the thread felt increasingly belittled and berated, Celine Loup decided to create Humorless Mutts, a private Facebook group for female illustrators to talk shop and support one another; currently at 137 members, Humorless Mutts has become both a solace and a poignant reminder that vocal women are still perceived as a threat.
Ravishly caught up with six members from the collective to discuss sexism, feminism, creativity, and why they won't be silenced:
Sarah Green: a San-Francisco-born, Brooklyn-based illustrator, who graduated with a BFA from Rhode Island School of Design's Illustration program in 2014. She's heavily inspired by Scandinavian folk art and mid-century illustrators; her concentration is children's book illustration.
Alice Meichi Li: an NYC-based illustrator who grew up in a crime-ridden Detroit neighborhood, nursed on cultural-identity confusion and comics. Her art has appeared in Harvey Award-nominated anthologies, Reading With Pictures, and Dark Horse Comics' Once Upon a Time Machine. 
Celine Loup: a French born, East Coast-raised illustrator with aesthetics informed by vintage lifestyle photography, Swedish electronic music, and French comic books. Clients include: The New York Times, The New Yorker, Penguin, The A.V. Club, Variety, Lucky Peach, Medium, Matter, Boom!Studios, Scrubs, FLARE, Hemispheres, The Chicago Reader, BUST, Mental Floss Magazine, and The Guardian.
Shannon May: an illustrator living in San Francisco, California, who spent her childhood on the coast of southern Connecticut among ruins of the Revolutionary War. She is inspired by the aesthetics of science and loves museums, Sailor Moon, and geometry. 
Anita Kunz: an internationally published artist for 35 years. She has won numerous awards for her work and has taught and lectured widely. She has received the Order of Canada, her country's highest civilian honor, for her work.
Jaleen Grove: Ph.D., an illustration historian and co-editor of the forthcoming A History of Illustration, the first global survey of the field. Grove also serves as associate editor of the Journal of Illustration, and as scholar-in-residence of the Visual Literacy Foundation of Canada. She is currently based in Hamilton, Ontario, where she maintains a studio practice alongside her research and writing. Jaleen also provided a lengthy and fascinating history of women working in illustration that you can read here.
I asked questions; they answered.
*
Do you all believe Edel Rodriguez's illustration depicting Silicon Valley sexism was itself sexist? Did everyone just miss the entire damn point and publish an illustration that was as sexist as the attitudes it was attempting to criticize?
Or was this his (perhaps failed) attempt to illustrate that, yes, sexualizing, infantilizing, and humiliating women is Silicon Valley's current mode of operation in regards to women? Nina Burleigh (the author of the article) has gone on record insisting that is was supposed to be ugly, because that world is ugly.
Celine: I can only speak for myself, both as an illustrator and also as someone who has devoted years of her life to understanding intersectional feminist theory. The most I can say about the illustration *by itself* is that it is a mediocre concept delivered in a mediocre package. It succeeds in portraying "what dudes think of women in tech" without actually subverting the narrative—the result is frustratingly superficial, places men's point of view at the center of this issue, and tells me nothing about what it's like to actually be on the receiving end of that male gaze. 
In the aftermath, two things happened: one, it became painfully obvious that Edel, Steve Brodner, and many many other men (and some women) have an incredibly limited, simplistic understanding of what sexism *actually is* and worse, that they use that ignorance to derail and harass and gas-light their female colleagues who dare speak up. 
Two, I watched a class full of sophomore illustration students (most of whom were women) come up with tons of better, far more subversive ideas. Context is everything, and all this tells me is that Edel and many of his male colleagues lack the empathy required to handle a subject as painful as sexism in tech.
Shannon: I remember reading an article on Jezebel about rape jokes (by Lindy West), and why they aren't funny. But West pointed out that sometimes, they are, or can be. And when they are, it's because the joke isn't making fun of rape victims, it's making fun of rapists. I think this is my problem with Edel's illustration. It feels like he's pointing the finger (or cursor, quite literally) not at the men in tech, but at the women. The woman in the illustration has no authority, no agency.
Edel isn't making any kind of editorial statement, and he's not condemning the way women in tech are treated, which the article clearly does. So I think ultimately, though it's a clever visual solution, it misses the point and comes across as sexist. It certainly doesn't help that the moment a woman pointed out the potential flaws with the illustration's tone, Edel's response was less than understanding, and a band of angry men came to his defense and undermined any criticism.
Anita: I think I'd like to comment more generally about Edel's illustration. The fact that he felt he was the best person for the job is quite ridiculous. There are many different ways to illustrate an article. Obviously the more the illustrator knows about the topic, the better and more authentic the illustration will be. I think the illustration did reflect the article, but not in a way that might have been helpful to address the very real problem of sexism. The reaction to it did quite the opposite. It illuminated the way in which women are frequently bullied and subjugated, and was not helpful in the least.
Sarah: I think what was most frustrating about this whole thing was there was a group of women who collectively agreed that, if nothing else, this image made them uncomfortable—and that perspective was not only written off, but torn apart and shamed. I do think Edel's sexism is internalized, but it's sexist nonetheless.
There were so many other routes he could've taken, but instead he went with a sensationalized pin-up doll, which, frankly, is a lazy conclusion. Edel was subconsciously showing that is the way he and other men see women, which was only further emphasized when it became so hotly defended.
And then, when the notion was brought up that this piece should've been done by a female illustrator, the discussion devolved into: "I'm a male artist, why should I be punished for that?" Meaning—they were insulted by the suggestion that work about women should be given to women. They're so accustomed to their privilege that the notion of sharing it feels like a punishment to them.
And overall, I don't think Edel was the right illustrator for the job stylistically, since he's known for creating faceless illustrations—one of the major problems people had with the woman he created. From start to finish, I just felt like the whole thing wasn't properly considered.
Jaleen: Although we are evidently expected to understand from this image that Silicon Valley objectifies its women workers, and we do, the Rodriguez illustration is ambiguous about the ethics of sexual harassment and objectification. First, the short red dress and red pumps imply that the victim was "asking for it." Second, the spare style—rather like a public restroom icon—dehumanizes the victim, giving her no face with which to show her disapproval. Third, the cursor symbol implicates the users of software—not the developers and bosses of Silicon Valley. By failing in its content, style, and concept, the illustration is unwittingly complicit with entrenched patterns of shaming, and of eliding who is really to blame for the ongoing problems of sexism women face in the workplace. That's what makes it problematic.
Alice: There were a lot of attempts to justify the illustration as being "subversive," but I contend that it's not subversive if it's reinforcing existing oppressions. If this was meant to be satirical, as defenders suggested, then it's failed in that regard as well. A rule of good satire is that the aim should be to "punch up, not punch down." The illustration puts the viewer in the seat of the person who is moving the cursor, which essentially foists the POV of the Male Gaze onto the audience. Combined with the fact that the woman is non-reactionary and faceless, it sends a strong message of presenting the male perspective as being active and the female perspective as being passively acted-upon. For a female-centered subject matter, there is no woman's perspective there, and that's the problem.
Steve Brodner asked me on his Facebook thread if I thought the piece should have been done by a female illustrator. While a female illustrator would have come from a place of stronger connection and understanding of subject matter, I don't think that feminism is exclusive to women. Many male feminists (some of whom also happen to be illustrators) are out there, and they "get it." Tim Paul, for example, did a great parody of the cover that points the finger at the male perpetrators instead. Edel's supporters framing it in a way that women are just bitter that another woman didn't get the job is an incorrect way of looking at it.  Even if I do personally think a woman would have been better for the job, I objectively would not have such an issue if a male feminist illustrator got it right. And that's absolutely not what happened here.
To me, as a layman, this illustration feels woefully simple, overly stark, and graphic . . . and of course, created by a man. Why do you think they didn't get a female illustrator? Is it a myopic oversight or something more systemic or insidious?
Celine: bell hooks famously said "White liberals see the whiteness of their social lives as more of an accident of circumstance than a choice." This isn't the first time I've seen the art directors of Newsweek drop their pants and alienate women illustrators in a big way, so if Steve Brodner thinks that just because *he* could never imagine his friends at Newsweek saying or doing something sexist, he needs to check himself—men aren't in the best position to judge. When I asked why a woman wasn't hired, many men were outraged—the suggestion that men shouldn't always be given free access to describe and profit off of women's experiences went against a lifetime of having their point of view legitimized.
They demanded to know if men should then only be assigned to articles covering men's issues. The thing is, every element of a woman's life—from reading books about boys and men to writing papers about the motivations of male characters to being attentive to her own safety, to navigating most any institutional or professional or economic sphere—demands an ironclad familiarity with, and belief in, the idea that men really are fully human entities . . . whereas society is organized as such that men can still publish books, make celebrated art, start families, and be elected to office without fully accepting our humanity.
In an industry with firmly entrenched boy's clubs that shout down any woman who dares voice her discomfort with the work that is being made, why is it surprising that Newsweek felt that a man was qualified to address the cutting pain women experience in another industry?   
Shannon: Celine's point is spot on. While I'm not an art director, I am a designer who gets to hire freelance illustrators sometimes, and when I'm hiring them I try to think about how that person might have specific knowledge/skills/experience that will give depth to the illustration. Sometimes this means hiring an Asian-American illustrator, or a female illustrator, or whatever, but not just because I need to fill that niche ("Oh, this article is about Asian-American issues, so I have to hire an Asian-American illustrator"). It's because that specific person's work has a certain tone and depth that someone who doesn't have that perspective on the world wouldn't have. 
Sarah: I'd like to bring up another example. Recently, Chris Silas Neal illustrated an article about a group that is working to create more opportunities for women in science fields. And although the illustration was actually really good, both from my illustrator and feminist POV, it's still frustrating that literally an article about creating opportunities for women didn't take the opportunity to hire a woman illustrator. I feel like that says it all. The irony is so glaringly obvious and yet completely unnoticed.
Jaleen: As design historians like Rick Poynor, Steven Heller, and Johanna Drucker have been saying for years, design and illustration practitioners don't get enough critical or analytical education. Some art directors and illustrators tend to focus on style without thinking through the connotations and social contexts of what they're choosing, because they have not been trained in History, Liberal Arts, or Humanities. 
Alice: There is a systemic phenomenon where the "default" white cissexual heterosexual male is subconsciously given authority to comment over other groups (non-white, non-heteronormative, and non-male people) because they're perceived as more "neutral." All the while, the oppressed groups are seen as having "bias" since these issues affect their well-beings and personal interests. This makes no sense, because if you want to read a story about women's perspectives, why would you want someone with no experience being a woman to interpret it for you? Are we as a society really so lacking in critical thinking that we need a man to tell us what to think about women's issues, instead of hearing from the source and deciding for ourselves?
Ironically, women are probably better qualified to comment on men's issues than the other way around, since we are constantly being exposed to the Male Gaze, men's perspectives, and male protagonists in our culture. We navigate life by having to empathize with men and having to appease men and make them feel comfortable, when men have to empathize with women far less often. 
Celine, in the wake of this controversy you created Humorless Mutts on Facebook. Can you tell me a little bit how and why it came about?
Celine: This hit very close to home, as I have been an observer of the tech world for many years—I've been following these issues very closely, and have many female friends in tech as programmers, scientists, and researchers. My boyfriend of many years is very involved in these issues as well (he was in the room when dongle-gate happened).
These women are working in an industry that actively *does not want them there* despite all the hand-wringing over the leaky pipeline. The abuse these women endure ruins lives, and the tech industry sees their presence as a threat. This is so, so much more complex than a red dress and heels. The only way women can affect real, lasting change in any industry is by pooling their resources and sharing information.
At some point while Steve Brodner's thread was in full swing, a veteran female illustrator who was my mother's age privately messaged me to say that I could expect to be shouted down and abused by these men for as long as I kept working. That there were huge costs to speaking out, and that the best thing was to keep your head down and just try to make good work and just hope the men wouldn't take credit for your ideas. I saw my entire life stretch before me, a career of swallowing shit and saying thank you just in the hopes that the boys would let me play in their club house. That is not acceptable to me, and that is thankfully not our only option any more. I have seen women in tech survive by creating safe spaces for each other, so why shouldn't we?
Anita: I have to say that ultimately I read very little of the feedback on Steve Brodner's thread. I read some of it and then stopped. I knew what was going to happen. I've seen it happen too often. Plus it was a bit of a trigger for me, and frankly I didn't want to be depressed and upset yet again.
Alice: In the middle of the thread, other illustrators who were supporting my comments started private-messaging me and discussing the topic with me. With all these different private threads coming to me at once, I figured it would be great if we could consolidate it and have a place to discuss these topics as a group. Since I've already had experience and involvement in secret women's-only support groups in other male-dominated industries (comic books, tech), I decided to reach out to Celine and confirm whether or not this also existed in the illustration industry. And if not, I said we should create one. Her guidance and moderation in the group has been an extremely positive and inspirational one.
How do you all use this group? What role does it play for you?
Celine: A big part of it is to warn each other about who not to trust. Who not to waste our time on. When things happen in real time, we screen cap it so there will be a record. It's a way of holding our male colleagues accountable, even if it's strictly to ourselves. It's a safe space for women to ask "am I crazy for feeling uncomfortable with this?" without a dozen men jumping in to say, well I don't experience this so actually yes! you are crazy, why do you hate men? Without men's voices to disrupt and talk over us, we have space to re-examine our lived experiences together.
It's incredible to watch women go from thinking they are the only ones with a problem to realizing this is a shared experience. This is basic women's lib 101, but for many women in our group this is the first time they are realizing that their anger, discomfort, anxiety, and fear is a well-studied phenomenon that is larger than themselves. I think HMC's existence would be justified even just on those grounds, but it is also a place for us to share resources, collaborate, and mentor each other.
Finding mentors is so important, but often established male professionals want to mentor people that they can see themselves getting beers and hanging out with, and if you're unlucky enough to find yourself in the company of men who can't quite take women seriously as colleagues but can only understand women in the context of desire or annoyance, you won't qualify as someone worth mentoring.
On the other hand, I know female illustrators have had a really hard time getting their male colleagues to even speak to them if they fail to meet their standards of attractiveness—I found that once I grew my hair out and started wearing lipstick, men who wouldn't give me the time of day were suddenly interested in what I had to say. So building connections in an environment where our performance of femininity or lack thereof doesn't factor in is really important.
Jaleen: The group is the first one that I know of to bring women together and to openly discuss and identify sexism in illustration, which is a long overdue corrective given that the industry mantra has usually been that the field is equal-opportunity. You can't fix a problem until you admit you have one. I too value being able to talk about my own experiences over 25 years (like being fired because my male coworkers were hitting on me, and feeling guilty for having been friendly to them and "causing" it to happen) without worrying about being told I'm whining or blaming some of the roadblocks I faced on others.
Shannon: I think the group is also important because illustration is such an isolated profession. So many of us are working alone in our homes or studios, with very little community or support. Illustration is a scary field to begin with, and when all these negative sexist comments start flying all over Facebook, it gets even more isolating (god forbid you speak up about it!). It's been amazing to see people sharing their experiences in the Humorless Mutts group and to witness the outpouring of support from and for women illustrators, art directors, and teachers at all levels of their careers. It's nice to know there are other people out there, people like you, and you are not crazy, or alone.
Anita: As probably the most senior artist in the group I want to say how impressed I am at the level of discourse I see in the discussions. I've been working for almost four decades, and I've finally been able to speak out about my experiences without having to defend myself ad nauseum. Much of the time in the past I was the only woman in certain situations, and I wasn't in any position to complain about anything because I felt so isolated. I learned to just shut up. I think I've seen it all, from my experience with the agent who wouldn't represent women, to losing jobs to men even when I was more qualified, to earning less, and even to a full-out sexual attack by a client.
Sarah: As an illustrator at the beginning of her career, the group has been a real sense of comfort. While it can be disheartening to hear the horror stories, also knowing that we're not alone in it is oddly empowering. You know the metaphor—a single stick can be easily snapped, but sticks in a bundle can't be broken. It's cheesy, but honestly, it's great.
Alice: Aside from exposing the real face of sexism in our industry to fellow woman illustrators and giving us all a place to vent about our experiences, it's been an extremely positive safe space where we're able to foster a supportive network professionally as well. Too often, when women "make it" in male-dominated industries, they show a reluctance when it comes to helping other women in their industry.
They can feel protective of their accomplishment in navigating the sexism thrown their way, so why should they make it easier for other women? This, of course, fosters a competitiveness in vying for the token female role in the boys' club, and makes the environment less friendly to women overall. From what I've seen and experienced in the HMC, we're working to abolish that by making sure that the atmosphere is supportive and collaborative rather than competitive.
How has the dawn of new technology shifted the paradigm of illustration? In terms of both aesthetic and perhaps gender dynamics as well? Has it improved things or just complicated things further?
Celine: Before Photoshop, there was definitely a big demand for oil painting in illustration. I can't stress enough how hard it has always been for women to be taken seriously as oil painters. My own oil painting teacher took particular delight in undermining his female student's confidence—if you really wanted him to teach you how to paint, you had to work so much harder than the boys, who of course had no idea what has happening. Thankfully, teenage girls today can find incredibly welcoming communities for learning how to use Photoshop.
I am so grateful that art directors now are thirsty for fresh perspectives, but I will say—I've noticed a tendency for guys with really fresh, startling work to be given way more credit as wunderkinds than girls who are making comparable work. Our industry is also over-saturated with dudes who think they should be able to paint the female form any way they please without having to explain themselves or deal with the politics of what they're doing, but women who make work that is honest about their experiences with misogyny, racism, etc. are opening themselves up to a lot of male outrage and dismissal.
Women always, always know there is a male audience for their work—we've spent our whole lives internalizing the male gaze; we hardly know what it would be like to live without it—and we know what we risk if we fail to place that audience's needs at the center of our work. That audience grows larger and more pressing with every marginalized community a woman belongs to. Pissing women off is a game for so many male artists—they think it's a mark of making truly "edgy" work. Pissing men off is a luxury few female artists are in a position to enjoy.  
Jaleen: A funny thing happens with technology—when something new comes along, it hasn't yet got a gender identity, but it quickly acquires one. With the advent of mass magazine publishing, photography, comics, modern design, animation, computer graphics, and computer gaming, you will find women pioneers. But once technologies get turned into industries, the exigencies of educational systems, employment practices, publicity, and business customs force women out. I don't think the latest technologies have altered this pattern at all.
Shannon: The Internet has definitely changed the field a bit, though I'm not sure it has changed the gender dynamics at all. In the pre-Internet age, an illustrator had to physically show up at an art director's office and show them their portfolio, whereas now we can just shoot an email saying, "Hey, check out my portfolio website." I feel like this has in some ways democratized the field, since anyone with Internet access can reach out to an art director and potentially get a job. But it has also made the field more competitive (you're now competing with the whole world, versus just "Illustrators in New York"). So there's more diversity in the work, I think.
Alice: I'm generally optimistic and embracing of technology, so I can see the benefits. But I don't think it's a cure-all either. It's exposed the world to more "feminine" styles, but it's still obvious that the focus tends to rest primarily on the male names, like James Jean, who execute those feminine styles.
If anything, it's the shift in the overall culture spawned by technology that has infiltrated illustration. If the sum effect of more people educating themselves about social justice on Tumblr and Twitter is that there are greater numbers of young female and male illustrators who are vocalizing their dissent at the sexist establishment, then yes—this is an improvement. If technology has given us a platform like the various Facebook and Twitter threads surrounding Edel's illustration to make our arguments heard, then maybe there is hope for the future of the industry after all.
Some of the stories and assertions made about Silicon Valley are downright despicable. Shocking. Even though we all know this kind of behavior transpires all the time.
How do you think the illustration industry compares with other industries in terms of sexism? How does it manifest itself?
Celine: A lot of it is just petty power games, but there's also a lot of shameless plagiarism. I told a class full of students "you know men will always steal your ideas, right?" They looked a little taken aback, as if I was saying something outrageous. Anyone who is going to argue that point is not paying attention. Men do it because they know they can get away with it, and if women complain they're seen as troublemakers. In Steve Brodner's thread, it was our professionalism on the line.
We were all treated like amateurs no matter how many years we'd been working, and one man went so far as to suggest that if I wanted my criticisms to be taken seriously, I should be willing to work for free by posting my own alternatives to the cover. Men thought nothing of calling us "crazy" and "overly pathologizing." And then of course, we were called "humorless mutts" and had caricatures drawn of one of our members. Apparently being called ANIMALS was Steve Brodner's limit of decency, at which point he declared a line had been crossed. Thanks, Steve, A+ moderation job. And yet none of these men could accept that any unseemly misogyny had been on display.
Why does it surprise anyone that these men were scratching their heads when we said there are better ways to illustrate sexism in the workplace? They can't see it happening under their noses. They literally do not have enough empathy to discuss this.
Shannon: In some ways I think it manifests less because many of us are our own bosses. We need clients, sure, but ultimately we don't report to anyone but ourselves. This means that there isn't some huge company of 80% men constantly questioning our value. The flipside is that, instead, we get the fathomless Internet . . . which we all know is just as sexist, if not more so, than that huge company would be. Also, there's an increasing number of amazing women art directors who are maybe less gender-biased than their male counterparts would be, but the entire industry does still feel like a "boy's club." But there's more and more amazing work coming from women illustrators and art directors, so there is hope!
Anita: I have to say that for many years I was so busy that I just kept my head down and worked. I didn't really have much to do with the politics of illustration. It wasn't until I began volunteering with ICON (I was on the board of directors twice) and the Society of Illustrators (again on the board, and as museum chair) that I really began to see how some artists, women in particular, were treated. I saw a fair amount of bullying and disrespectful treatment. Becoming involved in the politics of the field really opened my eyes, sadly in a negative way. And of course with the Internet, and people anonymously posting whatever's on their minds, the level of civility has reached an all-time low in my opinion.
Sarah: I once had a guest speaker in an illustration class tell me that my work was very feminine, and that I should consider taking on an "androgynous" pen name, like changing "Sarah Green" to "S. H. Green." I was very upset and insulted, because that's not really androgyny, it's the removal of femininity to present the assumption of masculinity. He was essentially telling me that my work wouldn't appeal to men unless they thought I was a man. And I think that's really the crux of the problem in our industry. The first most successful (editorial) female illustrators that come to mind have "androgynous" names. Their work is phenomenal and speaks for itself—but I have to ask myself if their "genderless" names are what allows the work to speak for itself.
Jaleen: Because a lot of illustrators think that there is no sexism in the field, a great many act accordingly—they'll look at a woman's portfolio any time. But this denial of sexism is equally a problem. People's implicit biases are as insidious as outright discrimination. The most difficult thing we are facing is that people who are acting in sexist ways (like the guy who once introduced Anita to an audience as "the best woman illustrator," for instance) don't realize it and get offended when it's pointed out, which just perpetuates and antagonizes the issue. We have to figure out how to get folks to examine themselves honestly without shutting us feminists down as a squawky minority.
I imagine some female illustrators wanted to outwardly lambast Rodriguez's illustration but didn't for being of being blacklisted. How real is this fear?
Celine: I certainly heard from a lot of them. Is lambasting the right word, though? Most of us, I think, at worst felt lukewarm about it—though a few women were honest about the painful memories the illustration called up for them. Steve later edited his post, but it initially asked women specifically to weigh in. But whenever women speak up, our voices are interpreted as shrill, even if our feedback is relatively mild.
The lambasting came when Edel and the other men responded to our feedback with over-the-top histrionics—judging by how upset they were you'd think we had accused them of being Imperial Wizards in the KKK. I personally only stepped in to express my disappointment at how little respect these women were given when their feedback had been specifically requested. I honestly don't know how real that fear is—Edel will swear up and down he has no influence.
Everyone knows that's horseshit, but I think a bigger question is whether it matters or not. It obviously matters a great deal to some of us, and I don't want to minimize that at all—the whole point of HMC is to recognize the vulnerable position many of us are in. I'm willing to be the public face of HMC because I risk so little by pissing off these people.
Shannon: I think it's a delicate situation. I, for one, wouldn't want my own work lambasted in that way, and ultimately I felt it wasn't the appropriate response. But illustration is such a networking/word-of-mouth profession, it can be intimidating to speak up about something for fear of the repercussions (that person never hiring you, that person saying to an influential art director they shouldn't hire you, etc. etc.).
This is especially true when the person you're criticizing is well-known and established. And the threat can feel very real: I was once told by a male illustrator (who I had reached out to for advice and support): "You'll never work in this town again" after I refused to have sex with him. As a fresh young illustrator, that scared the shit out of me. What if he starts bad-mouthing me to art directors and I never get another freelance assignment? My career could've been ruined. I don't know if he actually followed through with his threat or not, but I continued to get assignments and have been relatively successful. Even so, the fear of speaking up can be very real.
Anita: I think it's a fear that does have merit. The field is so competitive these days that any perceived slight might indeed work against you. In my experience I know for certain that I've been ostracized, yet I have no way of knowing what it actually cost me in the long run. It's subtle and insidious.
Sarah: Again, I'm less than a year out of school, so it definitely intimidated me. I've always been very upfront and outspoken about my opinions, but I was hesitant to say anything particularly strong-worded. I mean, especially with a thread like that one, where I really felt like it represented more than a debate over a single image. In the daily world, you can say that anyone who doesn't respect your opinion isn't someone you want in your life, and you can walk away from them. But in the professional world, you can't, because it's your livelihood and there's a risk that it would negatively follow you around for who knows how long.
Jaleen: I'll admit to worrying about it, because I'm on the job market right now for teaching positions, and I don't want potential employers to think I'm "difficult." Also, because I myself sometimes paint naked women that may or may not be dealing with sexuality, I know that I am inviting someone to pick a fight because they think I'm maybe a hypocrite. Well guess what: The issue is not simply "you're with us or against us"—the complexities of gender identity and visual communication cannot ever be boiled down to simple rules. Everyone's going to have to tolerate nuance and paradox.
We always ask. What's your relationship to feminism? How does being a women affect your work? (Or not!)
Celine: Feminist theory saved my life as a child—I was intensely aware of my status as second class and feminism gave me the tools to survive that experience. I'm by no means as educated about it as I'd like to be—even after almost 15 years of study (this is why you can imagine how frustrating it is when men think they're qualified to talk to me about it despite having next to no knowledge about the subject) and I am in a constant process of unlearning all the toxic shit I've internalized as a woman, and also as a white, able-bodied, upper-middle class straight person. Being a woman inherently affects my work; I can no more divorce my status as a woman from my work than a man can divorce his status as a man from his.
Anita: Well of course I'm a feminist. Being female permeates everything I am and everything I do. In the past 10 years I've been doing much more personal work along with my illustration work. I'm doing a lot art having to do with gender. I'm showing in galleries much more now than before. And, dare I say it, the fine art world seems to be even more outrageously and unapologetically sexist.
Sarah: Being a woman will always inform my work, subconsciously or consciously. If I had to vocalize it, I think a lot of it has to do with color palette; girls are more encouraged to play with color in the way they present themselves, and I think that also makes us a little bit bolder in that regard. I notice a lot of male work is darker and more subdued. The flip of that is that it's more "serious" and thus taken more seriously. As far as subject matter, I'm very drawn to fairytales. They were so formative for me in my childhood, and there's something about them that's always relevant and relatable to children. But they also carry a lot of problematic themes and language, so right now I'm focusing on reinterpreting those stories to reflect the changing culture around gender norms and expectations.
As far as the word feminist, I love and embrace it. My mother was part of the 2nd wave of feminism in the '60s and '70s and I always am appreciative for her headstrong and unapologetic female perspective. She told me, "I burned bras and fought for your rights so you wouldn't have to." She fought for herself and for her future daughters, and I want to do the same thing. I'm so grateful to how far previous generations of women have carried the movement, but there's still work to be done. We have to keep carrying it forward.
Jaleen: I've always been comfortable with the word feminist. My mother was too, and always told me to beware of gender stereotypes, and I've often challenged them. But I've also been wary of hardline positions too—in the '90s, for instance, it was taboo in art school to depict the female body lest it invoke the dreaded Male Gaze. I never subscribed to that point of view because I felt that removing women from their share of visibility was worse.
As a professional who regularly has to socialize with men over 65, I've also found that it is not in my interests at all to react to all the dated, inappropriate, and unintentionally insulting things they say and do—sometimes, it's more empowering to play the part, because how else are you going to gain admittance to the boys' club? Once you're there, you can prove yourself, although certainly it takes more effort and impeccable work than I daresay a guy has to face. So I tend to take all theory—even if I agree with it—with a grain of salt, checking it against my personal circumstances at a given moment. Feminism is thinking for yourself and getting the best possible outcome from a given situation.
Is the landscape shifting in illustration? Are female voices growing in numbers and volume? What's the value in creating a balance?
Celine: Every year our art schools are dominated by female students, but of course society being what it is, it is harder for them to make it professionally—especially if they want kids later on. All that said, it's a fantastic time to be a woman in the indie comics community, especially with the rise of print-on-demand services. I don't have any personal experience with this, but I think it's also a lot easier to do product design these days with Etsy and so many resources now marketed toward women who want to start their own small businesses. Editorial has so many talented young women working now, of course. I think that with every new crop of graduates, our industry becomes a little more diverse, and because of that a little more open to the experience of empathy.
Anita: I hope it's getting better. When I teach, I try to be very honest about what the students can expect. I explain that the illustration field is a microcosm of the bigger world and that of course there's racism and sexism and anti-Semitism, etc. etc. But I'm very optimistic about what I've been seeing, and this group in particular gives me hope.
Sarah: I'd say 8 out of 10 of my graduating illustration class were female, but it feels like that 20% of men will always be 100% successful. Additionally, the majority of teachers in my department were male, and I can recall a few times where I've brought up a problem with a work I find sexist and made my teacher very uncomfortable and the discussion was subtly tabled. My department also only offered one class on gender, and it was during the winter session, so only 5 weeks long—hardly enough time to properly explore the subject. I'm hopeful though. I see friends who have been uncomfortable with the word feminism now consciously trying to unlearn their internalizations. I feel like as long as we keep talking about it, we can only keep moving forward.