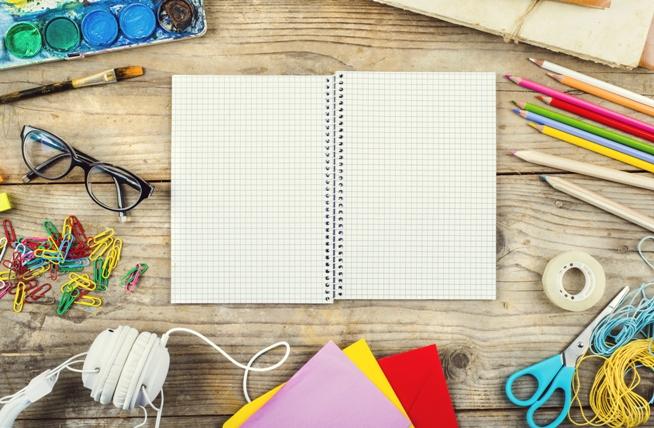 #5: Get crafty.
So you're newly unemployed. Go ahead . . . dedicate an entire day to uncontrollably sobbing while listening to Lana Del Rey on repeat in bed. In fact, spend a few days feeling upset: Being newly unemployed sucks. You deserve a good mope.
After a day or two of moping, chances are you'll become pretty restless, and wonder, what's next?  Why, this funemployment checklist, of course! Here's a breakdown of things to keep yourself occupied — and motivated — over your next few weeks of free time.
1. Catch Up On TV And Books. Become besties with Mad Men, Empire, Game of Thrones, New Girl, American Horror Story, and so many more. Load that Netflix queue with television shows that you've been curious about. If you're an avid reader who, after a long day at work, couldn't seem to get past two pages without passing out at night, now is the time to finally finish The Girl on The Train.
2. Set Up Playdates With Your Pals. A sudden abundance of free time can be overwhelming, especially if your income isn't flowing like it used to. Socializing with friends can cost little to no money, and chances are you probably have a handful of friends that you seldom see because of clashing schedules. Meet up somewhere cheap or free, like a park or a coffee shop. Take advantage of your flexibility!
3. Stay Active. Fantasize about becoming a bikram yoga enthusiast or doing the CrossFit Games? Beef up your fitness routine now that you have additional time on your hands. If you already have a gym membership, try taking a mid-day class that you would have been unable to attend due to work. If a gym membership won't fit into your new budget, try some YouTube workout videos or, if the weather's good, go for a run.
4. Do A Deep Home Cleaning. Have you been putting off dusting the fans or renting a Rug Doctor for the last few months (dare I say years)? What better time to make your home spotless? Cleaning can be a nice cerebral departure and will give your living space a fresh new finish. This is also a great opportunity to donate — or even sell — some of your gently-worn wares. Not everyone likes cleaning, but think of the payoff: a little reorganizing can help put you in a fresh headspace.
5. Make All The Crafts. Remember those elaborate crafts and cheesecake bites you pinned a few months ago before bed? Now's the time to bust a move. Pull out that e6000 and get to work. It'll help clear your head, and the results will make great, affordable gifts for the holidays.
6. Develop A Game Plan. Sleeping in past noon and binge-eating Ben & Jerry's is dandy . . . but your ultimate objective should be to find a new job. Making a goal to hit up job sites like LinkedIn, Indeed, and even Craigslist is a superb way to find opportunities.
Make sure to enjoy your time off, but don't lose hope! The perfect role is somewhere out there waiting for you, it's up to you to apply for it and slay any interview that comes your way.