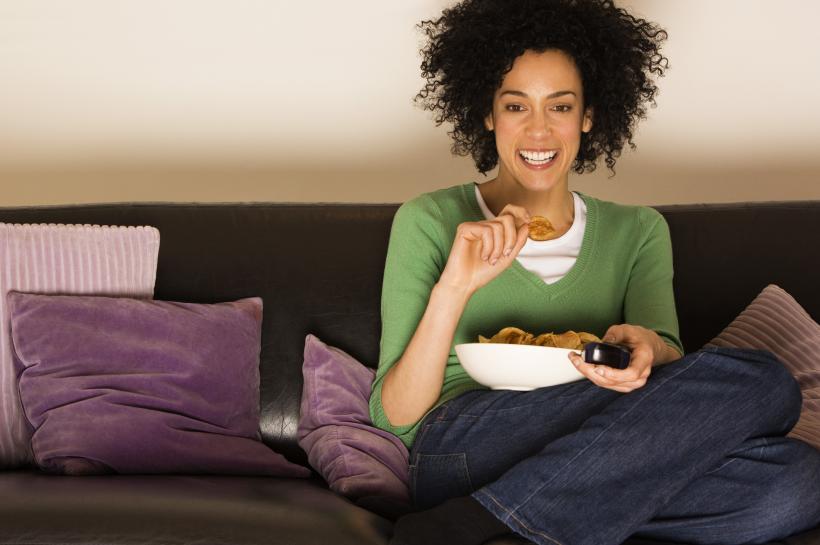 Get thee to Netflix. (Image Credit:
Some weeks are longer than others. And those kind of ridiculously challenging weeks require extra recuperation time over the weekend in order to retain any shred of sanity, especially since none of us are getting any younger. Fully embrace the fact that you'd rather put on pilly sweatpants and get under a cozy blanket than squeeze into some ridiculous outfit from the recesses of your closet and prance around a darkened dance floor. There's a time and a place for showing off your new moves, and that time is some other Saturday.
When you need to crawl toward the couch, and the only amount of movement you can muster is pressing buttons on your remote or holding food up to your mouth, take full advantage of this highly curated list of movies available to you on Netflix (whether you have your own account or you've simply hacked into one of your friend's).
Thought-provoking movies to inspire and expand the mind:
Eternal Sunshine of the Spotless Mind

Amelie

Into the Wild (also a great book)

Almost Famous

Goodwill Hunting

Nebraska
Especially witty, unique comedies:
Frances Ha

Bernie

Frank

The Big Short
These will just make you feel good, plain and simple:
Clueless

Ferris Bueller's Day Off

Galaxy Quest

Best in Show

The Princess Bride

Mean Girls

Bring it On
Fascinating documentaries that definitely won't put you to sleep:
Exit Through the Gift Shop

Muscle Shoals

Surfwise

Iris

Ai Weiwei: Never Sorry

The Wolfpack

Grizzly Man

What Happened, Miss Simone?
Slightly on the intense side, but insanely high-quality films:
Django Unchained

Pulp Fiction

Spotlight

The Usual Suspects

No Country for Old Men

Reservoir Dogs
The ones that stimulate the therapeutic kind of crying, for when you need ALL the feels:
Short Term 12

Forrest Gump

The Truman Show

It's Such a Beautiful Day

St. Vincent

Sling Blade

Silver Linings Playbook
Addictive TV series for binge-watching (or old faves for re-watching):
Portlandia

Friends

Parks and Recreation

Breaking Bad

Master of None

Arrested Development

Fixer Upper

Stranger Things

Better Call Saul

Mad Men

Anthony Bourdain: Parts Unknown

Chef's Table

The Office
Feel free to make your own categories for these, the more idiosyncratic, the better. When in doubt, check IMDB and Rotten Tomatoes ratings. They'll rarely lead you astray, although even the professional critics have their moments sometimes.
Don't feel like your Life GPA is dropping just because you're choosing to stay in for the night. It's easy to confuse stillness with laziness. You've worked hard, and feeling guilty for a necessary recharge is just going to ruin the whole thing. There's no way you can continue being a superhero unless you have a moment with your TV. So soak in the relaxation and allow yourself to be entertained by some of the finest films around.
And remember, if all else fails and you need something that will lull you into a catatonic sleep, you can now stream Bob Ross painting happy trees until you drift into total oblivion. Bob understands. He knows what it's like.
Happy viewing to us all!