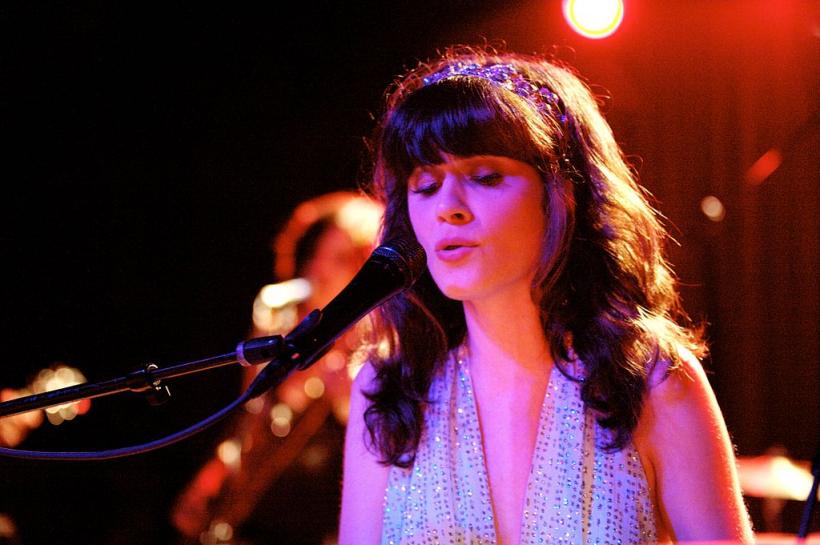 Keep the Grinch at bay with these tunes. (Image Credit: Briana (Breezy) Baldwin via Wikimedia Commons)
Nothing makes me get my Grinch on faster than glitter-bombed Christmas wrapping and nasally voices ringing in my eardrums at every store. The only thing worse would be if someone combined them, like a glitter-spewing stereo playing has-been pop stars making less than joyful noises. Ahem, excuse me while I steer this in a positive direction. In order to feel even close to wonderful during this time of year, below are a few holiday albums that don't suck.
Contemporary Favorites
Sufjan Stevens
"Songs for Christmas" and "Silver & Gold"
Call The Suf' anything you want, literally pronounce his name incorrectly if you wish, but you have to call the guy prolific. He spits out songs like *insert any type of hawking, expectorating creature with overactive salivary glands. And these songs have oh-so-many jingle bells. Not sure if that's a good thing for you or not, but there it is. Plus, they're all pretty unique takes on the songs you know. His volumes (and volumes) of songs will last you the whole yuletide season, if you let them.
My Morning Jacket
Despite the odd album title, this one still gives you the holiday vibes you're looking for, but in a totally original way. As in, they actually wrote their own songs rather than creating the remakes you're familiar with. If you're not a Jacket fanatic, it may take you some time to adjust to the mellow atmosphere this provides, but it could serve as a nice balance to your sweater with blinking lights strung through it. We get it, it's intentionally ugly.
Various Artists
"Holidays Rule" Compilation
With Paul McCartney, The Shins, Andrew Bird, Fruit Bats, Rufus Wainwright, The Punch Brothers, The Civil Wars, The Head & The Heart and other amazingly talented individuals, it's like they took that road trip playlist of yours (maybe just mine?) and infused it with candy canes. The fact that this compilation was released by a music group for Starbucks will make you feel incredibly basic, but Rufus' crooning will lull you into a pleasant catatonia until you no longer care. The Shins' version of "Wonderful Christmastime" is so seamless and perfect, you'd think they actually wrote the song.
Bright Eyes
Impress your sullen 30-year-old cousin (the one with hair perpetually covering his face) by playing the Bright Eyes' version of the season. This one provides a serving of nostalgia in manageable, relatively straightforward bites. Though said cousin may take this as an opportunity to show you his sketches, this album is approachable enough for the whole family.
She and Him
"A Very She and Him Christmas"
A lot of campy standards done in the expected She and Him style. If it were a wine I'd call it "drinkable." Discover a gender-swapped rendition of Christmas' creepiest tale, "Baby It's Cold Outside," spinning it into a slightly-less-disturbing version. It's difficult to separate how adorable and brilliant these two are as people from their musical abilities, therefore I have no valuable, technical information to provide you. I can only recommend this as festive background music safe for any gathering and leave it at that. I see you, foot. I caught you tapping.
Essential Classics
Ella Fitzgerald
"Ella Wishes You a Swinging Christmas"
Put on those pearls. Try that updo. Ella nails it like always, and it's no surprise. In fact, the only surprise involved is that you get to feel swanky AF at that Christmas cocktail party, regardless of how much regurgitated baby formula is on that flouncy skirt of yours.
Bing Crosby
Did the word "classic" even exist before this Mr. Crosby character? It's so definitive and quintessential that when analyzing holiday music you have to compare it to this record, even if you don't know you're doing it.
James Brown
"James Brown's Funky Christmas"
Find "Let's Unite the Whole World at Christmastime" staggeringly poignant when you give this album a listen. As if he wasn't impressive enough, the soulful legend gets downright philosophical with his meaningful grooves.
Vince Guaraldi Trio
Go ahead and mark this album as the proverbial mountaintop of holiday listening. If you close your eyes, you can see all the Peanuts characters dancing to it, kindly high-stepping Pig Pen's omnipresent cloud of dirt in the process. If you play one album, it has to be this one. It just has to be.