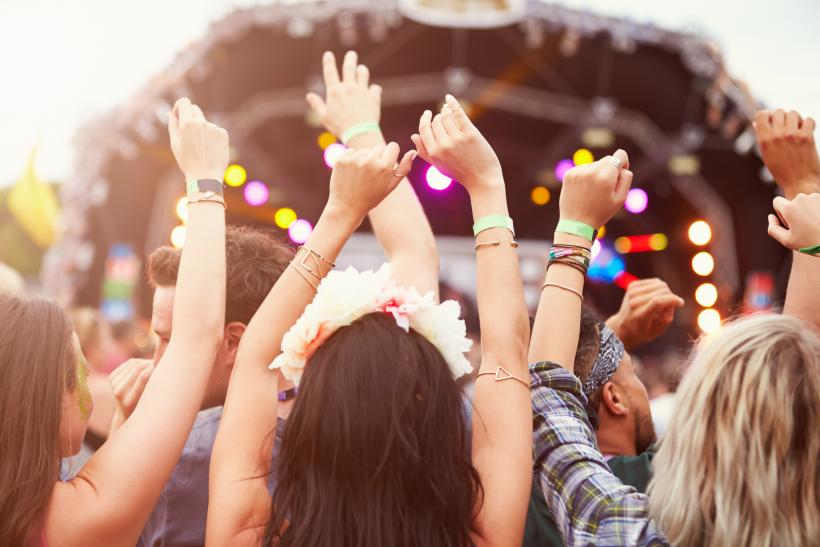 Get your groove on sans worries with these tips, so you can rock the festival scene like a pro.
Good news: festival season is upon us. Release your inner hippie and release your hold on any sort of standards for personal hygiene at the same time. With a plethora of partying ahead of you and weekend-long swaying to the music, what matters most is looking good. And if you can smell better than a gym locker, that'd be preferable, though even that's not expected.
Allow yourself to rock with the best of them by compiling your own crucial folk festival kit with these must-have items.
Keep your friends close and your cross-body bag closer.
With just enough room for your survival kit stuff: phone, keys, wallet, travel-size deodorant, mini-dry shampoo, etc., you can shake it freely without worrying about your purse keeping up with your moves.
Back, back, back it up.
We're talking about your phone here. No outlets in the middle of that trash-strewn field? No problem. Portable phone chargers and backup batteries keep your phone as charged up as the group of tweens obviously attending their very first concert. Because without your trusty device, how else are you going to 'gram your bucket-list-worthy festival experience?
Have the outfield advantage.
Baseball caps are a huge trend right now, which is incredibly serendipitous for you, the fashionable festival-goer, since they also shield your face from unexpected storms and hide that slick, grease-filled hair of yours. Sure, no one has showered here, but at least you can be subtle (and stylish) about your forced grunge look.
Make mom proud with your on-point, on-the-go skin care routine.
Cover a few of those junk food-induced zits, keep your face protected from the sun, and exude a dewy glow all at the same time with SPF tinted moisturizer. Bonus points for an SPF higher than the mean age of the festival population. Pair with oil sheets and body wipes for the ultimate in camping cleanliness.
Brow with the best of them.
No one wants to worry about makeup while living outdoors in high humidity for a few days, and you shouldn't have to. You'll probably be wearing funky sunglasses most of the time anyway, so just slather on the facial sunscreen and tame those brows in about two minutes with an eyebrow kit. Usually containing an eyebrow pencil, shaping gel, and maybe a few tiny tools, you'll be on your way to crowdsurfing in no time.
H20 isn't just an obscure band name on the lineup.
You can't get your superfan on without staying waterlogged. Remember, your fave indie rocker won't notice you amid the crowd if you've passed out from dehydration. Snag a solid reusable bottle because it's earth-friendly, health-conscious, and a plain ol' good way to survive out there.
Even if you lose consciousness, you won't lose your keys.
There's enough to worry about while you're navigating the inner realm of multi-day concert, so you don't want to have to think about your keys. Fortunately for you forgetful folks, there are plenty of tracking tags on the market. Simply stick the tag to your keys, wallet, phone, best friend (?), whatever is most precious to you, and voila. You can use your phone or locator unit to access its location at any time. Most of them offer a beep or flash of light to signal where they are, so as long as you don't mistake those glowsticks for the notification, you'll be gravy.
Bodysuit up.
In case you haven't noticed, bodysuits are a big deal these days. They go with shorts, skirts, jeans, absolutely nothing else, whatever your style. Side note: Use a one-piece bathing suit if you don't want to shop for something new. Literally no one will be able to tell the difference, especially the frazzled stoner inspecting the ground beside you.
Instantly achieve that bomb(er) look.
Bomber jackets are super fashionable, lightweight, and extra handy to throw on in the cooler, breezier festival nights. A lot of the famous superstores and cheap retail places have these in stock, so you can stay cool in the hip way, and warm in the temperature way, at a reasonable price.
You don't have to simply fantasize about fanny packs.
The packs are back, even if it's in a sarcastic sort of way. And the bolder colors and patterns on your fanny pack, the better. Plus, let's be honest, this will be the most practical way to store all your gear.
Don't sweat the small stuff either. Other essentials include:
Sunglasses

Sunscreen

Sandals that won't murder your feet

Rainboots

Poncho

Protein bars

Multi-purpose towel
Have fun and be more prepared than a boy scout with your superior packing skills. Pack like a pro and you can focus on getting your favorite musicians to sign your chest instead.