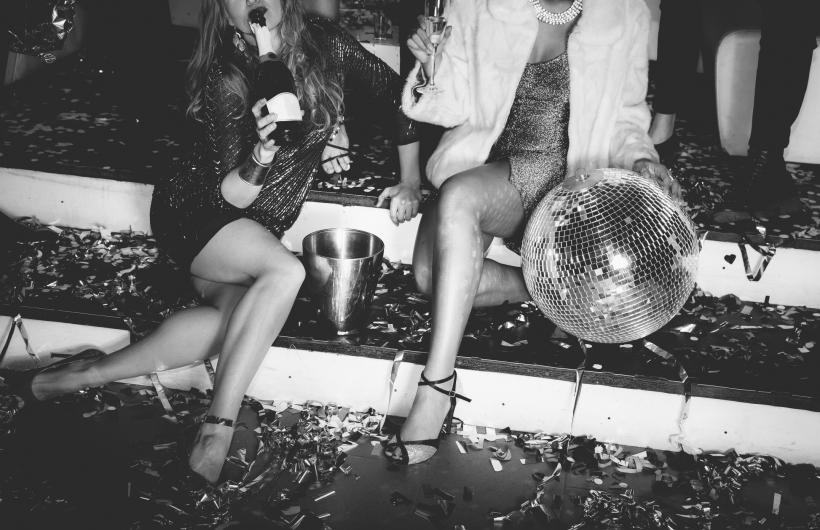 It's hard being single when you're surrounded by engagement announcements and romantic holiday occasions.
Let's face it — being single is hard enough, but when you're surrounded by engagement announcements, romantic holiday occasions, and meeting all of your cousins' new significant others at the Thanksgiving table, you can easily start to feel like singing the tune of "Forever Alone" blues. 
The holiday season is also an incredibly busy one, which might make it seem impossible to stay active on the dating scene.
For all of those who want to find a new significant other to kiss under the mistletoe, it's absolutely possible to entertain romantic prospects during the hustle and bustle of the holidays — it just takes a little intention and effort.
1. Define Your Target.
The biggest mistake I see people make — and I've done this myself — is panicking as December quietly approaches and looking to cuddle up to the first warm body in sight. Acting in a state of desperation is never going to get you anywhere and will probably leave you feeling worse about being single than you did before you tried to get said warm body on lockdown. 
To avoid this panic, define what you're looking for. Do you hope to get into a serious, long-term relationship with someone who shares your goals and values? A short-term fling with someone who shares your hobbies? A committed but non-monogamous partner to Netflix and chill with? 
Create an explicit goal for yourself and use this as a filter for all of your dating prospects and experiences. That way, you can express your needs and avoid pursuing someone who wants a completely different type of experience than you do. 
2. Write It Into Your Schedule.
This may sound silly, but it seriously works! Anything you make time for becomes a lot easier to do. It's like saying you want to go to the gym when you have "free time," which, if you're like most of us, is probably in short supply, versus scheduling sessions in with a trainer. Suddenly, you have the time to do squats and lift weights that you couldn't find before because you've made it a priority. 
Reaching any goal requires making consistent effort, and dating is no exception. Especially during the holidays when your social calendar is overflowing with to-do's, your time can seem even more precious than ever. That's why you should create an actual plan around the time commitment that you can give towards dating, which might include going on actual dates, spending time perfecting your Tinder profile, or talking on the phone to potential dating prospects. 
Figure out how much time you think you'll realistically have and set aside time blocks into your calendar, even if it's just 10 minutes to respond to OkCupid messages. Also, this strategy will allow you to make the most efficient use of your time since you can tell person X that you can meet for coffee for 30 minutes or a drink for 45. Then, you won't have to worry about getting sucked into hearing someone's life story for four hours over dinner or missing a fun holiday party with your friends because your date went longer than expected. 
Stick to your guns, and you'll also find that you'll have that air of mystery and just-available-enough-but-not-overly-available sensibility that many find to be a turn-on. 
3. Take Advantage Of Parties & Social Events.
Since the holidays are often filled with parties and get-togethers, use these to your advantage! You're bound to come into contact with people you would otherwise not normally see or meet, as well as have the opportunity to reconnect with old friends. 
That means you should say "yes" to invitations so that you can meet new people. After all, you're not going to meet any potential dating prospects by sitting at home on your couch binge watching Game of Thrones. However, you shouldn't only attend these functions so that you can find a date or you might come off as overly desperate to meet someone!
4. Find Ways To Give Back.
Putting yourself in new situations will automatically introduce you to new people that you wouldn't have otherwise encountered. The holidays are a great time to get involved and give back — why not spend an afternoon volunteering at your local soup kitchen, animal shelter, or charity drive? Or, you could even organize your own fundraiser to hold at a church or other group that you already belong to but could be more active in. Giving back is also sure to make you feel good in the process, which makes it kind of a win for any loneliness you might be feeling.
5. Put Yourself Out There.
There's no way to get around the fact that making yourself available, asking people out on dates, and following through with your intentions is the surest way to find success in dating.
There is no secret sauce — it's all in the effort you're willing to put in.
It can be easy to tuck yourself into your shell and wallow in self-pity about being single during the holidays, but you have to overcome the temptation to eat ice cream in bed alone on your free nights if you want the chance at sex or romance. Ask yourself if your actions align with your values.
Dating isn't easy during any time of the year, so make sure to know your worth, set your intentions, stay true to your values, and most importantly, remember to take care of yourself. This is supposed to be a fun process, not a chore! Keep that in the back of your mind as you go forth and conquer the territories of love and sex. You got this!
---
Related: