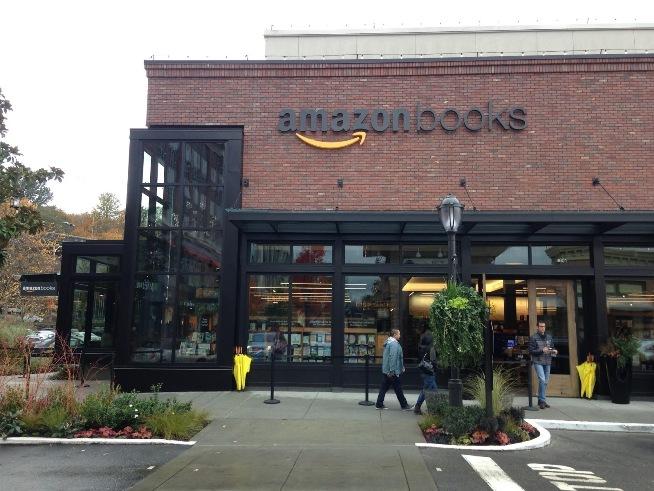 Your move, regular bookstores.
As much as anything else, amazonbooks is a reflection of who we are. It's a little bit ballsy, a little bit guilty, and a little bit old-fashioned.
In a delicious and somewhat guilty stroke of irony, online giant Amazon.com opened its first brick-and-mortar bookstore today in Seattle and I rushed over first thing this morning to check it out (in the name of journalism, of course. Not in the name of my own raging curiosity). 
The only hint from the outside that amazonbooks (all one word and lowercase, 'natch) is a new and exciting addition to an outdoor shopping center in an affluent North Seattle neighborhood was the security guard stationed at the door and the ropes set up for crowd handling. While this was empty when I arrived, preschoolers in tow, it was packed as I left. I wasn't the only curious customer in Seattle, or the only journalist present — the store was crawling with local news reporters and camera crews. Clearly, this is Big News.
Inside, the store can be best described as the Apple Store meets Barnes and Noble with an Amazon twist. The center walkway is lined with Kindle Fires, Amazon Fire TV, Amazon-branded Bluetooth speakers (who knew that was a thing?). You can even get help with your Amazon gear right there at the Answers booth. 
My kids ran to the TVs and tried to get Netflix on in 12 seconds. Bookstore fail, Amazon. 
After I pried them away from the ever-present technology, we made our way to the large, beautiful kids' section…only to discover a table full of Kindles for kids. Sigh. 
Thankfully, once we navigated through the technology minefields, we found books. Lots and lots of books. Organized by type, age, and even customer rating, each book has a card underneath with information ranging from a popular Amazon.com review to awards it has won to staff reviews. 
As much as I might roll my eyes at an Amazon.com inspired bookstore — it works. I find myself drawn to five-star reviewed books, curious about what makes them so great. My kids found books they loved in minutes, and we found the magic of a beloved bookstore hidden in a tech jungle.
As much as anything else, amazonbooks is a reflection of who we are. It's a little bit ballsy, a little bit guilty, and a little bit old-fashioned. It features the tech we love to hate and the books we sometimes forget we love, all housed in a crowd-sourced, Internet-vetted space that hearkens back to a time before Amazon.com when we huddled in the racks of Waldenbooks in the mall protesting as our parents dragged us away. It's ironic, and kind of not okay, and yet I love it in spite of myself — kind of like the Internet itself. 
As I left the store, I stumbled across a section called "Read Local," featuring works by local authors. It features the kind of works I might once have found in my local bookstore, before they went away, and before Amazon.com rendered them irrelevant. I mourn them, deep inside, but I stifle that guilt because I mostly love this new bookstore, and I really want that cheap Bluetooth speaker.
Well played, Amazon. Well played.