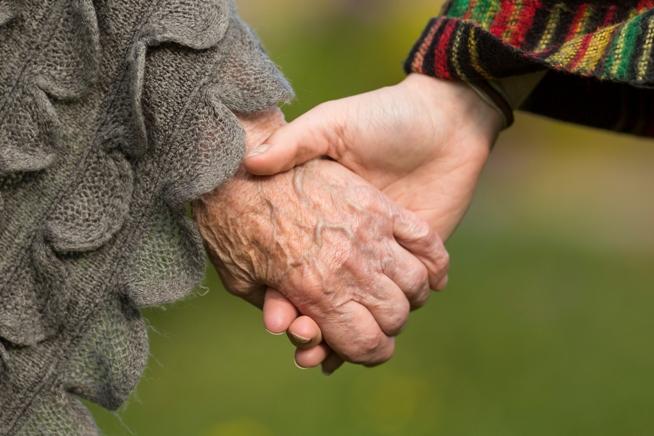 Young and old.
My parents have been married for 44 years but had never had an open discussion about ageing and what might happen if they can no longer take care of themselves in their own home.
I felt a bit sick in the stomach and a bit teary but it was an uncomfortable conversation I had to have with my parents.
My parents, Kev and Lindy, are in their mid-60s. As a family we know exactly what both want for their funeral arrangements, right down to the songs they want played.  But we have never talked about what happens before that. What if one of them gets dementia or can't look after themselves in their own home?
So how do you talk to your parents about aged care living? I'm not going to sugarcoat it: it's hard.
"I think it's not just hard for father and daughter or mother and son, it's also difficult for husband and wife to talk about it," says my Dad, who's 65 years old.
My parents have been married for 44 years but had never had an open discussion about ageing and what might happen if they can no longer take care of themselves in their own home.
"In my case it's difficult to accept I'm actually getting older.  I'm on the wrong side of 65," Dad said.  "But ten years ago I would never have believed I would have a hip and knee replacement."
My Mum, who's 66, made her decision after a long chat with Dad.
"I would like to stay in our home as much as possible, and then a retirement home that still has independent living but one that has tri-care so you didn't have to shift again if you have to go into nursing care."
This conversation came up after I was asked to be an ambassador for the SOS Mobile Watch. Basically the SOS Mobile Watch is the 2015 version of the old pendant alarm, but updated so it's a watch that's also a mobile phone, has an SOS emergency alarm button and pedometer. It automatically rings a carer if the watch hasn't moved for an extended period and, in the case of dementia sufferers, you can set a virtual geo-fence that alerts their carer if they wander out of a set boundary (say 2km radius of their home).
I thought it was strange that they wanted me, at 41 years old, to spread the word. But adult children may need to drive the conversation. Luckily for me, not only did my parents agree to have the chat but they let me film it.  Seriously, I don't know how they put up with me.
"It's tough for adult children to talk to their parents about aged care options," says psychologist Dr Tim Sharp who's written a book Live Happier, Live Longer — Your Guide to Positive Ageing. "One of the most frustrating things is these decisions are often made in car parks at the hospital after mum has the stroke or a bad fall.
"The earlier you talk about it the better, I suggest from your 40s on. Involve them in the research — there are lots of advantages for working as long as you can and living in your own home so whatever can prolong that is desirable. There are amazing things we can do with technology today that weren't possible for my parents. So look at the options and construct a plan. Then when a decision needs to be made down the track it's not made under the stress of a health crisis," he says.
Should we get time off to care for our parents as well as our kids?
A crisis motivated Paul Apostolis to invent the watch.
"Several years ago, my father was out in the car when he suffered a stroke. He did not have a mobile phone and was forced to drive home before seeking medical help. On his return home from hospital, we purchased a personal pendant alarm — but this provided limited relief to the worry factor given he could not wear it outside the home."
"Together with my brother, who has an extensive background in healthcare, we developed the SOS Mobile Watch. It enables the wearer to have greater independence and gives the caregiver peace-of-mind. For us, the focus is on harnessing technology to reduce the 'worry factor' and advance wearable products for older Australians, those with dementia or Alzheimer's — right through to children with autism and those who are unable to live completely independently."
The recently released Australian Government Inter-generational Report indicates the 65+ population will double by 2025. Despite these climbing figures, research released ahead of Dementia Awareness Month has shown that Australians (aged 40-60 years old) are failing to tackle the issue with their parents.
Mum says knowledge is power.
"We hadn't had the conversation and we certainly didn't know how much technology has advanced and can help you stay in your home longer. Our generation is not necessarily techno savvy but with our ageing population, the population coming through will be savvier. And of course all of us know a 15 year old child who can help us out if necessary."
I asked Dad if he worried about being a burden on me and my brother.
"No, to be honest, you two are living your own lives. I just don't want to be a burden to your mother. She's the only one I think about," he said.
Mum said she and Dad hadn't spoken about ageing and aged care options.
"It was a hard conversation but we both feel better now we've had it. If it wasn't for you bringing it up we'd still be in dark about each other's plans. So Shell, thank you."
And that was when I shed a tear.
This story also appeared on Debrief Daily. Take a look at other related articles on Debrief Daily or follow us on Twitter or Facebook. 
Related:
Kim Kardashian And The Majesty Of Her $1M 'Push Present.'
What Happened When I Said My 10 Year Old Son Watched Porn.