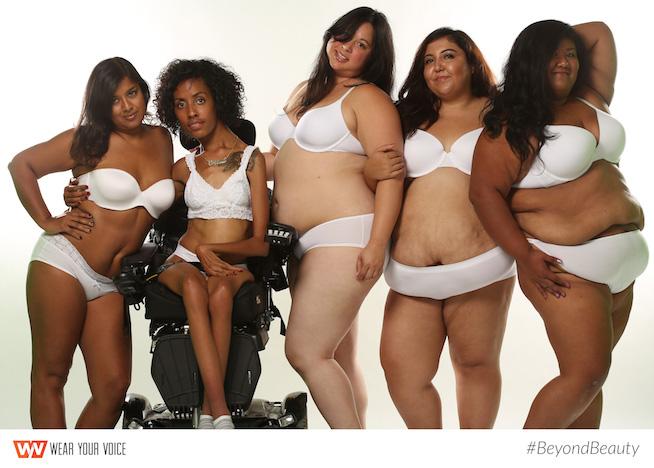 All photos by Elena Kulikova.
IMAGINE A WORLD WHERE ALL BODIES ARE CELEBRATED REGARDLESS OF SIZE, RACE, GENDER EXPRESSION, DISABILITY OR RELIGIOUS BACKGROUND
November 27, 2015 — Oakland, CA — Wear Your Voice, a digital publication redefining the way women are represented in the media, launched its latest campaign #BeyondBeauty to challenge high-profile brands to be more inclusive in their campaigns that promote body positivity. #BeyondBeauty was created with the intent of honoring all bodies and shifting beyond labels to define one's worth.
"As a media publication, we understand the responsibility media plays in our lives. According to the National Association of Anorexia Nervosa and Associated Disorders 47% of girls in 5th-12th grade reported wanting to lose weight because of magazine pictures, while 69% of girls in 5th-12th grade reported that magazine pictures influenced their idea of a perfect body shape.  As a mother of two young children, I want to make sure that the next generation of young people don't inherit our insecurities." — WYV Founder, Editor-in-Chief Ravneet Vohra.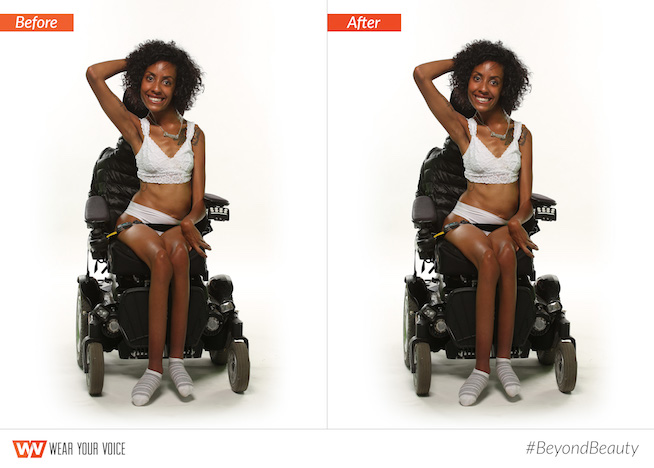 At the forefront of body positive campaigns over  the past decade, personal care brand Dove, owned by  multinational consumer goods giant Unilever, has reinvented itself through strategic and highly successful campaigns whose mission "is to help girls raise their self esteem and realize their full potential."
Despite the fact that the actual title of the Dove campaign leads one to believe it is a celebration of all women's real beauty and bodies, the campaign itself was leveraged to sell products such as skin firming lotion, with sales growth reaching a staggering 1.5 billion since the inception of the Real Beauty Campaign. Furthermore, there is nothing radical about a campaign that doesn't speak to all women, as the majority of women casted for Dove's campaigns are slim, able-bodied, cisgendered white women.
In Dove's own major global study, The Real Truth About Beauty: A Global Report, commissioned in 2004, and the driving force behind  the Campaign for Real Beauty, 'The great majority of women want broader definitions of how women's physical beauty is visually represented. Seventy five percent of women in the study would like to see considerably more diversity in the images of beauty.'
Our vision far extends beyond this one photoshoot — it is a campaign whose only selling point is self-love. We're not endorsing a product, we are supporting authenticity in all its forms. We are daring to look beyond this traditional and limiting idea of "Beauty" to see the strength that not only lies within, but that exudes from all.
We invited 18 women to participate in the photoshoot. We have not photoshopped the images of any of the models — why would we? Wear Your Voice believes that everyone deserves to be celebrated as they are!
We want to take our vision from the studio to social media — Wear Your Voice invites you to become part of the revolution. We encourage all women to join in and participate in disrupting the status quo by simply being yourself, proclaiming your own personal truth with the accompaniment of the hashtag #BeyondBeauty — share a selfie, send a story, shift the paradigm #BeyondBeauty.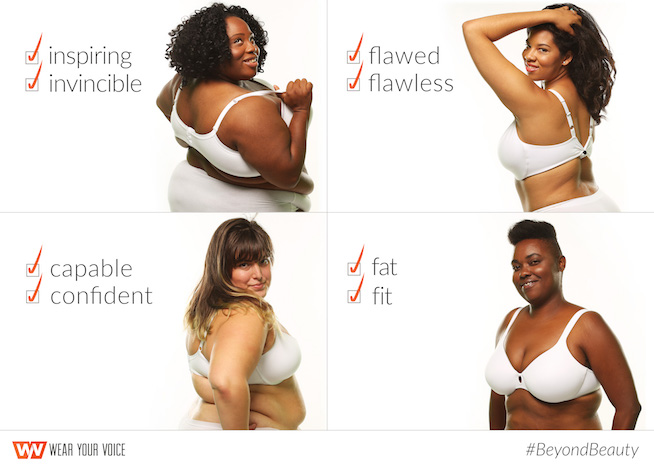 All Images Photo Credit: Elena Kulikova ( elenakulikovastudio) for Wear Your Voice Magazine