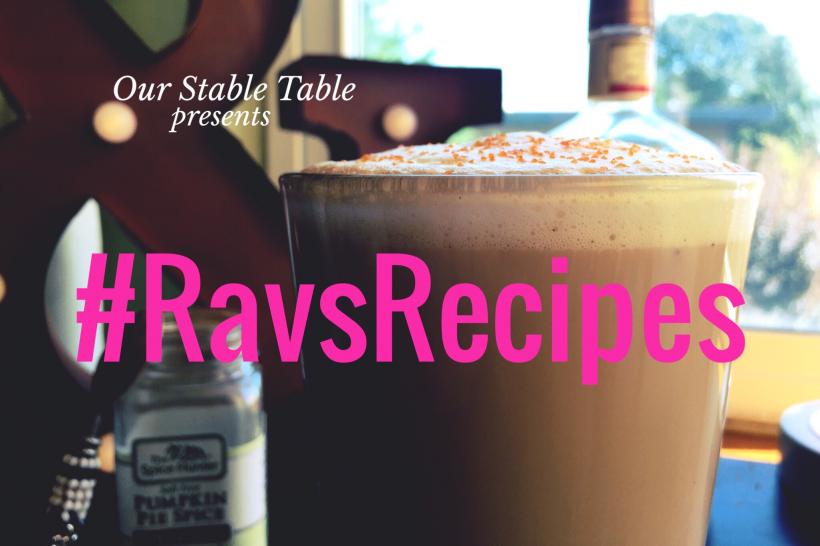 #RavsRecipes: Pumpkin SPIKED Latte
It's almost fall, but if you are a human living here, you know it simply as Pumpkin Spice Season.
This is the season where we Pumpkin Spice ALL things. Pumpkin spice lattes? Check. Pumpkin spice chocolate? Check. Muffins, cake, cookies, scones, sodas, and Cheerios? CHECK. If scientists could figure out how to pumpkin spice newborn babies and puppies, I'm sure they would, because we are crazy about All Things Pumpkin Spice.
Thanks for that, Starbucks.
Since I am a human who likes food and flavors and fall and coffee, I enjoy pumpkin spice things. I indulge in my annual pumpkin spice donut and pumpkin spice latte and enjoy the seasonal food offerings. 
Sometimes though, the pure wholesomeness of the pumpkin spice trend causes me to feel like I'm stuck in a bad commercial for Denny's, circa 1992.
So, when that happens, I try to up my PS game. My favorite way to do that is booze.
Yep, booze.
This is an adult coffee drink. It's perfect for taking on the go to the movies, trick-or-treating, a football game, whatever. I'm not telling you that you need to drink. You don't. But I am telling you that this is magic in your mouth and if you want to take a shortcut and pack your flask and spike your Starbucks PSL, I WON'T JUDGE YOU.
Ingredients:
1 cup coffee or two espresso shots
1/2 cup steamed or warm half & half (or non-dairy creamer of your choice)
1 shot dark rum (I love Below Deck by Burnside Distillery)
1 Tbsp vanilla simple syrup (or a spoonful of sugar and a splash of vanilla extract)
1/4 tsp Pumpkin Spice
caramel for drizzling
pumpkin sugar crystals (they're totally a thing)
Directions:
If you don't know how to make a coffee at this point in your life, you're too young to make this recipe or coffee isn't your thing and you should make hot cocoa instead.
Or you can watch the video below for a fun tutorial. 
I hope you enjoy all things fall and use pumpkin spice like glitter this season.