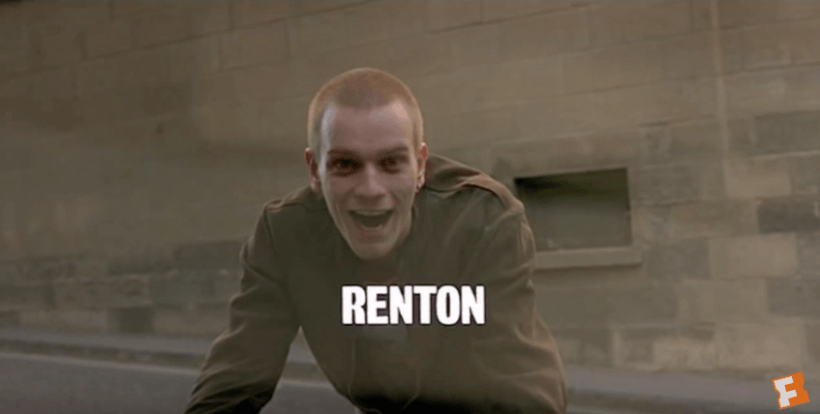 "Choose life." (Image:YouTube)
Twenty years ago, Danny Boyle's classic flick, Trainspotting — about young junkies in Edinburgh, Scotland, was released, and many of us were first introduced to Ewan McGregor. The film was a huge success and launched the international careers of McGregor, director Boyle, and Johnny Lee Miller. 
And it was so damn good.
Based on the Irving Welsh book of the same name, the film hit a nerve during heroin's big 90s cultural moment — a moment I was not immune to — and captured the energy and confusion of a specific culture, in a specific time and place. 
It didn't hurt that the soundtrack was so epically good. 
T2 picks up 20 years later, based on Welsh's follow up to his Trainspotting, Porno. The film reunites Boyle with the original screenwriter, John Hodge, as well as the beloved cast, which also includes Kelly McDonald and Robert Carlyle. 
Carlyle, speaking to NME last year, articulated what the experience of this sequel will be be for many of us:
"I tell you, this film is going to be quite emotional for people. Because the film sort of tells you to think about yourself. You are going to be thinking: 'Fuck. What have I done with my life?' Have these four characters changed? Have they remained the same? Have they fucked it up completely? Have they achieved anything? And of course the audience are going to be asking themselves exactly the same questions. So it's a beautiful thing, this film." 
 
The trailer (which you can watch below) pays homage to the famous "Choose Life" monologue, in the opening of the original. 
You can see the connection to "Renton's" famous monologue at the beginning of the original...
Lastly, I leave you with this — one of the many gems from the the orignal Trainspotting soundtrack — go ahead, close your eyes and listen. XOXO
T2 Trainspotting hits U.S. theaters on February 3, 2017