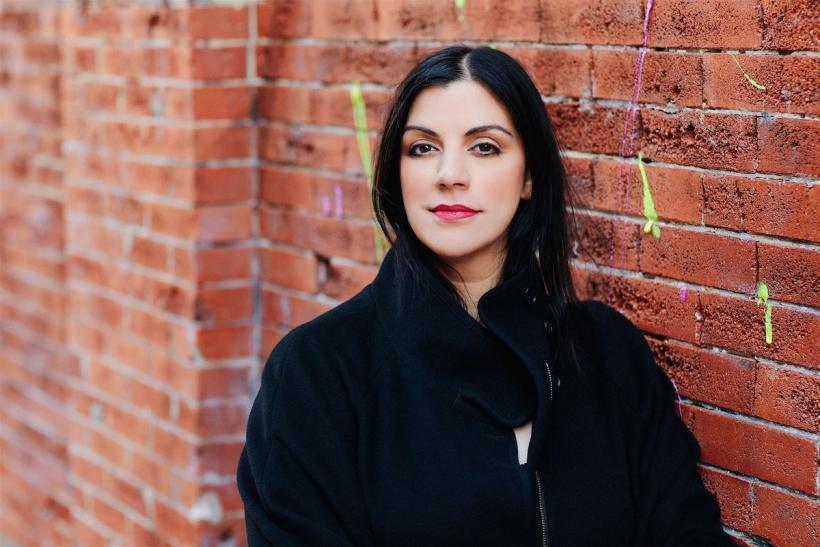 Photo by Sylvie Rosokoff
Ravishly presents an exclusive look at the cover of Erin Khar's Strung Out: One Last Hit and Other Lies that Nearly Killed Me, which you can preorder today and will hit shelves everywhere February 2020. Read on for a brief excerpt from the book.
---
Erin Khar is known for her writing on addiction, recovery, mental health, relationships, parenting, infertility, and self-care. She writes the advice column, "Ask Erin" for Ravishly and has a memoir coming out February 2020 (Park Row Books) titled Strung Out: One Last Hit and Other Lies that Nearly Killed Me.
Her memoir explores how shame and stigma surrounding addiction is so often what keeps people from reaching out for the support they need. An inspiring and enlightening memoir, Strung Out seeks to answer the urgent question of why people turn to opiates. 
---
Prologue
October 2015
"Mom, did you ever do drugs?"
The words of my twelve-year-old son, Atticus, lingered in the space between us. A car horn from the busy street outside could be heard from our fourth-floor apartment in Greenwich Village, punctuating the moment. Parts of myself, other selves, past selves, collided headlong into who I'd become—a mother, a wife, a writer, an advice columnist.
At that moment, I wanted time to stop. I wanted Atticus to remain too young to understand the perils of drug addiction. I know how drug use can obliterate a life; I didn't want any part of it to touch him. I wanted to protect him from the harsh realities of the opioid crisis that is ravaging our country. But this impulse to look away, to avoid confronting the opioid crisis and pretend it's not happening, is the very thing that keeps us in danger. How can we recover as families, as a nation, and create a healthier space for our children if we don't talk about it? We must be willing to share our experiences and be willing to examine the opioid crisis from all angles, even the angles that hit close to home.
The fact is every eleven minutes an American dies of drug overdose.
Overdoses are the leading cause of death in this country for people under fifty-five.
A lot has been reported about the role of the pharmaceutical industry in the opioid crisis. And undoubtedly, the proliferation of drugs like oxycodone flooding the market via doctors has created a whole new generation of opiate users who may not have found their way to addiction otherwise. That's not the whole story. Not everyone who gets a prescription for opioid pain killers becomes addicted, and not everyone starts with pills.
But over two million Americans are currently struggling with opiate addiction and nearly 20 percent of them are young adults. Even more staggering, use among young women is up, and the incidence of young pregnant women using opioids has increased by as much as 600 percent in some areas over a ten-year period.
To say we have an opioid crisis is an understatement. You can't go a day, let alone a week, without the opioid epidemic infiltrating the news cycle.
And yet, so many people ask why anyone would do drugs in the first place.
The simplest answer is emotional pain. We live in a time in this country when everything moves so fast, when we are confronted by an altered view of other people's realities through social media, the social and political climate is divisive, and the guarantee of creating a better life for ourselves than our parent's generation has all but disappeared.
Our approach to mental health care is broken. Free and subsidized services are limited at best. The people who are most at risk—those in poor and marginalized communities—have financial and social barriers to accessing help.
The American ethos of putting your nose to the grindstone and persevering does a great disservice to our mental and emotional health. When you can't get out of bed in the morning, when you have no self-worth left, when you've had childhood trauma, when you suffer from any form of PTSD, the option of pulling yourself up by the bootstraps and overcoming addiction or other mental health issues is not possible. And that's not a moral failing.
The stigma associated with opioids, with heroin, with "being a junkie," prevents people from reaching out. And that stigma is killing us. Americans are stuck in a spiral of shame, and that shame drives the vicious cycle of relapse that many drug users get caught in.
The only way to break through that shame is by talking about it. It is terrifying to admit that you need help, to admit that you are addicted. This is especially true when it comes to heroin. Heroin use conjures up the gruesome images we see reported. Even among people who experiment with drugs, who drink and smoke pot and try cocaine, heroin represents some moral boundary—one that is reinforced by media. Those who cross that boundary, who "choose" to use heroin, are marked with shame.
Shame is a gatekeeper that prevents people from seeking help. Stigma is bred from that shame.
That stigma has killed so many. That stigma almost killed me.
I turned toward the television. Atticus had been half watching the news. A successful female dermatologist from Long Island had been found dead here in New York City, presumably from a drug overdose. She was married, had kids, seemed to have it all. The reporter speculated on the double life she led.
From my chair across the living room, I didn't look up from my book, ignoring the question that hung in the air like a balloon that was quickly deflating.
"Mom?"
"What was that, honey?"
"Did you ever do drugs?"
I paused again, suspended in the moment, making a quick mental inventory of how to answer. The truth is I did do drugs, a lot of drugs. I used heroin off and on from the age of thirteen until I got pregnant with Atticus at age twenty-eight. I never got into pot or alcohol. I'd needed something to take me further away. I took Valium and Vicodin, I dropped acid and took X and mushrooms, I smoked crack, shot the animal tranquilizer Ketamine, and snorted the occasional line of crystal meth, but I always came back to heroin. I wasn't fucking around; I craved unconsciousness, but I wasn't about to tell my twelve-year-old son that. Not yet.
"That's a complicated question. You know, alcohol's a drug."
I tried not to visibly cringe at my own deflection at my son's question. Confusion spread across his face, between his freckles. He looks so much like me, except for the freckles, but we're so very different.
"Why do people take drugs?" he asked.
The first time I used, I took a pill. It was a Darvocet, an opiate. I stole it from my mother's medicine cabinet. The bottle was expired, with my grandmother's name on the label. I was eight.
"Well, people take drugs for different reasons. Sometimes, they try drugs because a friend talks them into it, or they are trying to escape something in their life. But drugs never help anything. They usually make things a lot worse."
I did not tell him that, in some ways, the drugs were once what kept me alive.
He squinted, scrunched his nose, clearly thinking about what I'd just said, licking his lips the way he does when he's concentrating. "I don't understand why someone would take drugs," he said definitively and walked out of the room.
A wave of nausea started at the top of my head, rippled down, anchoring itself in my stomach. Nausea was nothing new. Vaguely nauseous was homeostasis for me when I struggled with addiction. I put down my book and followed him. I saw my reflection in the hallway mirror. I was a healthy, happily remarried mother and writer. I was not the desperate and broken twenty-something, frighteningly thin and green all the time, the one who was married to his father for all the wrong reasons, the one who was constantly chasing an exit, any exit.
I stood at Atticus's open bedroom door. He was lying down on his bed with his iPhone in his hands, watching a video on YouTube. His bangs were getting too long, and he kept pushing the straight brown strands of hair aside. He looked just like he did when he was a baby, just like he did in the 3-D ultrasound photo I have, head to the side, one arm up, his hand in a fist against the cheek of his round face. But he was not a baby. He was in those awkward years between childhood and early adulthood, the years that demanded the conversations that I, as a mother, wanted to have with him, wish someone had had with me, but I was petrified. I didn't want to shatter his image of me.
If he knew what I'd done, who I'd been, would he still respect me, still love me?
Could I still be the mother I'd always been? Aren't you supposed to protect your children? Atticus was only a year younger than I was when I first started using heroin.
I knew I must have been doing something right because he didn't understand the impulse to use drugs. He thought they were stupid. He wasn't searching for a way out the way I had. We'd talked about it when we watched reruns of my all-time favorite show—Beverly Hills, 90210—together. He'd asked me questions—when David stayed up for days on end doing crystal meth, when Dylan smoked heroin and crashed his car, and when Kelly went on a cocaine binge with her boyfriend and landed in rehab. He had a concept of the consequences, but he didn't grasp the reasons. Until now, he'd never considered the possibility that I may have done drugs. And now this question.
How could I explain it to him? Would he understand? I thought about what I could impart by telling him—or telling someone who may be struggling with opioid addiction—my story. I wanted him to know that drug use doesn't look the same across race, class, and other privileges, but that it stems from a primal place of want and loneliness. I hoped that when the time came I would be successful in communicating a story of experience, strength, and hope, one that might make a difference.
---
Related: