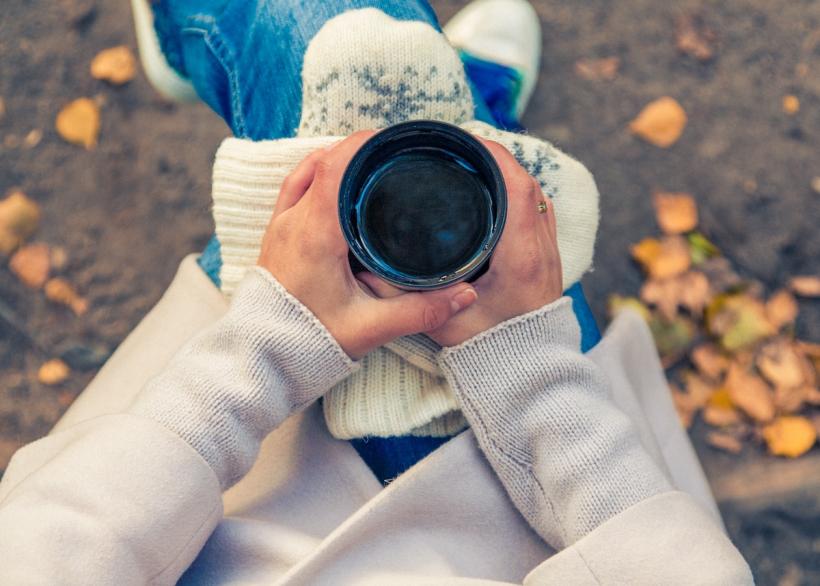 Image by Maria Shanina via Unsplash
In preparation for the holiday season, we launched our #SelfCareSeason campaign last week. Tis the season for self-care! 
Ideally, we practice self-care every season, but new seasons also make for great chances to renew commitments and goals we have made for ourselves or our communities. At the tail-end of a Hold My Beer, 2016 sort of year, we could all use a little more self-care in our lives. Add to that the typical stressors of a holiday season — no matter what you celebrate — and you've got a recipe calling for a generous extra helping of some personal TLC.
In a season all about community and family, it's important to remember that we are also a part of those communities and families. Taking care of yourself is taking care of your family, and it's the best gift you could give yourself this holiday season. That's the heart of our campaign, and we hope to keep the discussion going as we make our way through the rest of 2017. 
Want to join-in and celebrate the #SelfCareSeason? Tag us in a post on Instagram or Twitter using the hashtag! 
We kicked things off with a Facebook Live all about Winter Mental Wellness from our very own OCDame:
A solid self-care practice is one of the best things we can do for our mental health, especially during a time when so many of us are affected by extra stress, more socialization than we're used to, and even Seasonal Affective Disorder.
We also hosted a Twitter chat all about coping with common holiday stressors featuring many members of the Rav Fam with special insights on everything from body confidence and self-love, to sobriety and mental health.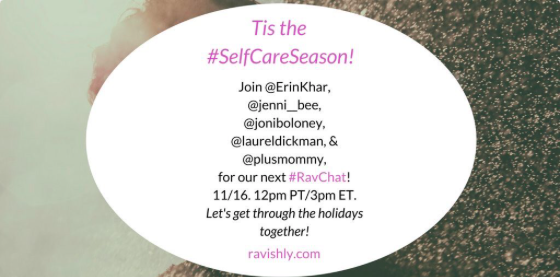 Panelist and Fatshion Friday writer Laurel even wrote a self-care series on the site earlier this year — if you're looking for more tips, be sure to check it out! 
We started by asking everyone:
What are the most stressful parts of the holiday season for you?
Our EIC Joni knows the struggles of a less-than-ideal extended family. It's important to remember that a big family dinner with parents, aunts and uncles, and cousins isn't a healthy situation for everyone — and that is OK!
A1: OMG MY FAMILY IS THE WORST. Not my kids. Just everyone else. I dread seeing them so much that I avoid them entirely #RavChat

— Joni Edelman (@joniboloney) November 16, 2017
Jen and Jenni (our staff name twins!) both find the pressure attached to so many aspects of the holiday season to be super stressful. 
A1: All. The. Socializing. I love my family, but holidays stress everyone out and hard as we may try to get in the festive spirit, all that social pressure just ends up being overwhelming instead of fun! #RavChat

— jenni berrett (@jenni__bee) November 16, 2017
A1 As a mom, the stress of building lasting memories and traditions while still balancing daily life/stress. #RavChat

— Plus Mommy (@plusmommy) November 16, 2017
General stress is one thing, but what about specific triggers for people in eating disorder recovery or anyone in the process of healing some form of trauma? Not everyone has the same emotional baseline, so things get tricky whenever multiple people gather together, no matter how much those people may love each other.
What potential triggers should we look out for during holiday celebrations and parties?  
Laurel shared her three big topics to avoid at large gathering:
Q2 Be aware of people's right to being an individual. We're all flawed and carry our own trauma. We have different experiences which have shaped our perspectives and narratives. For me, I avoid politics, religion, and villainizing food choices. It's food. It's not bad. #ravchat

— Laurel Dickman (@laureldickman) November 16, 2017
A2: The holidays can be triggering in many many ways. For some, the holidays make people feel more alone. For others, anxieties may be exacerbated by our high expectations. Setting personal limits is key! #RavChat

— Erin Khar (@ErinKhar) November 16, 2017
Food and dieting were big ones here. Big holiday meals combined with the likelihood of unwanted comments from family members about our bodies or what we choose to put in them. All the political upheaval of the past year doesn't help ease any tension, either!
A2: For me, it's food. And politics. I expect this year to be even worse than last year. Sadly.

— Joni Edelman (@joniboloney) November 16, 2017
All this stress talk is stressful! 
How can we prepare ourselves for holiday stress without increasing it by being hard on ourselves or too stressed about our stress?
Jenni recommends extra animal snuggles if you're feeling in need of some time away from other people. It gives you a break from seasonal social pressure without isolating yourself in the process, which can be dangerous for your mental health if you're already feeling overwhelmed!
A3: I HIGHLY recommend extra animal companionship around this time of year! We already have our fair share of human interaction, plus it's optimal snuggle weather #RavChat pic.twitter.com/y3vRhB7MJF

— jenni berrett (@jenni__bee) November 16, 2017
Emily talked about the value of letting go of our worries about uncertanties and coming up with a plan of action to cut down on unnecessary stress.
A3: So much of the stress is from "what if"s. I try to let go of those and focus on what I WILL do/what I DO want to happen (i.e. "I want to enjoy X food that I really like," "I will excuse myself from conversations I don't want to have")

— Emily F. Popek (@EmilyPopek) November 16, 2017
Speaking of a plan of action...
What can you do if you are in crisis at a family function or holiday party?
We've totally been there.
A4: Bail. Bye. That's all you have to do. You don't owe anyone your time.

— Joni Edelman (@joniboloney) November 16, 2017
Can we get an A-MEN to that?
A4 #1 Completely acceptable to excuse yourself. Lie if you have to. Get out — to the bathroom, your car, the backyard, or head home. #2 Go to the bathroom, run cold water over your hands, shut your eyes, and allow your nervous system to cool down. #RavChat

— Erin Khar (@ErinKhar) November 16, 2017
A4 cont... Also helpful in a crisis: fresh air, scent (carry your favorite perfume, an orange, essential oil, sachet of lavender, etc. in your purse or pocket. Excuse yourself and take some time to breathe it in. Simple but it works. #RavChat

— Erin Khar (@ErinKhar) November 16, 2017
Seriously, carry some of your distress tolerance essentials wherever you go! Mine are: headphones, tigerbalm, a whole folder of cute things on the internet that I love, and a rollerball of my favorite perfume #RavChat https://t.co/LLdHE9pDfI

— jenni berrett (@jenni__bee) November 16, 2017
We're big fans of boundaries around here, so we had to ask about them:
How do you set boundaries during the holidays without offending friends and family?
Jenni urged us to do a little self-reflection when it comes to our worries about "offending" others with our boundaries:
A5: I think the first thing we have to do is ask ourselves WHY we are worried about setting a boundary. Are we trying to be considerate of our loved ones, or are we adjusting our behavior to keep them happy and avoid conflict? #RavChat

— jenni berrett (@jenni__bee) November 16, 2017
Jen thinks boundaries are pretty much the best, and she's got a great general answer for those prying questions we too often feel obligated to indulge.
A6 Boundaries are SEXY! Enforce them! Example = "You know, I'm not comfortable answering that but here's something I'd love to share with you XYZ." #RavChat

— Plus Mommy (@plusmommy) November 16, 2017
A5: Setting boundaries gets easier with practice. The most basic self-care for me is saying, "This is how I feel..." You can do that when you set a boundary and remember that their reaction is just that, theirs. You don't need to carry that. #RavChat ......

— Erin Khar (@ErinKhar) November 16, 2017
A5 cont.... You are not responsible for anyone else's feelings or reactions. You are only responsible for your own behavior. Taking care of yourself (which includes setting boundaries) is not selfish or unkind, it's being a grown-up. #RavChat

— Erin Khar (@ErinKhar) November 16, 2017
To wrap up, we asked panelists for specific examples on how to respond to people who insist on stepping over those boundaries anyway:
What are the best deflections (or answers) when family asks you intrusive questions about your love life, your weight, your career, etc?
A6 Boundaries are SEXY! Enforce them! Example = "You know, I'm not comfortable answering that but here's something I'd love to share with you XYZ." #RavChat

— Plus Mommy (@plusmommy) November 16, 2017
A5: Setting boundaries gets easier with practice. The most basic self-care for me is saying, "This is how I feel..." You can do that when you set a boundary and remember that their reaction is just that, theirs. You don't need to carry that. #RavChat ......

— Erin Khar (@ErinKhar) November 16, 2017
A5 cont.... You are not responsible for anyone else's feelings or reactions. You are only responsible for your own behavior. Taking care of yourself (which includes setting boundaries) is not selfish or unkind, it's being a grown-up. #RavChat

— Erin Khar (@ErinKhar) November 16, 2017
That's our holiday self-care survival chat! If you missed this one, be sure to look out for our next #RavChat, and until then, we're always here. (By here we mean on the internet — and we truly are ALWAYS here — so don't hesitate to reach out.)
Remember, friends, no matter how daunting the holidays seem, you're never alone. Check in with us on social; we're literally at your fingertips. Let's look out for one another & most importantly, let's make this a #SelfCareSeason to remember! #RavChat

— Ravishly (@ravishlydotcom) November 16, 2017