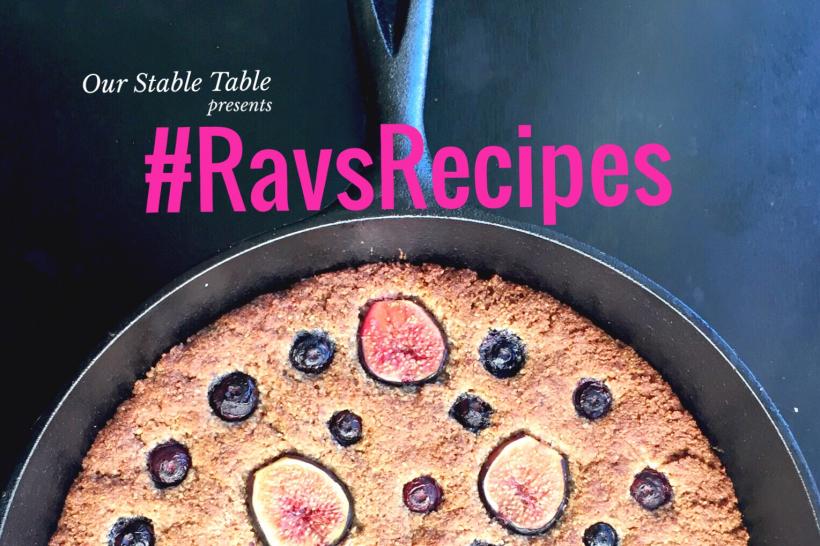 "I love cookie cakes of all kinds. I've experimented over the years with different methods and kinds, and my very favorite is by far the skillet cookie." Image: author
Every now and then, you meet people who are simply Your People.  You know them by the way they make your soul feel. How you feel that definite spark of connection for no good reason.
My friends, Wilfredo and Valentina (yep, those are their real and fabulous names) are rare souls that I connected with immediately when they moved downstairs from us. They fell in love with our tiny toddler and we fell in love with them.
I mean, they live below a toddler who wakes up at the crack of dawn and runs and jumps and thumps over their heads — and they think it's adorable.  How awesome and silly is that? Bless.
This summer, they both celebrated birthdays in June. Because they are both busy dominating the world and their mid-20's and we were busy with fuckall, we missed celebrating their birthdays. Then July came and went and we missed it. Again. 
This month, I promised myself that I would bake a cake for Wilfredo and Valentina's birthdays, even though it was freakishly belated. Because it is literally the least I can do for neighbors who stay up late talking on our couch, wake up early to the screams and dinosaur steps of our toddler, and share in our lives on the regular.
Wilfredo and Valentina are also vegans, so this added another layer of challenge for me. I'm so glad, because I have many opportunities to exercise my creativity. 
Now, I love cookie cakes of all kinds. I've experimented over the years with different methods and kinds, and my very favorite is by far the skillet cookie. And after running across the foodgasm-worthy @SymmetryBreakfast Instagram account, I was inspired to create my own version of his fruit and cornbread skillet — but with completely different ingredients (minus the fruit), for a completely different result.
The result was a gorgeous, decadent, crispy-edged-and-soft-in-the-middle caramelized cookie skillet straight from heaven. It filled our entire building with sweet almond and fig baked goodness. Wilfredo and Valentina were thrilled and touched and promptly demolished it.
It even received the much sought-after but rarely bestowed Toddler Seal of Approval from my son. 
*Please note: I only had one very large cast iron skillet on hand, so I had to double the recipe. If you make too much, you can always refrigerate the excess dough and save for later. Or, you know, eat it all.
Ingredients:
2 cups almond flour (I had none on hand so I put some raw almonds in my nutribullet and pulsed until ground. This takes a bit of finesse because you can make almond butter in a second.)
5 fresh figs, halved
1 handful fresh berries (I had a glut of blueberries from the weekend)
1/3 cup raw agave nectar or honey
1/4 cup coconut oil + more to grease skillet
1 Tbsp ground chia or flax seed + 2 Tbsp water, combined into a thick gel, or one egg
1 Tbsp apple cider vinegar 
1 tsp baking soda
1 tsp baking powder
1 tsp almond extract
1 tsp vanilla extract
1 pinch salt
Directions: 
Mix your dry ingredients together in a bowl. Pretty epic, right? Now, add the rest of the ingredients, except the fruit. 
Slather your cast iron pan in coconut oil. Empty your dough into the pan and flatten with your hands or a spatula. Just make sure it's fairly even on top because it won't spread out or rise much. This is almond flour so it's dense.
Arrange figs and berries in your best artful arrangement. Or just throw them on there randomly and press them into the cookie dough.
Be Martha Stewart or get all Jackson Pollock on it, your choice.
Place in a 350-degree preheated oven and bake for 30ish minutes. Do not overbake.
Remove from oven and eat immediately. Share it with Your People. Add a healthy scoop of gelato and maybe some caramel sauce. Revel in the fantastic aroma filling your home and pat yourself on the back.
You are indeed a cast iron skillet master. Or something.