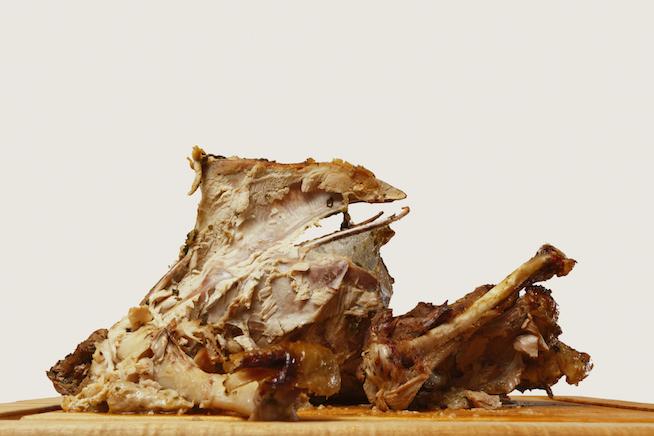 Turkey. Bless.
4. Balloon Turkey.
It's that time of year: Black Friday, or if you're like me, and you don't do Black Friday (and you'd actually rather undergo some form of water torture than shop anywhere on Black Friday), it's Leftover Turkey Friday. Amen.
We had a 25-pound turkey this year and you'd think that would mean a fridge full of leftovers. What you may not know is that I have five children, including two teenage sons, so there's scarcely more than a carcass left. But it wasn't always this way, and tiny baby Jesus willing (and teenagers gone), the Time of Excess Leftovers will return.
In the meantime, I leave you with this.
What the hell to do with ALL that turkey:
1. Sandwich. Duh. Bread. Mayo. Turkey. Salt. Pepper. Cranberry, if you're feeling sassy. Cream cheese, if you're feeling double sassy. Side of mashed potatoes, if you dare. Pour gravy over it all — there is no judgment here. 
2. Turkey Pot Pie. This is where you cut up the turkey and throw it in a pie pan and throw in veggies and stuff and then put a canned Pillsbury pie crust on top and then drink more wine and not care what's in the pie anyway. Blessed be the pie.
3. Turkey Soup. Put the entire turkey body in a pot and fill the pot with water. Put some other stuff in there, whatever you've got lying around. Vegetables are good. Or just leave it in the pot, uncovered, and tell your guests not to disturb it — it's having a water birth. Play Enya (or, alternatively, invite friends to participate in a drum circle). This is a sacred time.
4. Balloon Turkey. Insert balloon. Fill with helium. Reenact the Macy*s Thanksgiving Day Parade in your living room! This is sure to delight children and adults alike — possibly buying you time for another mimosa.
5. Turkey On The Shelf. I find The Elf on the Shelf overall quite disturbing, because...creepy stuffed dude watching your every move? No. But add a twist by hiding your turkey carcass around the house and telling the children if they misbehave they will get the turkey for Christmas. This I can get behind. Obedience. Boom.
6. Put Some Strings On It And Call It A Marionette. Do Shakespeare. There is no way to know if your turkey is male or female — which is obviously not acceptable by Elizabethan standards — so you'll have to tell everyone the turkey is male, even if you didn't see a penis. (Turkeys don't actually have a penis, but if you click that link you'll see and Asian elephant penis, which is really…something).
7. Cosmopolitan. You're probably going to need a drink after all those dishes. The cranberry twist of the classic Cosmo is a sure-fire win. Pull out and dust off Vitamix. Add cranberry. Add vodka. Add turkey. Add more vodka. Add a splash of OJ (or Grand Marnier if you have it — but who has it? OK, I have it. Whatever.) Blend until smooth. It's going to be disgusting. Add more vodka until you don't care. Tell everyone you use your Vitamix all the time, even though you haven't used it in seven months. Amen.
8. Impressionist Art. Place turkey on mantle. Call it art. When people tell you a turkey skeleton is not art, tell them art is defined by the artist. See: Jackson Pollock.
9. Wrap It In Foil. Put it in the fridge. Forget it exists. Throw it away at Christmas.
10. Give It A Funeral. Honor the Turkey by celebrating its life. Sing "Amazing Grace." Offer a eulogy. Lay a cloth napkin over its shallow grave. Watch dogs dig it up. Hope they don't choke on the bone slivers (seriously, dogs can't eat turkey bones).