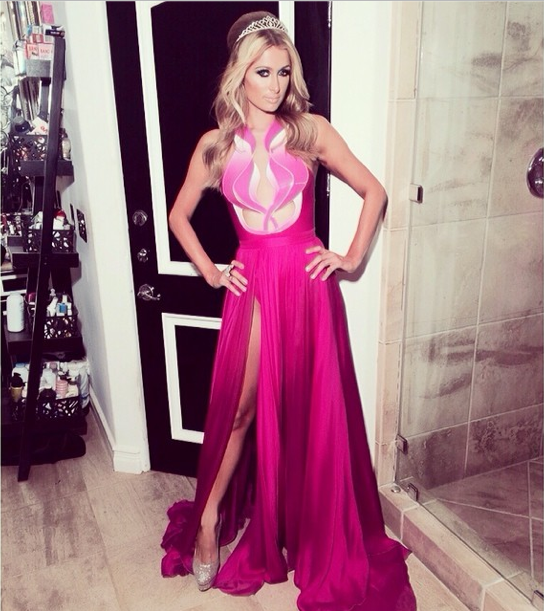 Hot damn Paris! Gotta dig this chick – between her sex scandals, a bevy of billionaire (and broken) engagements and barely-there outfits leave our heads spinning and ignite outrage from pretty much everyone we can't stand.
Last night this stunning socialite celebrated her 33rd birthday looking totes gorge, but there was something about that dress. I mean yeah she's probably not wearing underwear, but there's something else...

Her dress looks eerily familiar. Like a friggin vulva. Just look Scrubs fans – bajingo, bajingo, bajingo! Rather than be grossed out, it's time to embrace the bajingo pattern. In nature, we see vaginas all the time – hellllo calla lilies and red cannas! Famous vagina  (I mean, flower) painter Georgia O'Keefe swore that she didn't intend to paint ladybits. It's not her fault that flowers look like 'em! Let's not forget that American Apparel shirt with the menstruating vagina either. After all, Superbad's Seth pointed out that "the best kinds" of foods were shaped like dicks — shouldn't the vag get some aesthetic loving?

Paris apparently agrees. Super stoked on her new dress, she tweeted: "Love my beautiful #Birthday dress! Thank you alonlivne! I feel like a princess!" Alon Livne, Israel's up 'n coming big shot designer, has an array of labia-like designs in his repertoire already.
We say, keep them coming! A few of his designs are available at Sak's Fifth Avenue. (Admire, but try to avoid looking at the prices.) Happily, staring down at your own twat is free!

Image: courtesy of Paris Hilton's Instagram