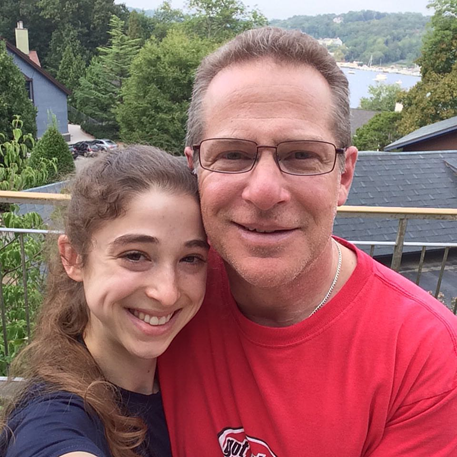 Mental health advocacy, one resource at a time.
The Lovers & Fighters of America' is a weekly column here at Ravishly featuring behind-the-scenes stories of inspirational people taking a stance against hate.
According to the National Alliance of Mental Illness (NAMI), 73 percent of college students in the U.S. will experience some sort of mental health crisis during their college years. A report by Penn State's Center for Collegiate Mental Health reveals only 25 percent of students seek help for their mental health symptoms.
 
Not only is health care coverage an issue for some, but the stigmatization that comes along with mental illness acts as yet another very real obstacle standing in the way of students receiving the help they need. 
 
Brianna Bibel is a 23-year-old graduate student of Structural Biology & Biochemistry at Cold Spring Harbor Laboratory's (CSHL) Watson School of Biological Sciences in Cold Spring Harbor, NY. She recognizes the need for change in the way students care for their own mental health and well-being.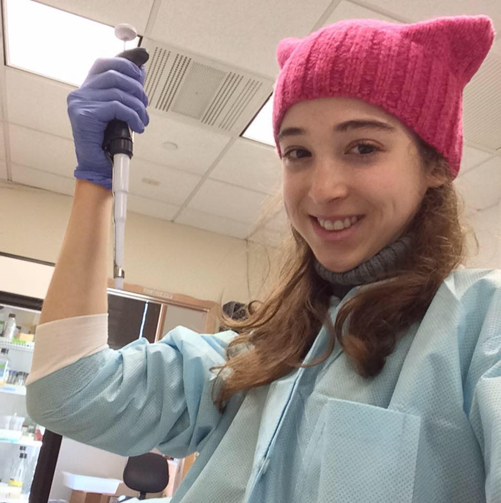 Throughout her college experience, Bibel has witnessed fellow classmates suffering; yet, those students are not reaching out for support. "People often wear stress as a badge of honor, and neglect to acknowledge that the high pressure to succeed in academia can have serious mental health consequences," Bibel explained.  "I know that many of my colleagues struggle with anxiety and/or depression, but are afraid to talk about it for fear of jeopardizing their careers and/or appearing weak in a discipline where crazy hours of hard work are expected."
Bibel is hoping to encourage a more open conversation surrounding anxiety and depression within the college setting.
Therefore, she has organized on-campus workshops featuring experts and speakers with personal experience coping with mental illness. She told Ravishly: "I am working to start an initiative to draw attention to mental health in academia and help to erase the stigma, to show that seeking help shows strength, not weakness. I am beginning my efforts here at CSHL, but I would love to expand my outreach to other schools and institutions in the future."
 
The first scheduled workshop will be hosted by Brianna's dad, radio broadcaster Jeff Bell, and his colleague Shala Nicely of Beyond the Doubt, LLC, an organization that hosts targeted workshops on how to deal with uncertainty and anxiety. Bibel says that, in addition to providing resources and techniques, the workshop will help open up the conversation and lessen the stigma surrounding mental illness. Bibel told Ravishly: "I hope that by starting a dialogue around mental health, we will help erase the stigma and create an environment where people struggling with anxiety, depression, and other disorders feel comfortable to speak up and seek help." A follow-up session will occur a few weeks after the workshop to check in with students.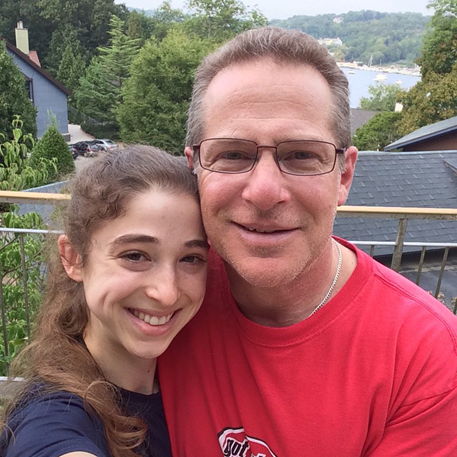 Jeff Bell says: "Brianna is a truly remarkable young woman, and she inspires me at every turn." 
Brianna's initiative has been greatly inspired by her own father's battle with mental illness. Her dad, Jeff Bell, is evening news anchor for KCBS radio in San Francisco. Bibel says her dad is as well-known for his broadcasting career as he is for his struggles with OCD and mental health advocacy. 
Bibel admits she didn't always admire her dad's advocacy work: "I am ashamed to say that, when I was a kid, I fell into the stigma trap. I thought it was cool to have a dad who was on the radio, but much less cool to have a dad who spoke out about his struggles with OCD. Now, I realize I had it completely backward; it undoubtedly takes talent to make it as a journalist and radio news anchor, but it takes true bravery to serve as a mental health advocate." 
Bibel feels a great respect for her father, and now shares his passion for mental health advocacy. Bell recognizes growing up with a dad who was battling OCD wasn't always easy for his kids.
He explained: "Bri and her sister had to endure a great many challenges growing up with a father battling mental illness. My untreated OCD kept me away from so many of the girls' activities and led me to impose all kinds of unreasonable "daddy rules" in their day-to-day lives (e.g., no touching anything in a store)." 
Bibel's current initiative has made him incredibly proud. He said:  "That Brianna has chosen to draw inspiration from my recovery and advocacy is the greatest gift I could ever ask for as a father. And that she has embraced, in particular, the notion that "we help ourselves by helping others," is the most rewarding of all. The courage and tenacity that Brianna demonstrates through her own budding advocacy work fills me with pride beyond measure, mostly because I know how many lives she is already touching."
And we here at Ravishly are honored to feature you, Brianna, and your father Jeff, as this week's lovers and fighters in America! Thank you for the important work that you are both doing. You are making a positive difference in the lives of others.
 
For more information about Jeff Bell's mental health programs with A2A Alliance, check these out:
Project Hope Exchange is an international initiative to collect and distribute 30-second audio messages of encouragement from adversity survivors to others battling that same adversity. 
A2A Spotlight is a weekly 90-second feature profiling adversity-driven advocates, distributed through CBS Radio News. 
Wall of Allies showcases "A2A Allies" who support our mission.  
 
Additionally, Brianna Bibel would love to hear from readers who have experienced or witnessed anxiety, depression, or other mental health problems in the academic setting. She seeks any input into what resources people wish were available and/or details of resources found to be beneficial. She also welcomes suggestions with regards to advancing her initiative. Email: bbibel@cshl.edu.
***
If you know an inspirational Lover & Fighter whom you'd like to see featured on Ravishly, send a message to Shannon Day, via Facebook.
Lovers & Fighters say "hell no" to racism, sexism, bigotry, and xenophobia. These men, women, and children are saying "heck yes" to equality, human decency, and love. From bold acts of advocacy to simple moments of goodness, these everyday people remind us of what it truly means to be American.
These lovers and fighters are resistant in the face of intolerance. They are bold in the presence of judgment. They are determined to join forces (or to stand proudly alone) to ensure their message is heard: #LoveTrumpsHate