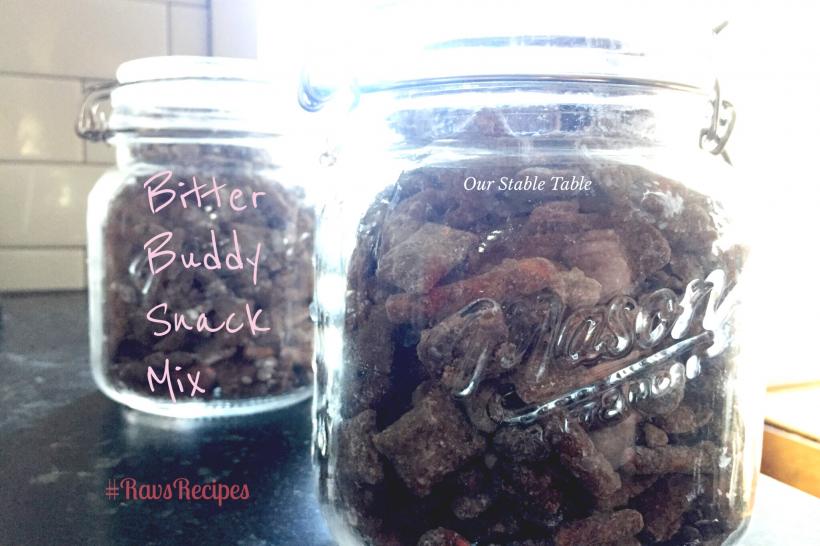 Who needs another sugary treat this year? Try Bitter Buddy Mix!
Who needs another sugary treat this year?
Well, we probably all do, especially since a week of feasting is basically here. Maybe you are way into the holidays and good on you, boo. I think celebration is wonderful, and I try to cram it in to my life every which way I can. The holidays are different for me, though, and I find myself recoiling a bit from all of that holiday cheer. Do I love seeing people? Yes. Do I love all of the commercialism? Not so much. The closer we get to the end of the year, the happier I am to see it coming. It's on the edge of bitterness.
And that might reflect in my cooking.
After our holiday feasting is finished, I just want to snack. I want to pick leftovers and watch non-Christmas movies, maybe drink a little vodka and prepare for a return to the brisk pace of January. But since I have two small children, day drinking and movie watching during business hours are not typically behaviors I want to model for them. So, I mix up a snack that hits the bitterness I feel with the sweet savior of sugar to pull me back from the edge.
Bitter Buddy Mix is a take on an old familiar recipe of rice cereal mixed with chocolate and peanut butter, then coated with powdered sugar. I use 70% dark chocolate chips, mini M&M semi-sweet baking chips, and unsweetened almond butter in lieu of the other traditional ingredients. I also throw in some additional ingredients for funsies. I like a variety of textures underneath all of that bittersweetness.
Ingredients:
6 cups rice cereal
2 cups mini pretzels
1 cup nuts of your choice (I like walnuts to bump up the bitter factor)
1/2 cup mini M&M baking pieces
1 cup dark chocolate chips (Skip the semi-sweet chips for this and go for dark chocolate. Trust.)
1/2 cup almond butter
1/4 cup butter or butter alternative
1 1/2 cups powdered sugar
1/8 cup cocoa powder
Pinch of salt
Directions:
Melt dark chocolate chips, butter, and almond butter in the microwave in 30 second increments, or melt in a double boiler over the stove. Both are super easy to use. Once melted, add your vanilla.
Pro tip: Adding vanilla early on in the melting phase will only lead to grainy chocolate. Don't do it. Stir it in at the end.
In a large mixing bowl, combine cereal, pretzels, and nuts. Pour your melty mixture over your dry ingredients and stir. Add your M&M baking pieces last, and give it one last stir.
Using two gallon-sized zip lock bags, divide your mixture in half, and put each half in the bags. Coat with powdered sugar and cocoa powder.
Spread out your mix on parchment or wax paper to fully set, then store in an airtight container for up to a week. You can also store it in the refrigerator, but I think you'll be okay keeping it on the counter for easy access.
---
Related: