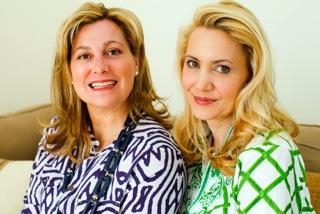 Whether she's returning to the workforce after having a baby, shifting from an on-site position to a telecommuting role or preparing to start her own business, reinvention is often a huge part of a woman's professional life. Kim Oksenberg and Meridith Dennes, the dynamic co-founders of Project Eve, encourage these (significant!) changes and believe that other women are the best support system during such transitions. And with a community that includes over 350,00 friends, fans and followers, they're clearly not alone. 
Oksenberg and Dennes recently shared some tips about reigniting a stalled career, as well as their thoughts on the Lean In movement and what's really behind the notion of "having it all." 
How would you summarize Project Eve's mission? 
Projecteve.com is an online community that challenges and inspires a new breed of innovative and creative women who are actively reinventing their careers—and with it the future of business. There is a strength that comes from community and knowing that others are working through the same issues and struggles. We started Project Eve so that women could join together and share their experiences. We are really excited to be able to offer a platform for women all over the world to share their startup stories and to help us all lift each other up. 
What was the greatest challenge you experienced as women who wanted to actively raise their children and work? 
By far the biggest challenge we've both faced as working mothers was inflexible work environments. Working long hours isn't the question for most parents, but having to factor in face time after having kids suddenly seemed super ridiculous particularly when technology now makes it possible to get so much accomplished regardless of time and place. 
How do you define "starting over"?
Starting over means a lot of things—a new job, a new career, starting a business, mentoring, moving across country or even to a new country. 
So many women find it incredibly tough to get back into the workforce after stepping out to raise their kids. What are some tips/suggestions for getting back into the game?  
On-ramping is so hard; projecteve.com has lots of articles devoted to the topic. Its definitely a process, people should remember it's a ramp not a pole vault. Build up a track record of recent accomplishments, start consulting on smaller projects, and establish an online presence as a professional. 
What are some of the most popular career tracks for women who decide to reinvent their careers? What are some of the most popular gigs for women who don't want to work in the corporate world? 
Success almost always relates to doing what you love or enjoy. Whether it's a gig or a career, if you can take what you know, like, love, or believe in whole heartedly and find a way to make it your career it is usually the fastest path to success. At a minimum you have a greater shot at enjoying the journey even if it doesn't work out and you have to start over. Following what other people are doing or entering into a certain type of career because you feel you should or it is the hot job du jour doesn't usually end well over the long run. 
What do you think about the idea that women can't have it all? 
Having it all is really hard. Women are so hard on themselves, when they think about "having it all" the vision is usually shooting for perfection in all areas when that is its just not realistic. It is not physically possible to be a stay at home mom, create gourmet meals for your family, work an 80 hour week in a corporate career and get a realistic amount of exercise and sleep. Why are we even considering that? You can have those things, but it's essential to figure out a way to balance your life so it includes some part of each in various ratios, timeframes and circumstances.
Do you have any thoughts about the Lean In movement? 
Lean In is great! It is a wonderful way for women to use all the tools and techniques that will help them get ahead and to shed the things that hold them back—whether it is confidence or their approach to risk taking. At the same time we would like to see companies start to think critically about what they are doing to encourage their female employees and to embrace different styles of leadership and ways of getting things done—not only ideas that are based on a male model of leadership. Women shouldn't shoulder all the burden either. When it comes to breaking through glass ceilings, if women come at it from below it is important that executives and corporate boards come at it from above by recognizing, encouraging and promoting talented individuals and implementing flexible work options and family friendly policies.  
What are some of your favorite "Startup Stories"?
We launched Startup Stories last summer to compile the largest archive of women's entrepreneurial startup stories in the world. We hope it will become a resource to help to motivate women in business to think beyond traditional boundaries, support one another, embrace change and view challenges as opportunities. It's hard to pick favorites—we are constantly amazed by all the great endeavors the women on Project Eve are undertaking. That said, there are certain ones that stand out because they are so different. Golfing for Elephants certainly captured our attention and FamiliesGo! is one of those companies we wish existed years ago. We also loved learning about HeraHub and can't wait for locations to open near us!
And what is the inspiration behind your other site Getting Balance? 
Projecteve.com is primarily career and entrepreneurship focused, but we kept getting great content that was slightly outside that framework. We loved the content that helped our community get healthy and happy in the non-career areas of their lives, but didn't have a great way of showcasing it. Launching Getting Balance solved that issue. Eventually we decided that it would be useful to spin-off that part of the site so we could give the content the platform it deserved. Now we can expand and promote the content that touches finding happiness and well being beyond your work life. 
Anything else you'd like women to know? Any other tips, ideas, suggestions for busting out of the traditional working framework?
Whatever issue or roadblock you might face at work, in your career or in life, there are others who have probably faced something similar and want to help. Reach out, put yourself out there and don't suffer alone. There are communities like Project Eve and others designed to share ideas, discuss issues and find solutions so we can come together to help one another and live better, happier and more fulfilling lives.