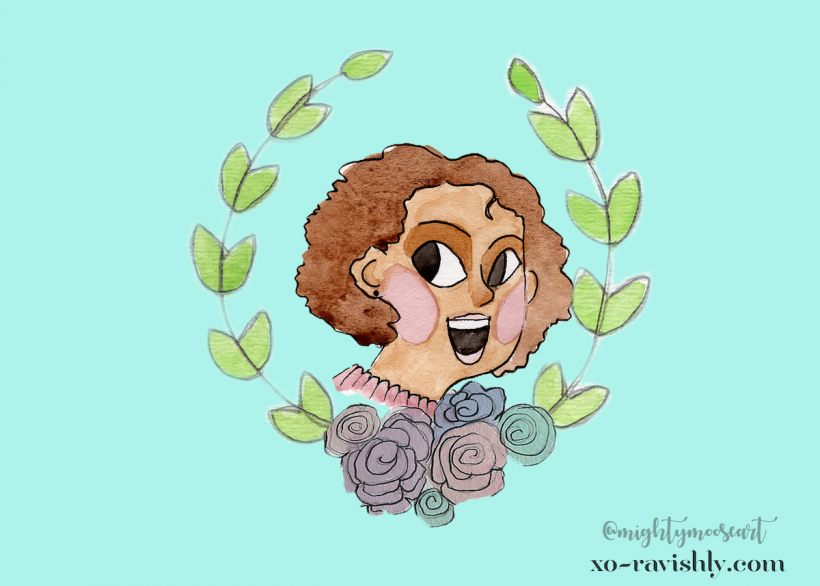 Myisha Battle is the kind of sex positive public figure I wish came by my middle and high school sex ed classes.
Instead of STI fear mongering and futile attempts at promoting abstinence through a slideshow of vulvas in various stages of childbirth, we would have chatted about practicing safe sex in queer relationships, or how to get into anal play. Luckily, we've got the next best thing. In addition to being a professional sex coach, Myisha is also the host of "Down For Whatever," a podcast that explores any and every aspect of human sexuality. 
We caught up with Myisha earlier this year to talk favorite sex toys, post-election libido, and how to go about setting up your own appointment with a sex coach. We loved getting to know a little more about her journey to working in sexology, and we hope you do too!
What drew you to sexology and sex coaching, and how were you able to translate that interest into a full-blown career?
I have always been drawn to sexuality, even as a kid! I was the one who got to watch R-rated movies under age, and my parents were quite open about sex being natural and normal. This was a big contrast to my peers growing up in Shreveport, Louisiana so I became a go-to person for sex questions and discussion. As a peer counselor in middle school, all anyone wanted to talk to me about was sex. It was great!
The making sexology a career part was a bit tricky. In 2011, after several years working in the fantastic field of cultural exchange, I felt like the career course I was on towards upper management wasn't for me. Through the urging of a friend, I decided to re-focus on what made me happy as a kid and what I'd studied in undergrad, human sexuality. I went back to school for my Masters in Psychology with the idea that I would eventually become a sex therapist. I am so glad that I have my Masters, but even more glad that I stopped there and decided to pursue sex coaching through Sex Coach U instead of sex therapy. Sex coaching appeals to the part of me that loves getting to the bottom of issues and making plans to fix them. I think it's a great approach to sexual concerns.
Your podcast is in its 3rd season. What makes podcasting an ideal medium for discussing sexuality, and how has it influenced your work as a sex coach?
Podcasting is one of the most impressive tools for democracy and free speech ever! I wanted to share the types of conversations I was having with my friends about sex and dating, but I also really wanted to highlight stories of underrepresented groups, people who experience sex and dating from perspectives that we rarely hear. I am really proud of the stories I've collected and that I get to share with a larger audience, who I hope hear themselves in these stories.
I started the podcast in grad school, so in a way the podcast and the folks that I interview informed how I would approach coaching. I love working with a diverse clientele base and being able to hold space for them to explore their unique sexual wants and needs.
How should someone go about finding a sex coach, and what can they generally expect from their first coaching session?
That's a great question! One thing I'd like to point out is that I could have decided to leave my job in 2011 and called myself a sex coach with no training in the field at all. Some people do that, which is scary. That is why the World Association of Sex Coaches (WASC) was established, to provide certification to those of us who are trained in sexology and the modality of coaching. This is very important. Anyone can search for a certified sex coach on the WASC website and if you are trained in sexology and coaching, you can become a member. My profile is there.
With sex being a political act (among many other things!) to so many people, it makes sense that political movements can affect life in the bedroom. What advice would you have for folks who are struggling to enjoy their sex lives in such a turbulent political environment?
Take advantage of any amount of pleasure you can get right now, sexual or not. I understand that there are a ton of reasons to say "no" to sex right now, with a partner or with yourself, but sex is an amazing way to bond, cope, and relieve the stress of all this mess around us. As we have been hearing, pleasure is a form of resistance and self-care, so I offer up that sometimes when I am bummed I masturbate and think, "They can never take this away from me." It is powerful.
What are some of the most common issues you see in your work as a sex coach?
I help clients who are experiencing low or mismatched desire in partnerships, those who are looking for dating support, and couples who just see and experience sex differently. Everyone is looking for harmony around these issues, and that has a lot to do with how much our culture demands that we be the best in all areas of our lives at all times. Unfortunately, our sex and dating lives require just as much time and attention as our work and family lives (sometimes even moreso). I try to give my clients the tools to see what is actually working for them and what unnecessary pressures are being applied to an otherwise okay situation. Sometimes it is a matter of perspective shifting, sometimes it requires skill-building and communication.
Mainstream culture portrays sex as almost exclusively an activity for thin, able-bodied people. What are some resources or words of wisdom that could help people struggling to find representation and validation in their sex lives?
Oooooh, I love this question. Feminist porn is a great place to start if you want to see more diverse-bodied sexual representations. On my website, I link to the Feminist Porn Awards for ethical/feminist porn. This type of porn believes in diversifying who we see as sexual in pornography — it also upholds standards of care for the actors to ensure that they are fairly compensated and are doing work consensually.  There's also Cindy Gallop's Make Love Not Porn, which aims to strip the cliches of pornography away completely from the act of watching people have sex. You can even upload your own film to help their cause of portraying what sex really looks like. Cindy was just interviewed on Sex Lives if you're curious about what the platform is all about.
Also, real talk: You can start curating your social media to include way more diverse, body positive folks than ones that make you feel shitty. My rule of thumb for following (especially companies) is that if I don't see diversity in three scrolls through their accounts, I will not follow. You can use this to cull your existing follows too. I also like giving my Instagram account to fellow people of color to make me follow people they love, and that has gotten me into some really cool accounts that I wouldn't have found on my own.
And finally (because we absolutely have to ask), what are some super rad sex toys that our readers should try out?
My favorite toy ever is the Revel Body vibrator, whose manufacturer sadly discontinued making them. I do see that there are still some on Amazon though. What I love about this vibe is that it fits really comfortably in your hand, making it easy to hold onto during a long sesh. Squeezing a wand can give me a wrist cramp sometimes. Its round shape also lends itself quite well to providing a dispersed vibe all over the vulva rather than just in one spot. Great for anyone who likes external vibes.
I also love The Pleasure Chest's Booty Basics Kit. Why? Because it has everything you need to ease into anal play, literally. Lube included.
Finally, I just have to say that I love my glass dildo in the shape of an eggplant — which I got BEFORE the eggplant Emojibater was on the scene. Just sayin'.