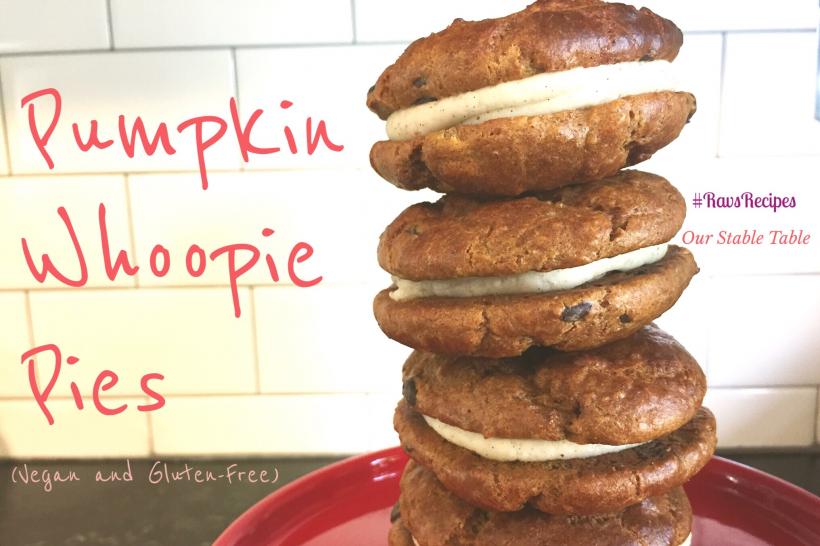 You guys. I can't help it. I love fall. I want to mock it. I want to belittle myself for how much I love it. I want to not care about the changing of the leaves or decidedly crisp air settling in all around us. I want to be immune to the magic because it is so overplayed by Starbucks and craft stores now. But whatever. I'm embracing it anyway because I LOVE IT. I love fall. I love everything about it and I feel no shame whatsoever. Okay. Maybe a little whatsoever. But whatever.
I've been trying to perfect the pumpkin whoopie pie for ages. I can't have gluten for numerous reasons, but most recently because it makes my baby pukey when I eat it and she drinks the breastmilk it makes. But it's okay. I don't really miss gluten most of the time, and there are so many great GF products that I don't typically feel deprived.
Except for the whoopie pie. I do legitimately feel deprived — and I hate that feeling. Nothing says fall to me like a pumpkin treat, and I love the combination of cloud-like cookies and frosting. It's like an Oreo and a birthday cake had a baby during pumpkin spice season and created a true joy of autumnal desserts.
When I can't quite figure out a suitable gluten free substitution, I fall back on almond butter. I don't know why it works, but it does. When used correctly, it takes on a consistency that is somewhere in the middle of the cookie-bread-cake triangle. It also has a fair amount of protein and that makes the sugar crash a little less drastic.
Ingredients for Pumpkin Whoopie Pie:
1 jar almond butter
1 can pumpkin purée
2 Tbsp honey
2 eggs or egg replacer
1 tsp cinnamon
2 tsp pumpkin spice
1/2 tsp baking soda
1/2 tsp baking powder
1 Tbsp vanilla extract
Ingredients for Vanilla Spice Filling:
Vanilla icing of your choice (I use this recipe, but pre-made works, too.)
1 vanilla bean
1 tsp pumpkin spice
Directions:
Put all of your whoopie pie ingredients in a bowl and mix well. Scoop out batter (about the size of a golf ball) onto a parchment paper lined baking sheet. Leave plenty of space for the pies to spread out. Bake at 350 degrees for 10-12 minutes.
Allow pies to cool completely. Maybe eat one or two for quality check. Add a glass of eggnog while you're at it.
Mix up your icing and scrape out your vanilla bean. Whisk in your pumpkin spice and spread a thick layer on the flat side of the pie and then top it with another pie, making a sandwich. Which is really what we should call these. Icing sandwiches.
---
More Recipes