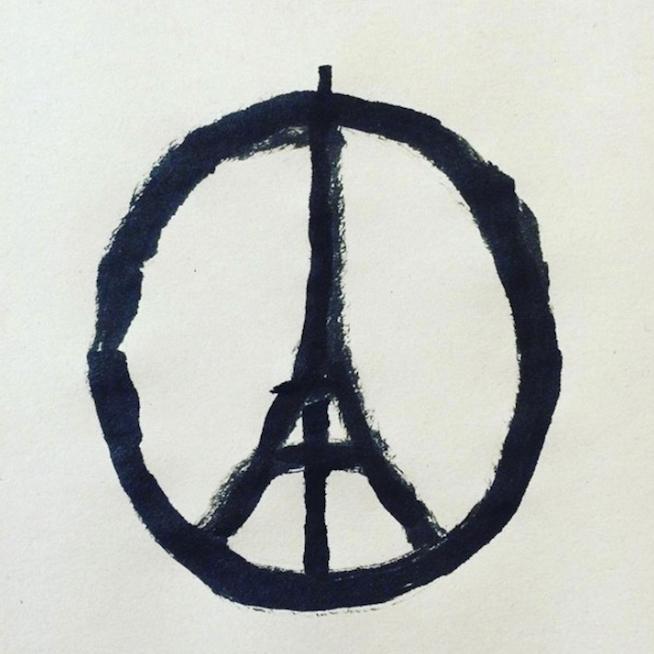 Image by Jean Jullien
As Paris returns to work today in the wake of Friday's terrorist attacks that left at least 129 people dead and 352 injured, the world joined them in mourning. Cities throughout the world honored the victims of the Paris attacks over the weekend with flags lowered to half staff, buildings lit up in the colors of the French flag, and candlelight vigils and moments of silence held in their honor.
In and amongst these formal memorials were people who found ways, both small and large, to honor the victims.
1. Madonna Honored Victims With Emotional Rendition Of "Like A Prayer"
Madonna performed in Stockholm Saturday night and observed a moment of silence for the Paris attack victims, followed by a heartfelt speech and emotional rendition of "Like A Prayer" in their honor.
2. Musician's Post About A Conservation With A Muslim Uber Driver Hits A Nerve
An Australian musician's Facebook post about an encounter with a Muslim Uber driver went viral over the weekend, illustrating the fear and frustration shared by millions of peaceful Muslims in response to the horrific actions by a few extremists.
3. Peace For Paris Graphic Goes Viral
A few hours after learning of the terrorist attacks, French illustrator Jean Jullien drew a picture that quickly became synonymous with the Paris attacks. A simple graphic of the Eiffel Tower within a peace sign, "Peace for Paris" rapidly went viral as people across the world struggled to make peace with the horrific violence of the day.
4. Man Plays Emotional Rendition Of "Imagine" Outside Site Of Paris Attacks
As Paris reeled from the attacks, a video emerged of a man who rolled up a grand piano in front of the Bataclan venue –– the site of the deadliest attacks –– and began playing John Lennon's "Imagine." The mystery pianist has since been identified as Davide Martello, a German man who has made it his calling to play at the site of terrorist attacks. "Religions fight with their bombs in the name of God, I fight with my piano in the name of peace," Martello told Rolling Stone.