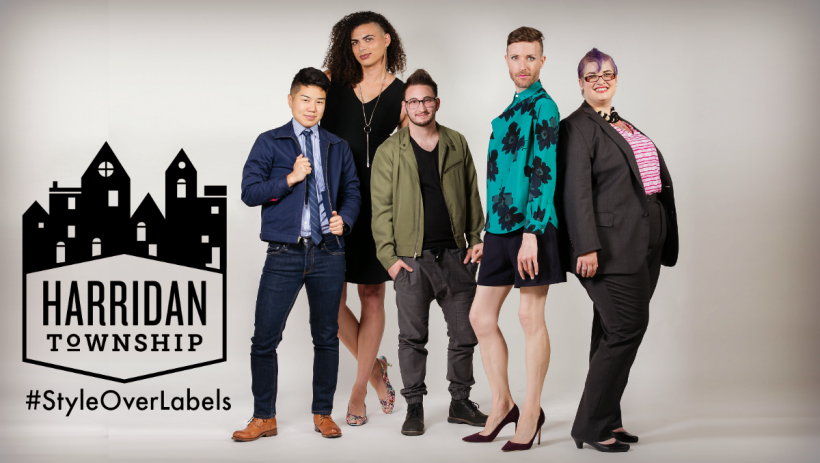 Style over labels. Image: saintharridan.com
Most people would agree that clothing sizes, at least in the U.S., make very little sense. "Men's" and "women's" clothing sizes follow entirely different rules, and the numbers are often completely arbitrary.
The challenge of finding something that fits can be even more of a challenge for trans and gender-nonconforming people. Clothing designers and retailers almost never take the diversity of our bodies into account, leaving us with no choice but to get creative: shopping in the boys' section, getting to know a tailor, sewing our own dresses.
Enter Harridan Township.
This brand-new online store will revolutionize fashion by introducing a universal sizing system that works for every gender and body type, and creating multiple lines of clothing — some masculine, some feminine, some both/neither — available across the whole spectrum of sizes.
The store's one existing line, Saint Harridan, began as a Kickstarter campaign in 2012. Just yesterday, the team launched a new Kickstarter campaign to realize the other four lines — it's off to an impressive start, and is offering items from its gorgeous new lines as prizes for backers, some of which are limited-edition.
In the team's words, "Harridan Township is on a mission to allow people the freedom to be who they are no matter how they identify. This makes Harridan Township an innovator in how fashion will be designed, marketed and sold. Fashion needs a fresh new perspective and Harridan Township is leading the charge to allow anyone the freedom to be who they want to be and look how they want to look!"