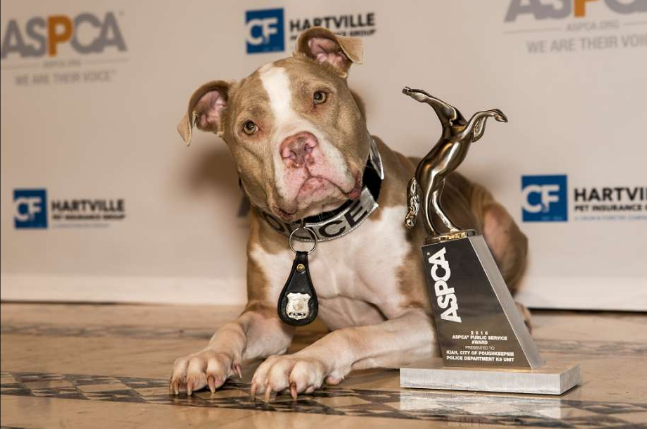 Image Credit: Stacey Axelrod/ASPCA
In a world that seems to have gone gloomy in a time meant for giving thanks, I am grateful for dogs.
When I need a moment to feel better about everything around me, I type "dogs" into the search field of my news app and wait for the magic to happen. Dogs always come through, and today is no different.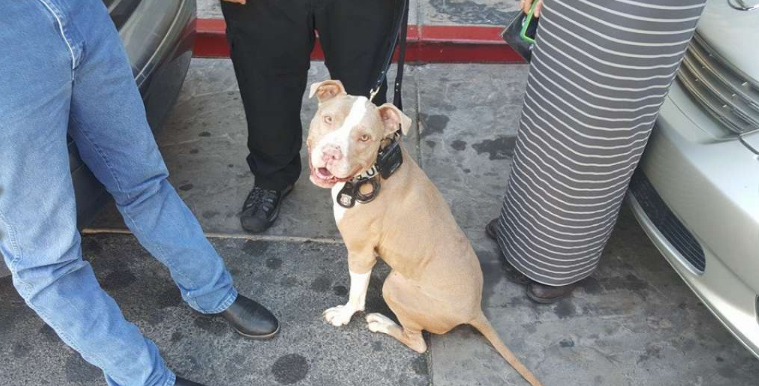 You see this beautiful smiling pooch? This is Kiah. She's a pit bull who was found injured and abandoned in a sparking lot in San Antonio. The good souls at Kirby Animal Services took her in and nursed her back to health.
Along the way, they realized she was a smart and loyal pooch with "friendly demeanor and tireless energy." They decided there were big things in store for Kiah and called up Brad Croft, the trainer and founder of Universal K9, a program funded by the Animal Farm Foundation to train rescued pit bull dogs for law enforcement work.
A month later, Kiah was ready to hit the beat and was sent to Poughkeepsie, NY where she was paired with Officer Justin Bruzgul, becoming the first law enforcement pit bull in the entire state of New York.
Kiah is now being recognized by the ASPCA as a 2016 Public Service Award recipient. In a press release, the animal welfare organization said, "She has become a national sensation, and is blazing a new path for other police departments and 'pit bull' dogs around the country."
In addition to traditional tracking and detection work, Kiah and her human partner visit schools and conference to teach the public about animal rescue and to show that pit bulls are snuggly love bugs who can do anything other dogs can do.
Congrats, Kiah. And thank you for your service!