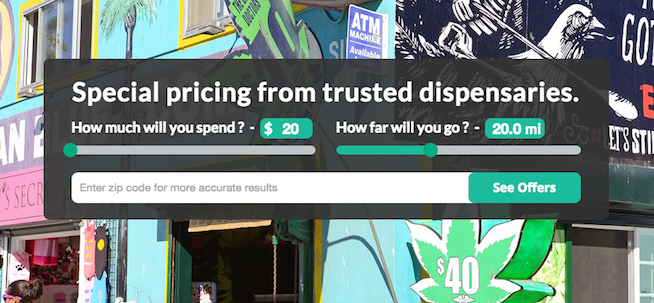 From wikileaf.com
Have you ever been in Denver or Portland or Seattle and wanted to buy some weed but didn't want the hassle of going from weed shop to weed shop to compare prices? Well, you're in luck! The world of marijuana now has its very own online price comparison tool!
Wikileaf.com (I think Wikibud or Wikiweed would have been a better name, but what do I know?) has recently launched to give the discriminating pot shopper the opportunity to check local outlets to see what they have, how much they have of it, and how much they're charging.
The site works by typing in what you're willing to spend and finding different marijuana shops to show you how much of which varieties you can get for your budget. Later this spring, the website plans to offer an update that will let consumers search by weed type to see pricing across their area.
Obviously, this is only valid in areas that allow retail marijuana sales. You can't look to see whether your dealer is offering the best price if you live in a state where your dealer is technically a criminal for selling a plant that is no more dangerous than alcohol. Until more states legalize marijuana, Wikileaf is a tool with limited geographic range.