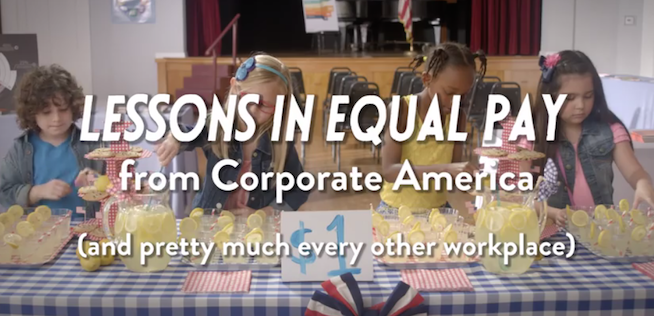 The wage gap is complicated, right? A new video reduces it to child's play in order to demonstrate just how simple the wage gap really is –– women, particularly women of color, lose $11,000-$25,000 per year compared to their male counterparts who are doing the exact same work.
"Lessons in Equal Pay from Corporate America," is a humorous take on a very NOT funny issue. Directed by actress and activist Issa Rae, and starring actors Anika Noni Rose and Gabriel Mann, Make It Work launched this video today to increase voter awareness during the 2016 election season.
In 2015, African American women are paid just 65 cents for every dollar a white man is paid, and Latina woman are paid 55 cents.  On average, a woman working full-time is paid 78 cents for every dollar a man is paid. Rather than narrowing, the pay gap is actually widening, according to a recent report by the Labor Department, which found that men's earnings are increasing at double the rate of women's.
With women being two-thirds of primary or co-breadwinners in families with children in the U.S., this has a huge and devastating ripple effect on families, too.
You can share your experiences with the gender pay gap on social media using the hash tag #PayGapWTF to help Make It Work raise awareness for this critical issue.